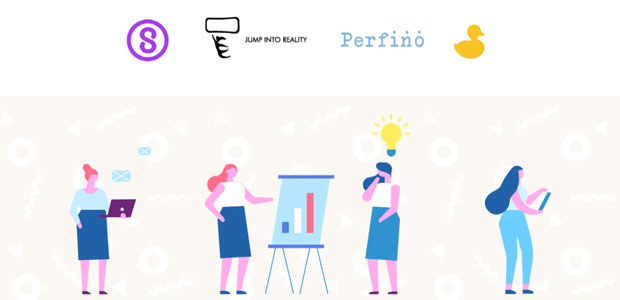 The women behind some of the most innovative startups in the UK
With men being twice as likely to become entrepreneurs than women, the business world has a long way to go to address the barriers which stop women from starting companies, and help to create a more equal society.
As estimated by The Alison Rose Review on Female Entrepreneurship, closing the gender gap could generate £250bn to the UK's economy. So there's clearly an economic, as well as a moral case to be made for gender balancing the business world.
Scotland alone was estimated to be losing £15m a day from a loss of women's earnings during the Covid-19 lockdown, with a surge of unpaid work like childcare, home-schooling, and housework performed predominantly by women, according to a study by Engender. This has also prompted fears that women could be excluded from rejoining the workforce.
With the UK Government intent on balancing the books after £284bn in emergency covid-spending, closing the gender gap could also help to prevent post-covid austerity measures.
In 2019, Virgin StartUp became the first business funder to commit a 50/50 funding pledge to ensure investment equality for start-up loans by the end of 2020. Alongside mentoring and other support, the initiative aims to help thousands more women to start businesses.
As we begin what is likely to be a difficult year for businesses, we've profiled four women-led, innovative companies that TribeFirst worked with - two of which were backed by Virgin Startup.
Loral Quinn and her daughter, Eishel, had long discussed ways to make it effortless for people to make a positive impact everyday. In 2015, they founded Sustainably - a free app that lets you support your favourite charities by automatically rounding up cashless transactions and donating your spare change each time you shop.
By 2018, Edinburgh's Sustainably was one of Virgin's top 10 startups, and in 2019, Richard Branson named them as his startup of the year. 
"We know that many people want to support charities but don't want to commit to one cause and face the hassle and guilt of later cancelling," explained Quinn. "We also felt that 'giving tech' was lagging behind that of other industries.
"With Sustainably, you receive charity updates showing you the difference you've made, whether that's helping to remove plastic from the ocean, supporting the homeless, or teaching young girls to code. You can also set your own donation limits, and stop, start, pause or change them at any time - we'll never pressure your or share your details."
As well as being Gift Aid compatible, Sustainably takes no user fees and charges charities just £0.20 per supporter, per month (no donation, no fee), in exchange for a new income stream and anonymised supporter shopping trend data. Quinn has signed up 40 charities, including Macmillan, Shelter and the British Heart Foundation since June 2020.
Businesses can also use her app to support the causes their customers and staff care about - Sustainably are currently doing in a corporate pilot with one of the largest UK insurers and their 16,000 UK staff.
Loral Quinn, Aberdeen Asset Management's former head of digital, was named as one of BIMAs top 100 people in the UK's digital sector. Eishel has a background in ethical retail and was named one of Digital Leaders' top 10 Young Digital Leaders.
Already counting Skyscanner's Co-founder as an investor, they also won £140,000 in investment via WeWork's Creator Awards (judged by Ashton Kutcher and Monzo's co-founder).
We interviewed Sustainably back in our 2019 Women in Tech issue, you can read it here.
Ana Mikaela Silva - Pleasy Play
Some believe that the honeymoon period can't last forever, but Ana Mikeala Silva is not one of them. Pleasy Play, her interactive intimacy app that's used alongside a subscription box of intimate items, sets fun, personalised challenges for couples to make it date night (almost) every night.
The happily married mother of two was seeking a solution to make couple intimacy effortless. "From the nature of the challenges, to the items in each box, the entire Pleasy experience is based on each couple's preferences - nothing is compulsory, or off limits," explained Silva.
"Despite a wealth of brands out there, we couldn't see anyone approaching sexual wellness from a prevention rather than cure perspective. Most services offer something either clinical or sexual - nothing in between.
"And while most companies target one gender, Pleasy caters specifically to couples, encouraging them to broaden horizons, experiment, and explore intimacy in a relaxed environment."
Silva wants to reinvent the booming sextech and sexual wellness markets, the latter of which is expected to hit $39bn by 2024. After 75% of Pleasy users reported improvements in their relationships during a trial in Silva's native Portugal, Pleasy launched in the UK, which is one of the top growth countries for intimate products.
Currently offering a 15-day free UK trial, Silva aims to roll out Pleasy across Europe in 2021. Initially catering to hetrosexual couples, she plans to launch a dedicated service for the LGBTQ+ community, as well as other themed scenarios for the future.
Silva already counts venture capitalists, angel investors and Indico Capital Partners among her financial backers. Pleasy is also on Indico's accelerator program in partnership with Google for Startups.
Perfume blender and lifelong fragrance obsessive, Kim Brookes, was browsing market stalls full of natural, essential oils in Cochin, India when she came to the realisation that another way to enjoy natural fragrances might be possible.
A third of us are intolerant to synthetic chemicals, and up to 60% of the chemicals we put onto our skin are absorbed into the bloodstream, making the use of commercial perfumes a gamble for many. "It struck me as bizarre that the only way people could enjoy fragrances was by applying an undisclosed chemical concoction with unknown effects," recalled Brookes.
"The industry is being held back by self-regulation and a lack of transparency when it comes to their ingredients, which is a big put off for consumers who are increasingly demanding natural alternatives."
Brookes then set out to let fragrance lovers enjoy scents without having to put any chemicals on their skin. Her Somerset-based startup, Perfino, makes jewellery that combines with natural essential oils to become your own personal diffuser.
Made from recycled silver, Perfino's artisan-designed natural scent pendant comes with six super-absorbent lava stones and a bottle of blended natural essential oils. "Simply put a stone into the pendant, add a drop of oil and enjoy a wonderful fragrance all day long," Brookes explained.
A longtime entrepreneur, Brookes was recently featured in the BBC's CEO Secrets and Radio 4 Business Matters. She hopes to offer a natural and unique alternative to the UK's estimated 33.8 million women (more than half of whom wear perfume) and tap into the $310bn global jewellery and perfume market.
She's currently using a Virgin Startup loan to meet Perfino's current orders and preparing the launch of a Perfino club where fragrance lovers can subscribe and receive monthly oils and seasonal blends.
With a background in international corporate finance, Brookes launched the sustainability-focused online gift registry, What I'd Love, and is a former entrepreneur in residence at the University of the West of England. In 2017, she set up a graduate incubator in Bristol which has supported over 80 high tech startups.
Linda Facchinetti - Jump Into Reality
Using the current combination of expensive design tools, it usually takes interior designers several weeks to produce 2D still images of a 3D space. If the customer wants to tweak something, the designer needs to repeat the whole process from the start.
With Jump Into Reality, Linda Facchinetti wanted to end this time-consuming, frustrating and expensive process. JUMP into DESIGN, her company's end-to-end tool, is used to manage the entire design journey, improving both the speed and quality of designs while reducing cost.
Already used by designers in Spain, JUMP into DESIGN is about to launch in the UK.
"Our solution lets designers quickly and easily create, share and customise hyper-realistic 3D designs in real time via the cloud," explained Facchinetti. "Customers get to really experience the design using their own computer or VR headset to virtually 'walk' through the design, understanding the process and making the right decisions faster.
"They can now ditch expensive graphic design computers, design packages and specialist devices, make changes in real time, speed up projects and generate more revenue. Meanwhile, retailers can showcase their products for faster, easier sales."
Facchinetti wants JUMP into DESIGN to lead the way in the VR/AR space over the next five to ten years and cater to the UK's 375,000 interior designers and over 52,000 specialist furniture and furnishing retailers.
With extensive experience in international investment banking, mostly at Merrill Lynch in London, Facchinetti is the former MD of a non-for-profit microfinance lender to disadvantaged women and the manager of an international residential property portfolio.
This is just a select few of the innovative women-led startups out there. At TribeFirst, we hope to work with many more women entrepreneurs in 2021, and see the UK make radical shifts towards gender equality.
In every year between 2011 and 2019, at least 85% of all investment went to all-male teams, as explored by Megan Snijman last month. Similarly, while women make up 47% of the entire UK workforce, they only fill 17% of the roles in tech.
You don't have to look hard to see the wealth of talent amongst the UK's businesswomen, so it's clear that there are significant barriers in place, like affordable childcare, male-dominated workplace cultures, and conscious and unconscious bias amongst decision-makers. 
It's up to governments, the business community and wider society to tackle them before we can even begin to argue that equality of opportunity exists. As well as making economic and moral sense, closing this gender gap will give us many, many more game-changing businesses to look forward to.