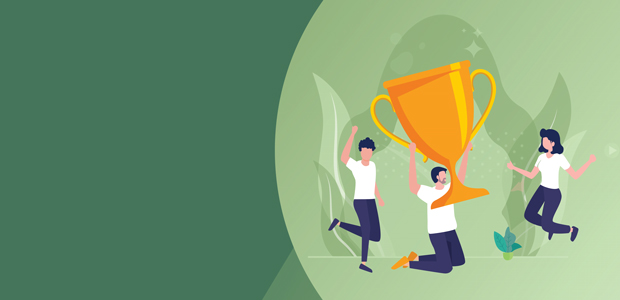 The moment we have all been waiting for...
Guess who is back, back again with bigger and better plans than before. The Hustle Awards is returning for 2021, with a super exciting hybrid format, so not only does this mean we plan to actually network and celebrate with some of you in person; if that does not sound as exhilarating to you as it does to us, you can still enjoy this year's awards from the comfort of your own home!
We have changed a few things this year, as we plan to celebrate with you all at Clerkenworks, on 22nd July from 6pm, but one thing that hasn't changed is the amount of talent and skill in this industry.
This is an evening to bring together entrepreneurs and startups to recognise their achievements and celebrate small business success, growth and change. The awards will be presented at Clerkenworks in central London (EC1), hopefully with the sun shining in their bowling green area, but also live-streamed to all those who aren't able to be there in-person.
It is important to us at Startups Magazine to recognise, celebrate and share some of the most incredible people and their stories – from the fire-starters to every entrepreneur that took that leap of faith with their idea.
We come across so many amazing startups, founders, teams and all-round amazing people so it seemed to make complete sense to celebrate them as much as we possibly could.
The Hustle Awards are here to create a media opportunity for winners of the awards as well as the awards themselves, to highlight 'self-starters' in the UK & stories of inspiration & motivation. But also to establish Startups Magazine at the heart of the creative and entrepreneurial economy, and of course showcase creativity from across the UK and show how startups and the self-employed economy are booming and adapting, whilst encourage diversity and accessibility.
Looking back at some of last year's winners:
Although the 2020 Hustle Awards were not how we had originally planned thanks to COVID, we still got to celebrate some amazing startups and founders, doing some incredible work.
The winner for Best UK Startup went to Tractable, a company that you will be familiar with if you are an avid Startups Magazine reader, who uses AI for accident and recovery, and although it focuses primarily on car accidents, there is potential for that to grow to cover natural disasters too.
It is fair to say that so many startups adapted in 2020 and were able to help in ways they didn't originally set out to, but for the Biggest 2020 Hero category there was one clear winner who really have done some amazing work in 2020 and through the COVID crisis, and that is Joanna Montgomery, Founder and CEO of Little Riot which develops connected products that enable human connection in an otherwise very digital world, such as the product Pillow Talk.
Chocolate and technology, arguably two of the greatest two things in the entire world, and what do you get when you combine the two? The winner of our Social Impact Hero category - Sergio Figueredo, Founder of the startup Choco4Peace, uses Blockchain to enable vulnerable Columbian farmers to improve their lives by finding markets for their cacao, and allowing them to escape poverty and conflict.
One of our most popular categories last year was the Best Technology product, which was a tough one to choose, but in the end our Judge Mark Patrick from Mouser Electronics, chose Chris Turner, Founder of Breathe Tech; a product that allows you to easily see the current air quality wherever you are.
Finally, we saw the wonderful Tamsin Dewhurst Founder at Uptree, take the Founder of the Year award, as she said: "It's an amazing feeling that my team thought that of me and I have been recognised so thank you! I am so excited to be a part of these awards." Uptree is the professional network that aims to connect young people with the world of work and also to help employers to reach the young, diverse talent out there.
This year will see a slight change in categories as we celebrate:
Best UK Startup sponsored by Avery Law

Social Impact Hero

Best Technology Products

Founder of the Year

Workspace of 2021
If you think you deserve some recognition, or maybe someone you know deserves an award then applications will be open on 19th March - so get ready to WOW our judges.
Plus the first wave of tickets will also be released on 19th March! You do not want to miss out so set your alarms for 9am!
We hope you will join us on 22nd July 2021, it has been a long overdue networking catch up, and there has been so many incredible startups cross our path over the last year, so good luck to you all!