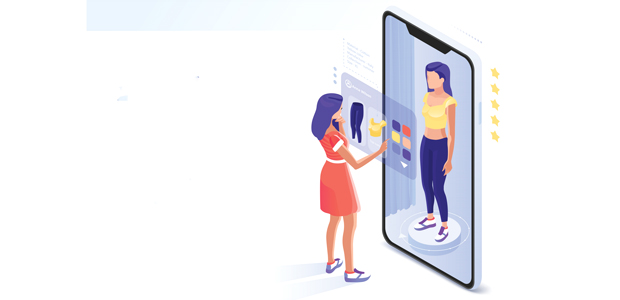 Austrian AR leader enhances e-commerce experience for retailers and consumers
Reactive Reality is a leading Austria and California-based augmented reality (AR) company enabling brands to reduce costly and environmentally damaging returns, by improving their customers online shopping experiences through the generation of high-quality digital models of people and products.
This conversion of 2D images into digital 2D and 3D assets, utilising artificial intelligence (AI) technology and taking only minutes to complete, allows retailers to transform their webshops and online shoppers to virtually try on products prior to purchase, increasing sales conversion and customer satisfaction and reducing returns by up to 70%.
Creating realistic digital models has traditionally proved time-consuming and beyond the budget of most companies, having required multiple technology providers to complete the process of creating AR experiences across the entire e-commerce journey (from producing digital replicas of products and people of products for a brand's webshop, to enabling virtual try-on and sizing recommendations), and then integrating these assets into e-commerce platforms. However, Reactive Reality has simplified and centralised this process, by providing a one-stop shop, white-label solution that is unrivalled in terms of realism and scalability. This is achieved through a unique combination of Artificial Intelligence (AI), photogrammetry and image-based rendering, with Reactive Reality's patented algorithms automatically converting 2D images into photorealistic 2D and 3D models. The company's innovative tech also has potential future applications beyond e-commerce, for example in product placement, video conferencing, or animation.

Retailers can integrate Reactive Reality's core product, PICTOFiT, within their existing e-commerce websites to transform input photos into output images and create photo-realistic 3D garments. Meanwhile, customers can generate a 3D avatar of themselves on which these garments can be tried.
Reactive Reality's clients include YOOX NET-A-PORTER Group, an ecosystem of 4 multi-brand online stores (NET-A-PORTER, MR PORTER, YOOX and THE OUTNET), and leading Japanese fashion retailer, Grosier. The company has also formed significant partnerships with major technology and fashion organisations. In October 2020, Reactive Reality launched a project with Microsoft and the London College of Fashion's Fashion Innovation Agency, in which Reactive Reality's 3D technology was deployed to create an avatar of a digital human stylist, which was able to provide personalised fashion advice, show consumers how clothes appear on themselves and ultimately enable better purchase decisions.
An e-commerce boom creating a returns culture impacting environment and the bottom line
Online shopping has become cheaper, faster and therefore more popular than ever for consumers, a trend which has only been accelerated by the closure of brick-and-mortar stores during lockdowns. However, the challenge of replicating the real-world experience of trying on clothes prior to purchase is increasingly being resolved in the wrong way, as consumers order more clothes than required, with the intention of returning some (if not all). This shift in consumer behaviour is having huge environmental consequences: of the 3.5 billion products returned by Americans each year, approximately 2.3 billion kilos-worth ends up in landfills, resulting in 15 million metric tons of carbon dioxide being pumped into the atmosphere, according to returns technology company, Optoro.
Aside from being environmentally unsustainable, this glut of returns is also proving to be expensive for retailers to process. According to recent Gartner Research, once returned goods are back in the hands of a retailer, under half are resold at full-price, not to mention those that are discarded, at great financial cost. Most online retailers are poorly equipped to deal with the highly complex logistical challenges posed by returns, with the returns process typically not automated, requiring a significant deployment of workforce.
Reactive Reality is tackling this issue at its core, preventing the need for consumers to order more clothes by providing highly realistic 3D avatars and products that give a clear indication of what a product will look like when worn in real life. The AR technology creates an immersive, fun online shopping experience, thus fostering a stronger connection between consumers and brands and leading to purchases being made with a greater intention to wear. This is illustrated by customer data demonstrating that Reactive Reality's technology increases sales conversion by up to 57% and user session length by more than 48%, as well as, importantly, reducing return rates by up to 70%.
Reactive Reality's technology in detail
The company's main product PICTOFiT uses a unique combination of Artificial Intelligence (AI), photogrammetry and image-based rendering to automate the conversion of 2D images of products and people into 3D models in around three minutes. The process is user-friendly and does not need expert hands or expensive equipment to capture materials and surfaces, which are converted into photo-realistic 3D assets. Using PICTOFiT SDK, these assets can be scaled at ease: items can be captured in only one size and then adapted to the different product sizes available. Retailers are also able to use existing product photos and convert these into 3D virtual garments, further accelerating the time to market.
Reactive Reality's technology offers three distinct services, these include:
Fashion Try-On

- Brands and retailers can generate photorealistic 2D and 3D models of their products in an efficient manner, capturing fine details such as winkles, fabrics and furry material. These can be placed on product detail pages and be used for virtual try-on applications. For the latter, customers are able to get accurate size recommendations and mix and match outfits based on their avatar to get a feel for what garments look like on.

3D Avatar Generation & Body Measurements

- Online shoppers can create a 3D avatar of themselves containing thousands of measurements on their smartphones. Retailers can also provide shoppers with accurate size recommendations as they try on clothes virtually, providing a high degree of detail and true-to-life feel. While trying on clothes, online-shoppers can also immerse themselves in real or virtual scenes (backgrounds) to get a feel for how an item may look on the beach or in the city, or anywhere else.

Scalable Fashion Image Generation -

Reactive Reality's technology unlocks an opportunity for high volume/low margin online fashion retailers, who need to present their product in an visually appealing but cost-efficient way, to create realistic 2D or 3D fashion images, without the cost and trouble of performing model shoots. Retailers need only capture an image of a garment or human model once, and from this can create millions of outfit combinations in seconds, as well as a large variety of poses and body shapes.
 
Stefan Hauswiesner, CEO and co-founder of Reactive Reality commented: "People are increasingly, and understandably, showing a strong preference for online shopping. However, despite its great convenience when compared with physical shopping, only 2D images make it a challenge for online shoppers to get an accurate sense of how a product will look once received. This has resulted in a stark change in consumer behaviour in recent years whereby online shoppers will often over-order items knowing full well that some will not be suitable and will need to be returned: a process eroding retail profits, and having an impact on the environment.
At Reactive Reality, we are revolutionising the world of fashion ecommerce, and democratising the tools required to address this growing challenge. In providing a one-stop shop solution, and cutting out the need to engage multiple technology vendors, we are empowering brands of all sizes to enhance their online shopping experiences to benefit all."