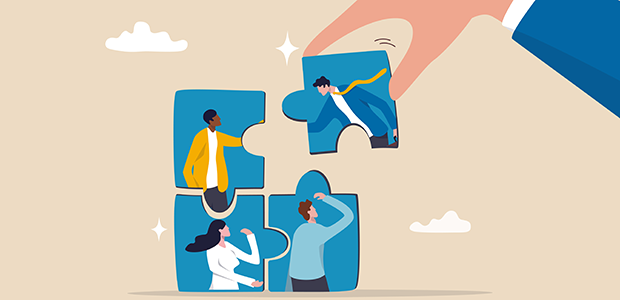 Why HR Teams Deserve Greater Recognition
The world of work is unrecognisable compared to five years ago. The pandemic propelled workplace trends forward and many businesses faced economic headwinds. The unprecedented circumstances prompted people to re-evaluate what they really wanted from their careers, provoked 'The Great Resignation', and a battle for talent.
How major events of recent years have impacted consumers, employees and businesses is broadly talked about. But, at the forefront of workplace transformation, is the HR and People teams who have guided business leaders and delivered change at speed during turbulent times.
HR teams could often go under the radar, with leaders traditionally celebrating business results and achievements of those delivering specific products or services. But we must not forget the role HR has also played in these business successes.
Recognition is long overdue, and HR teams deserve rewarding to celebrate their significant contributions and the way they have delivered the recent changes.
HR is rising in demand but needs the correct recognition and support
A Chief People Officer is one of the top 10 fastest growing roles in the UK according to LinkedIn, this suggests the importance of People teams and how it's gaining greater recognition, along with their value and impact. Yet, only 53% of HR leaders say they feel their successes are recognised by business leaders.
As demand for HR professionals rises and People teams continue to guide businesses through ongoing workplace challenges, without providing the correct recognition and support, the profession risks losing talent.  Almost two thirds of HR leaders (62%) plan to leave the profession, with 81% saying they are burnt out and 95% citing the sheer volume of work and stress. A CIPD report also recently found three in 10 People professionals say their mental and physical health is impacted by their work, particularly for less experienced professionals, viewing their health more negatively compared to the general workforce.
The culture and environment we work within is highly important
The duty of care these professionals have to employees is a responsibility which isn't taken lightly. These teams spend a huge amount of time listening to colleagues and advising the business on how they can keep up with the ever-changing expectations of the workforce. But while they provide support to colleagues, their own needs can be forgotten. 
The average working person in Britain spends over 84,000 hours of their life at work. It should therefore go without saying that the culture and the environment we work within is highly important. This is especially true when a business is going through high-pressure moments, significant growth, or transformation. Something many businesses will have been through in recent years.
Every business I have worked for has gone through some kind of transformation, whether that be high-performance growth or cultural change. What I've learned is that at the core of change is people. At Virgin Incentives, our teams have helped us form and deliver on a huge change journey and this all started with employee feedback.
Once again, HR plays a leading role in engaging employees through change, creating opportunities for regular two-way communication between leaders and their teams. They have the power to affect how colleagues feel about the people they work for, whether they feel listened to and cared for. This impacts employee engagement and their openness to embrace change – influencing the success of any change strategy.
We need to look after our HR teams
It's important that we don't forget that HR teams have not been immune to change either, with 91% of leaders saying the profession has changed dramatically in the last five years. Although it is widely acknowledged that the stress of the pandemic affected everyone, there are some areas whereby this is often forgotten, HR being one of them.
HR leaders and professionals have navigated workforces through unchartered waters, rolled out hybrid working policies and moved the dial on workplace culture for a greater focus on employee wellbeing. They create benefits packages and meaningful rewards to boost employee happiness at work.
It's clear that these teams need - and deserve - greater recognition and attention paid to the issues that matter most to them, too. They are responsible for a business' greatest asset - and the lifeblood of any organisation – its people. Whilst they put employees first, let's not forget to look after our HR teams or sing their praises when they achieve the extraordinary in highly competitive times.