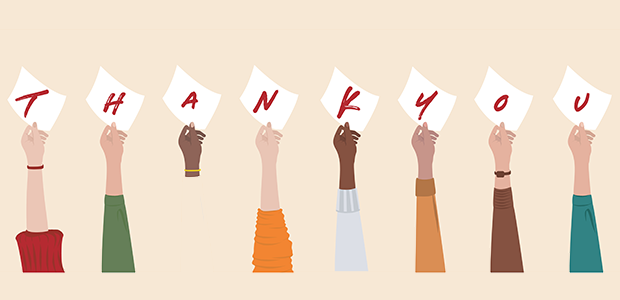 Why employee appreciation shouldn't be limited to one day
Keeping employees happy to commit and grow within a business should be a core aim of HR teams. However, it has been reported that nearly half of employees leave their role because they do not feel appreciated - particularly during the first quarter of the year when people naturally look for change.
Attracting and retaining talent has been a key challenge over the last couple of years and this looks set to continue in 2023. Reward and recognition could play a key role in retaining talent, with a quarter (26%) saying that the highest barrier to loyalty to their company is a lack of appreciation and not feeling valued.
Showing employees that you care about them and that their hard work hasn't gone unnoticed is an important part of creating a caring and people first culture. Workhuman and Gallup revealed employees who feel that their efforts and good work are recognised are more satisfied, productive, engaged and connected. Employee recognition alone has been shown to result in employees being 4 times as likely to be actively engaged at work.
While Employee Appreciation Day creates a fun opportunity to say thank you to colleagues, businesses shouldn't confine showing appreciation to just one day, instead leadership teams need to consider how they can frequently celebrate employees' accomplishments throughout the year and seek feedback from their employees, involving them in the process.
Actively celebrate achievements and say thank you
Often, businesses can fall into the trap of thinking financial rewards are the only way to show appreciation to employees. But a heartfelt and personal 'thank you' can also go a long way.
A company portal for employees is a great place to share these messages and can foster a great people culture. For example, Virgin Incentives uses PeopleHR, where colleagues can give each other recognition badges which range from recognising work to thanking people for spreading positivity. Alternatively, distributing an employee recognition newsletter to the company, writing a LinkedIn recommendation or sharing a personalised message in-person or over email are other ways to show employee appreciation.
Long service awards
Appreciating your employees' loyalty is a must have for productive businesses and using rewards can help to reduce employee turnover. Celebrating work anniversaries presents an opportunity for businesses to say 'thank you' to colleagues for their hard work, dedication, and loyalty.
Traditionally, these awards were reserved for those who had continuous service of 5, 10 or even 20 years, but workplace culture has rapidly changed. Employees tend to move on more quickly and long service awards are being revamped to reflect today's world of work.
If you have low retention and a high turnover rate, the first few years of service could be key to retaining employees. By celebrating work anniversaries more frequently, marking one, two or three years of service, can keep employees engaged and help reduce turnover.
To be effective, long service rewards should be tailored to reflect employee contributions. A colleague who's been at the company for five years should receive a different reward to someone who's been there for 20 years.
It's also an opportunity to show colleagues how well you know them, tailoring rewards based on their personality, interests, and hobbies. Offering them a unique gift that's perfectly matched to their interests, such as a weekend away, dining experience or even flying lessons, shows that you appreciate them and take an interest in their life both in and out of work.
Increasing employee engagement will make your co-workers feel less stressed, more productive, and more eager to support your company's objectives. People that feel valued and heard at work will likely also feel happier and happier employees are 13% more productive and more loyal than unhappy ones.