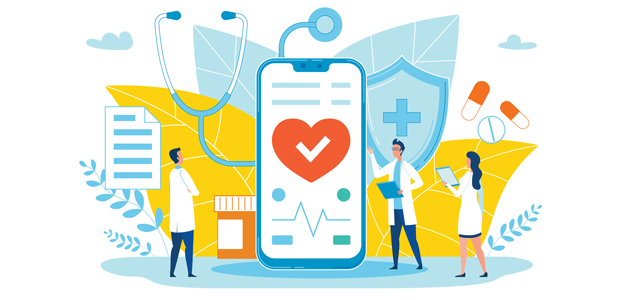 UK Health Technology Companies to Watch in 2021– Top 10 Guide
Health technology is the fastest growing subsection within the health sector as well as the second most profitable sub-set in the tech sector. In 2020, the UK health technology sector received venture capital investment of $2.3bn, the third-highest globally. When considering both growth and investment across the broad spectrum of categories in the UK tech sector, the health technology sub-set is second, only after fintech.
Between 2016 to 2021, the combined value of European health technology has increased by more than 500%, reaching $41bn. The UK alone is expected to be worth as much as $36bn, though figures vary. Finally, the UK is by far leading other European countries when it comes to research within the health-tech sector.
OggaDoon is a digital marketing and PR agency, specialising in green-tech, cyber-security, property and health technology – the experience gained in the latter means that we are well versed to share some thoughts on what makes a 'one to watch' on the health technology circuit. So, let's get to it! Here is our top 10 list of the health technology companies to watch in 2021:
This app supports women during the mentally and physically strenuous and stressful period of pregnancy and beyond. This app was developed by a group of psychologists and one of the most popular features they developed was a check-in function – which continues up to 12 weeks postpartum. 
Other key features include pelvic exercises which are medically proven to be important during and after pregnancy; mental wellbeing exercises; physical exercises that are safe for the different trimesters, as well as nutritional support. All the features help expectant mothers make the most of their pregnancy and assist with preparation for a smoother pregnancy and delivery, to monitor and protect the health of their baby. The founder Melinda Nicci was named by the Tech Digest Magazine as one of the top 50 inspirational women in UK tech. Baby2Body's social content and aesthetic is also outstanding, hats off to the team who have caught our attention making this firm 'one to watch'.
This top 10 start-up is a B2B service provider developed software to monitor and optimise care services to drive efficiency in the day-to-day care of clients. Birdie's software is easily accessible in the format of a mobile app for care staff to log tasks, so care providing companies can map out and monitor their individual client's care requirements and ensure that they are being met.
In addition to the client-based benefits, it supports wider care management processes as all of the client information is in one place, stored digitally which makes providing audit reports to clients' families regarding their loved ones a lot simpler. The client's safety is at the forefront of this software design as it also has built-in alerts, flagging when clients do not take their medication, allowing individuals to alert the wider care team to monitor and keep an eye on this.
Furthermore, the app has built in features to ensure staff safety by utilising GPS mapping, enabling the care company to know the location of their staff whilst doing their rounds. The service also includes the customer support lines which were increased to 24/7 at the start of the COVID-19 pandemic.
Mental health and wellbeing have received a lot more coverage in the mainstream press in the last decade, including the difficulties for people to access services. This B2C app facilitates therapy sessions with fully vetted counsellors and psychologists on a pay as you go basis, and customers can use filters on the website to find the best professional for them. Additional services include: appointment availability 24/7; support for all forms of mental health challenges; free anxiety and depression assessments; services for businesses to provide mental support for their workforce; and personalised dashboards to monitor progress. Dr Julian offers over 35 different therapy types including cognitive behavioural therapy (CBT), couples therapy and hypno-psychotherapy. These therapy types are for 27 different mental health challenges, including anxiety, depression, and autism. Dr Julian also operates with NHS mental health trusts supplying mental health support for patients. The blog posts on the Dr Julian page are definitely worth a read , as they cover societally important topics, including how to mentally deal with victimhood of racially motivated attacks and managing loneliness at university.
Elvie is an international women's healthcare company providing products which take "women's tech out of the dark ages''. Founder Tania Boler started the company after working on women's health policy for global NGOs and also the United Nations. Boler believes the releasing of health products targeting a female audience must go alongside the breaking down of societal stigmatisation of women's health.
One product is the sleek and technically innovative breast pump. Unlike the bulky, noisy and cabled market competition, the Elvie breast pump is the smallest and lightest wearable electric breast pump on the market. It's silent, wire free, fully electric and fits subtly into a nursing bra ensuring new mothers can pump whilst moving around comfortably. The pump connects to a mobile app which releases a notification when the bottles are filled. The app can also be used to adjust the suction, monitor pumping history, monitor real-time milk levels and pause and start pumping. The product also includes bra adjusters to ensure less pressure on the breast.
Another of the products by Elvie is the pelvic floor trainer. Now available on the NHS, this product connects to the Elvie app and encourages training with fun games for 5 minutes, 3 times a week. The trainer is fully waterproof, rechargeable and covered with medical grade silicone so it is safe to use with an IUD and coil. The app encourages use with 4 different skill levels and 6 different exercise types including strength and lift.
Eva is an NHS approved software provider whose focus is the logging of medical practices with their new product eVacc, targeting the flu and COVID-19 vaccinations. It maintains patients' medical records and is vitally important as it maintains the consistent record keeping via multiple care providers systems,  working independently of each other, there is a greater importance for clarity with logging of all patients' case development. The eVacc programme has the pre-screening questions and statements on its platform and makes it easy to access and find patients' medical records. It also has options for adding additional information regarding vaccinations, including the batch number, vaccinator, any side effects and more.
Another start-up company we think is worth a mention is Feebris who have developed a product focussing on community care and disease identification by non-medical experts. The software developed condenses data from different medical platforms and can be viewed on an app with a mobile triage system. The aim of reducing long-term medical impacts and hospitalisations is materialised by catching medical issues quickly, which the Feebris app assists with. The AI developed software is accessible for community care teams to collect information of vital signs from medical sensors provided in the Feebris package. This has helped reduce unnecessary 999 calls and A+E trips. Additionally, the risk of false calls and anxieties are alleviated due to a personalised baseline rate, alongside greater early detection. Feebris is backed by Google for Startups who have assisted with software development and this app works globally, including in remote areas without internet connection.
The mission at Forth is to help people feel at their best throughout life by understanding what is going on inside their body and the steps they can take to improve their health. They do this through the provision of blood tests that can be done at home and sent to a lab for analysis. Results are displayed through an easy-to-understand dashboard and the team of doctors give helpful tips on how clients can improve their body's biochemistry to feel better and hopefully live longer. It recently launched a ground-breaking Female Hormone Mapping Product. 
Female Hormone Mapping is useful for all women who have naturally occurring cycles. For far too long female hormones have been talked about solely in the context of fertility, and whilst that is important, hormones also have a far-reaching impact on a woman's health beyond reproduction.  The four key hormones (FSH, LH, Oestrogen and Progesterone) also impact the nervous system, the musculoskeletal system, the digestive system, the cardiovascular system, the immune system and metabolism.  In short, female hormones are integral to a woman's health, so checking your hormones are fluctuating throughout your cycle in the expected pattern is important.
The team at Forth is made up of medical experts and the services are delivered in top industry standard labs. The team is led by CEO Sarah Bolt, creator of Forth in 2017. The team includes Chief Medical Officer, Dr. Nicky Keay, a field-leading endocrinologist with a focus on sports medicine; Renee McGregor, nutrition expert with experience working with Olympic and National athletes; and Scientific Officer Michael Cornes, a clinical scientist who has published numerous research papers on the subject of test accuracy and biomarker personalisation.
Oxford VR uses state of the art virtual reality (VR) software to deliver VR therapy to clients across the UK and globally. Immersive techniques have been used as a delivery method for medically proven psychological interventions. VR is used to create situations where patients would normally feel anxious, scared or suffer from other psychological challenges. After only 2 hours this is proven to reduce patient's fear by 68%.
The current courses of treatment include the fear of heights and psychosis. This course is delivered with 2 30-minute sessions a week for 4 weeks, a total of 4 hours. Additionally, Oxford VR has developed patented courses on social engagement. They have achieved all of this by bringing together game designers with skills in animation, programming and illustration; together with some of the highest regarded psychologists using the latest academic research in mental health and the effects of VR treatment, this product is extremely innovative and interesting.
VivoSight

by Michelson Diagnostics Ltd
The VivoSight DX scanner is the main product of VivoSight - which is used to identify and diagnose non-melanoma skin cancer. The handheld scanner uses patented ultrasound imaging laser optic beams, to produce subsurface images of the skin tissue, in real time and in high resolution. Used by dermatologists, the images are useful to monitor and look for sub-surface cancerous growths without laceration and are being heavily used in current research. Within 15 seconds, a 3D image is assembled as deep as 1 millimetre, producing numerical and graphic data for objective analysis. In a 6 by 6 millimetre segment, up to 500 cross-sectional frames can be viewed individually or as a video, increasing the accuracy of analysis. Additionally, VivoSight produces software and other tools compatible with these scanners. 
If you would like to learn more about the digital marketing and PR work OggaDoon has done in the health technology sector or how we might help your business then please visit here.