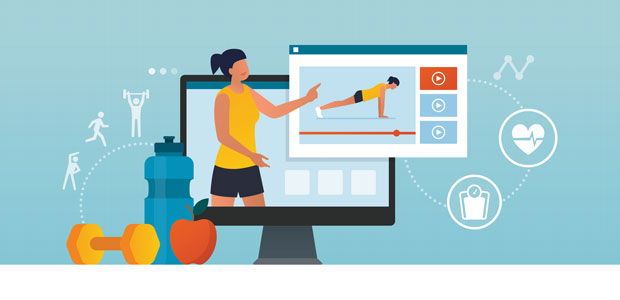 Three ways to put UX first in the world of online fitness
When creating a digital experience centred on health and fitness, it's vital to provide the best user experience possible – one that fits into our day-to-day lives. Work, families and social lives must all be factored in, along with the ways people choose to exercise, whether that be in the gym, at home, or outdoors on a run.
With the help of UserTesting, here at Ultimate Performance we are able to test all of our user experiences on real life people prior to them going live. Through the testing, we can prioritise producing the best output and ensure the fitness products we put out into the world are easy to use, convenient and professional. For instance, when creating Ultimate Performance's new app, this was tested through the UserTesting platform. Human insight actually led to us making some changes to the meal planner within the app, with insight also revealing that customers found password requirements frustrating. From these results, Ultimate Performance was able to adapt the app and make it much more user-friendly. This testing is invaluable in preventing problems later down the line, which is why Ultimate Performance now has a 12-person User Experience Team, which was built in less than a year of working with UserTesting.
We're all different, but providing a seamless experience that fits into someone's everyday life is critical for customer satisfaction and retention. This isn't always easy to deliver, however, so read my three top tips for putting UX first.
1. Take people along for the journey
The only way to get buy-in is to take the team on the journey with you and show the value of strong UX. Don't bulldoze your way in, though – start with little steps and go in with the aim of proving yourself and gaining trust. When you're working with different teams, experience isn't a priority for some - you need to put it on their radar and prove it has an impact.
Always convey what the teams are up to in a way that hits home with senior colleagues, although education is not always the right way to go about it. Instead, try to get them involved; strive to get to a situation where they suggest user testing. As UX pros, it's crucial not to work in isolation for six months and then show people what you've done. No one will care. Instead, spread your "UX tentacles" around the business and involve as many people as possible.
Tailor your approach and read the room – it's not one-size-fits-all when you're sharing the results of user testing. When talking it through with teams, or even the CEO, you have to package it up in different ways. From a research point of view, feedback has to be honest. But insights from users should never be considered negative; always frame it as positive because it's always about learning.
Once you build trust, people let their guard down and accept your processes. Strong UX is specifically important when creating an online health and fitness experience. Physical gyms will probably never disappear, but Covid-19 has forced people to become flexible with fitness. It doesn't need to be done in a gym – it can be anywhere, at any time. From a tech POV, however, the challenge is to replicate what it's like to train with a coach.
Motivating users and holding them accountable - these are crucial things to experiment with. At Ultimate Performance, we experiment with implementing these factors regularly. We want to make sure our outputs fulfil a trainer-like experience as much as possible. 
2. Always be honest
If something doesn't work, don't hide from it - change it. This is where tools and platforms such as UserTesting are so vital. Before your product or update goes out to your customer base, you can iron out any issues, remove any pain points, and improve the entire process, all by testing it on real people.
Our biggest challenge when designing an engaging experience for users at the moment, is that we're competing in an incredibly saturated market. Every influencer, reality star and YouTuber has an app or fitness programme. It's important we remain authentic, focusing on our world-class results and excellent product in order to cut through the noise. Ironing out problems, being honest with ourselves and customers, and prioritising the best possible experience for maximum results, is the only way we'll prosper and progress.
There's an undeniable challenge in delivering experiences for multiple personas across different regions and at different stages of their journey. At Ultimate Performance, we have notes on all factors of users: age, health factors, ethnicity, gender. There are lots of different splits in terms of their demographics. You can't just stay where you are regionally, you need to reach your regions everywhere and you can with user testing. This will highlight any pain points that are more prominent in certain areas, and any successes in others.
It's about honesty and inclusion. Be honest about what works for who, have empathy while on the journey and talk to your users all the time. It's a gradual, truthful process to reach a successful outcome. There's no point trying to fool yourself into it being an easy, one-size-fits-all product - that's incredibly unlikely to be the case.
3. Empower everyone
Give people the power and confidence to do things that they didn't dare to do yesterday. Fitness tech is hard: there's lots of competition, many external factors that impact our results, and the ever-changing pandemic climate has meant the need for online fitness and health programmes is continually evolving.
Encourage your designers to do what they think is best. Encourage them to experiment, design new exciting products, and reassure them there is no wrong decision. Testing means all issues can be ironed out, their ideas are always valid, and as UX continues to morph, they might just make the best breakthrough design.
Empower your users too. Encourage them to give feedback for improvements, and empower your team to experiment until they reach the best result. You can't take feedback as failure – you've always got to take it on board.