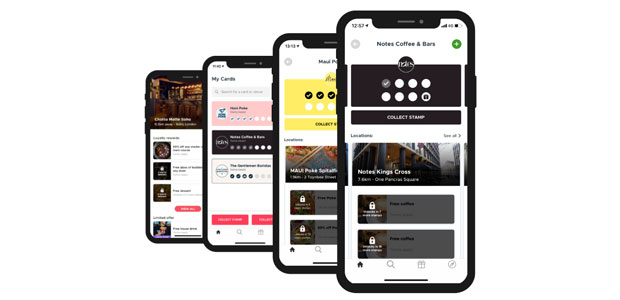 The tech startup set to revive the hospitality sector
Startups Magazine recently spoke to Tsewang Wangkang and Frederick Szydlowski, Co-founders of Embargo, a loyalty platform that allows restaurants, bars, and coffee shops to recognise and reward their customers through the use of pioneering technology.
Beta launched in 2017, Embargo is helping hospitality businesses embrace digital transformation by connecting them directly with their customers delivering bespoke loyalty rewards and enabling communication.
Tell me about your startup and what you do?
Tsewang Wangkang (TW): "Embargo is a CRM platform and loyalty app which helps restaurants, bars and coffee shops to identify and increase their loyal customer-base.
"So, businesses that sign up to Embargo are granted access to an online platform, which allows them to easily create their own loyalty scheme, access customer analytics and drive more repeat business - all on a plug and play basis. The CRM platform, called The Portal, becomes our customers' main tool to identify and communicate with their customers.
"Once the loyalty scheme is set up, the venue then appears on the consumer-facing Embargo loyalty app, which anyone can download. App users are able to see what rewards are available at different venues and how many visits or stamps they need to redeem them. The app acts like a digital loyalty card wallet with plenty of choice and a fully contactless user journey. It is COVID-safe and a lot more sophisticated - and certainly a lot easier - than traditional paper loyalty cards."
Frederick Szydlowski (FS): "Crucially, hospitality businesses that use Embargo have access to  powerful tools that don't require any tech know-how or lengthy implementations from the venues. With a two minute setup they can have a digital loyalty scheme and access to key analytics. For the first time businesses can actually understand who their regular customers are, how many customers they rely on to drive most of their business and finally communicate with them and reward seamlessly.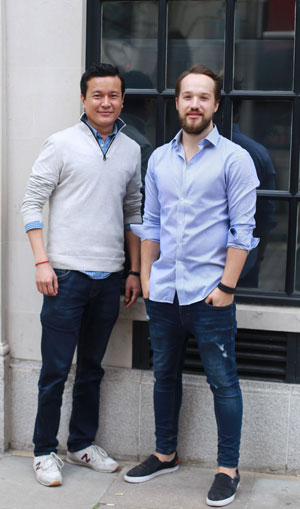 "This is hugely important for the industry - loyal customers are the lifeblood of the hospitality sector, and Embargo helps more venues improve their loyalty schemes and stay in touch with their key audience."  
Where did the idea come from?
TW: "We have both been big fans of the hospitality industry - myself as a customer and Frederick as Head of Marketing in the industry. And we noticed that most restaurants, bars and coffee shops were doing little - or nothing - to identify and reward their regulars.
"For example, some venues simply rely on members of staff to recognise returning customers. This is highly flawed given the high levels of staff turnover within the industry. Meanwhile, many businesses rely on other outdated methods of encouraging customer loyalty, such as paper loyalty cards; these can easily be forgotten, damaged or lost, but more importantly it doesn't give you any information about your customer.  The current crisis has clearly shown the downside of such solutions when the industry reopened and the businesses could not contact their regular customer base. It was clear that a smart, digital solution was required to benefit for business and customer."
FS: "I worked in the hospitality space for many years and am good friends with many venue owners. So, I knew that the vast majority of hospitality businesses were poor when it came to customer loyalty and staying in touch with their regulars.
"Most are guilty for relying purely on social media posts or collecting email addresses from online bookings or WiFi and then sending them generic communications or promotions. There were no easy to use solutions in the market allowing the businesses to maximise the impact and speak to their most important customers, their regulars.
"We knew that there had to be a better solution to longstanding issues with customer loyalty schemes. So, we founded Embargo and beta-launched it in 2017 to provide an answer."
What technology is involved?
TW: "We wanted to ensure the technology was as simple to use as possible. Business owners have enough on their plate as it is, so they don't have time to get bogged-down in complex and time consuming solutions. So, we created a plug-and-play software, which enables businesses to set up their account within a matter of minutes.
"When venues sign up to the CRM system, our technology offers users step-by-step guidance to help them to set up their own loyalty scheme on the Embargo app; we make it very easy, although our team are always on hand to offer advice or guidance when needed. Once on-boarded, Embargo's clients have access to an intuitive CRM platform to capture and access customer insights, analytics and easy to read summaries to create better customer management strategies to drive more business.
How many are on your team?
FS: "We currently have an office team of seven. We also regularly consult with Embargo's advisory board; a team experts with a wealth of experience within the hospitality sector. We are very lucky to have the likes of Gerry Calabrese, Founder of Hoxton Spirits and Hoxton Gin, and Nick Telson Co-founder of DesignMyNight and Collins booking system, to offer valuable insights and help us grow the company."
What is the main goal?
FS: "The goal is to help bars, restaurants and coffee shops improve the way in which they identify and reward loyal customers to ultimately generate more business. Especially now after the lockdown it is more important than ever to manage the core customer base.
"We want to see the hospitality sector really understanding the value of customers loyalty and, better yet, ensuring they make the customers themselves feel valued - a quality, which we feel the sector has overlooked for too long. Embargo bridges this gap, enabling venues to effectively engage with their customers in an efficient and cost effective way."
What makes your business different from others?
TW: "The fact we offer such a simple, easy-to-use solution to a notoriously complex problem, really makes us stand out.
"It can be very easy to over complicate customer loyalty schemes, introducing various rules and conditions which the customer must abide by to receive a reward or requiring too much effort from the customer or staff to actually use the digital solution. In our experience, such schemes rarely succeed; customers never use them because they don't understand them, and hospitality professionals are unable to effectively explain them, so no one signs up. Instead of building the best theoretical product possible alone in our office, we went out to our customers constantly collecting feedback to build the perfect product for the market.
"We give hospitality businesses the gift of simplicity. It is simple to set up, simple to communicate with their customers, and simple to reward loyalty."
How have you found funding?
TW: "So far we have raised funding with angel investors. It is part of our strategy to raise smart money with investors who can help Embargo to grow in different areas such as expansion or product development. Our investor base is very diversified from senior bankers, industry experts to professional athletes. We can always count on the support of our investors whenever we need an introduction or advice to grow the business."
What have some of the biggest challenges been so far?
TW: "As is the case with many startups, our biggest challenge in the early months was getting our message out there. We were fortunate to have a strong network of business and hospitality contacts to get us started, but then we have been focused on scaling operations since then. 
"By the time we formally launched Embargo in January 2018, we already had 47 hospitality businesses signed up to work with us. Once you have some clients, and they begin to see the rewards of your product, positive word of mouth begins to spread. Consequently, we had quadrupled our client base by January 2019 to 187 venues; as of June 2020, we have 520 bars, restaurants and coffee shops working with us."
How did COVID-19 affect you?
FS: "The coronavirus pandemic has presented challenges and opportunities. In the short term, when the UK went into lockdown most of our B2B clients - most restaurants, bars and coffee shops - were forced to close.
"However, COVID-19 has also made Embargo's proposition even more compelling. The lockdown period gave hospitality business leaders time to review their existing business strategies and identify how and where things could be improved - and it was clear that regular customers and therefore loyalty schemes were a key driving factor for this.
"What's more, in the 'new normal' customer loyalty has actually become more important. With fewer people venturing out to bars and restaurants, these venues must do more to ensure repeat business from a small pool of loyal (and often local) customers.
"We have seen greater demand than ever in recent month. And since the sector re-opened in July, we have grown our client-base notably, with the likes of Thunderbird Fried Chicken, Notes Coffee & Bars and The Gentlemen Baristas signing up to Embargo."
How did it affect the hospitality sector?
TW: "The pandemic dealt a massive blow to the sector; it reported losses in revenue of almost £30bn over the lockdown period.
"Government support, most notably the Eat Out to Help Out scheme, have certainly helped to kick-start the sector's recovery. But there remains a lot of uncertainty, particularly as lockdown rules are reintroduced and social gatherings are clamped down on.
"We know that restaurants, bars and coffee shops will remain popular in the months and years to come, but in the short term these businesses must find ways to survive."
How do you think the sector will cope in the future?
TW: "There are a lot of important considerations and plenty of practical considerations when looking to the future.
"Take health and safety, for example. Naturally, cleanliness has always been important to venues, but in the wake of the pandemic, regular deep cleans, increased access to hand sanitiser, one-way systems, social distancing have all become the norm.
"Additionally, we have seen greater dependence on contactless payments. Again, these were used prior to the pandemic, but now we are seeing venues going "cashless" in an attempt to minimise contact between staff and customers.
"However, if hospitality businesses are to safeguard their long-term survival, they must consider the bigger picture. Businesses can no longer afford to be complacent. Instead, they must review and update their business strategies and consider more cost-effective, smart solutions to address changing trends within the industry.
FS: "Many consumers are now choosing to remain local when dining out. This certainly provide businesses with an opportunity to rebuild and nurture a strong base of loyal locals.
"Tech-based solutions will be central to achieving this. Offering a more bespoke service will also be key to the survival of many bars, coffee shops and restaurants. Even small things, like offering a customer their favourite drink 'on the house' will go a long way to making them feel valued and encourage them to return to the venue. Only through accurate data collection and analysis will this be achievable.
"The same goes for customer communication. A generic marketing email from a business will likely be ignored. However, a tailored message will be eye catching and make them feel valued. Again, only through better data analytics will this be possible.
"It will be challenging, but harnessing smart, tech-based solutions will certainly help the sector to cope with the new normal."
What do you have planned for the future?
TW: "There are a number of elements to the next phase of Embargo's growth. Currently, we are working with hundreds of venues across London; but we have also started to expand further afield to towns and cities outside of the capital.
"We have already signed-up our first coffee shops and restaurants in Manchester, Liverpool, Birmingham and Brighton and we are keen to build this regional client base further. International expansion is also within our sights and we are already making progress in this area given the demand for our product. On the product side, we are in the process of adding new services to Embargo too!
"We are also currently in the process of raising our next EIS funding round, too. With a strong base of clients - including some great names in London's hospitality space - and a stellar board of advisors, we are confident of securing more capital to help further accelerate Embargo's growth and product development in 2021 and beyond."