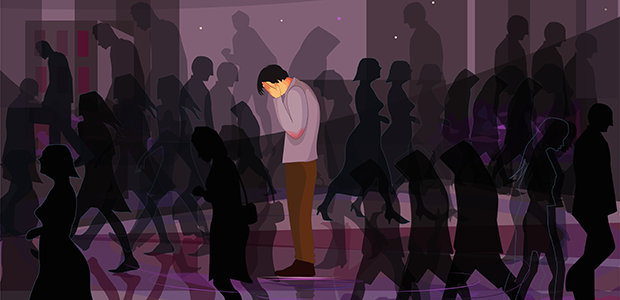 The startups tackling loneliness
One in four adults feel lonely. Loneliness can put adults at a greater risk of suffering from mental health problems down the line. This year, the focus for Mental Health Awareness Week is raising awareness of the impact of loneliness on mental health and how it can be addressed practically.
Before the pandemic, five percent of adults in Great Britain said they were often or always lonely. Now, this figure is a devastating 7.2%, the equivalent of 3.7 million adults. COVID-19 made us confront loneliness in a different way as millions faced self-isolation.
Startups Magazine is taking Mental Health Awareness Week as an opportunity to recognise the importance of startups shining light on loneliness, doing their best to tackle the problem.
Panion
Panion provides a space to enhance social wellness, designed to solve the distinct social challenges faced by large communities today. You can build a safe and inclusive culture, connecting people to a private built-in social network, find rewarding connections by searching for people with specific interests and goals, and host events and group activities with new connections. Panion uses data-driven insights to allow users to connect with those with similar interests, harnessing data to build curated communities that have an intentional, positive impact on the world around us.
ElliQ
ElliQ acts as your sidekick allowing for happier, healthier ageing. It is a robot capable of engaging in conversation, telling jokes and motivating you to adopt healthier habits. Ultimately, ElliQ  is your personal assistant on the journey to age independently. ElliQ is simple to use, using voice command and on-screen instructions to interact naturally.
Mon Ami
Working to correct the injustice faced by ageing and disability services, Mon Ami has created software for these providers. Mon Ami differs from other human service databases as its an operating system designed specifically for ageing and disability agencies to make everything from case management to telephone reassurance easier. It uses automation, integration and a thoughtful design.
No Isolation
No Isolation brings people together through warm technology and knowledge, but what does this mean? Warm technology facilitates human contact and therefore increases our sense of belonging. It takes into consideration individual needs and abilities, providing equal access to communication.
Founded in 2015, No Isolation has two products, AV1 a telepresence avatar, and Komp, a single button computer.
AV1 is designed for children who suffer from long term school absence as loneliness and isolation can impact education and social development. AV1 ensures that children don't miss classes, breaktime or conversations with friends. Utilising a build in camera, microphone and speaker, the student an participate in schooling as if they are physically present.
Komp is a on-button computer bridging the communication gap between those struggling to use modern technology, and their more tech-savvy family and friends.
Papa
Recognising that sometimes you need a shoulder to lean on, Papa helps health plans and employers connect members and their families to real people for help with companionship, everyday tasks and transportation. Papa provides vital social support and care to strengthen families and banish loneliness.
These startups are a tiny selection of those working to combat loneliness around the world. However, to truly overcome loneliness and its effect on mental health we must address it together in communities and across society as a whole.
To learn more about how to support Mental Health Awareness Week, click here.
For access to resources to help with loneliness, click here.