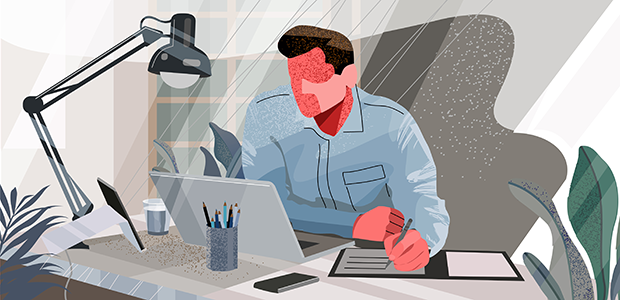 Returning to the office post COVID-19
The pandemic forced the world to change its working habits, with many working from home full time for the past two years to ensure employee safety. However, over two years on since the pandemic was declared, workplace habits are beginning to change. With 80% of people surveyed by Mckinsey stating they enjoy working from home and 41% of people saying they are more productive, is working from home here to stay? Mark Bond, Group Chair, Mentor and Coach at Vistage discusses.
The impact of COVID-19 has permanently reset the way we live, work and conduct business; and in many cases, it has accelerated some long-term trends and brought new changes in motion. This has ultimately led to many corporate workers thinking very differently about office life, including SME business leaders who are keen to embrace the new normal. A new normal where productivity and output is favoured over hours worked. 
As the Great Resignation phenomenon continues, for small and medium-sized businesses the challenge they are finding themselves facing is how to effectively lead within a culture of employee autonomy — a relatively new phenomenon for some. Instead of resisting, I would advise business leaders to fully embrace and lean into this new way of working - after all it's here for the long term. Think of it as less of a logistical change, but rather a shift of culture for your business. 
There are a few considerations businesses will need to be aware of in order to embrace the new normal within the workplace. For instance, when managing a hybrid workforce, being visible is important for creating transparency, recognition and empathy within an equitable hybrid workforce. Business leaders will also need to be comfortable consulting with staff for feedback on work engagement and their personal wellbeing, as having this open dialogue of communication will allow you to make positive changes about current issues or problems.
Another facet is to develop training that enables managers to monitor performance, engage their teams, and discuss mental health as you work within a remote or hybrid model. However, the most paramount factor when working from home is to lead by example when it comes to wellbeing. Leaders must be aware of the dangers of facilitating or ignoring an 'always on' culture, so if needed, enforce boundaries which allow employees to take breaks and finish on time. 
As mentioned earlier, remote working is here to stay, so CEOs must continue to find the right balance to run a productive workforce. Now more than ever business leaders must understand the impact of remote work on productivity and change their leadership style to match the reality of the new normal and ensure the success of the business.