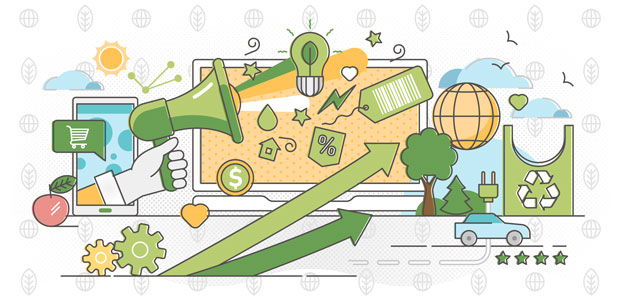 (Pr)intervention: 3 reasons to run a green business
Do you ever find yourself alarmed by the stark contrast in ecological attitudes between friends, family and colleagues? For many, net zero targets are a top priority. Others' mindsets vary, with some making small adjustments to their way of life, and some refusing any personal responsibility.
However, it's time for businesses to get on board. Is there someone in your office that prints paper like it's going out of fashion? Who keeps leaving the cupboard light on? Sometimes the conversation can feel awkward as people's opinions towards eco-initiatives are hugely divided.
Nevertheless, its' a hugely important conversation to initiate or be a part of. Here, Startups Magazine explains why businesses ought to offer deeper consideration to their footprint.
Sustainability for survival
If people don't think they're affected by what seems like the indirect consequences of global warming, they're wrong. The scientific journal, 'Environmental Sustainability—necessary for survival', reported:
A mass of plastic waste named as "Great Pacific Garbage Patch" approximately 1.6m km2 in size - twice the size of Texas, is floating on the surface of Pacific ocean… Food security is a big issue faced by mankind. Sustainable agriculture has still not been achieved, as dangerous and harmful agro-chemicals rule the market throughout the globe and have caused great harm to the ecosystems worldwide.
It's not just animals and marine life that will suffer, however. Humans face the risk of consuming harmful pollutants and microplastics. And where do these materials come from? For the most part, companies that use them to create and package products.
Trillions of pounds of damage
In 2010, The Guardian summarised a report for the UN into activities of the world's 3,000 largest companies.
It found that if businesses were held accountable for their use, loss and damageable actions against the environment, they would lose one third of their profits. This amounted to $2.2tn (£1.4tn) in combined damage. Consider the damages now, over a decade later.
This year, UCL research suggested that the "economic cost of climate change could be six times higher than previously thought." It concluded that would be cheaper to reduce greenhouse gas emissions than deal with the impacts of environmental degradation.
Initiatives such as COP26 draw attention and attribute more blame to countries and their efforts to slow global warming. Accountability is fast reaching the forefront of media and legislation, so it's worth businesses' while giving it some thought.
Marketing strategy
Promoting your business as eco-friendly is not only great for your conscience, but it's good for marketing purposes. The market is rapidly shifting as we see a rise in eco-friendly and ethical consumerism.
Does your company actively seek alternative modes of production or types of packaging that ensure local sourcing or 100% recyclable materials? This is a great selling point, as well as a great thing to do. Customers are increasingly being driven by sustainable features, and many are happy to pay extra for this.
Yet, with green marketing, comes the danger of 'greenwashing'. This is when businesses invest more effort and money on creating a green identity for themselves than actually minimising their impact on the environment. These things (almost) always come out, though! Companies are far more likely to face serious legal allegations and charges as the pursuit of greener practices accelerates.
So, why not just make your business greener? As for startups or aspiring entrepreneurs that aren't already off the ground running, why not embed sustainability into your manifesto right from the start? If you make sure that the correct protocols and measures are in place, you will benefit yourselves the world.