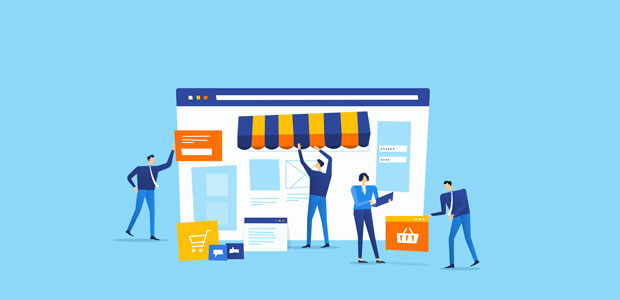 The pandemic caused an eCommerce boom - and it's here to stay
The COVID-19 pandemic and its subsequent lockdowns have placed a unique strain on many industries. As we begin to emerge into some form of normality, we may be surprised to find a radically different landscape of business strategy and consumer behaviour than previously.
This will be most evident on the high street. As all non-essential traditional brick and mortar retail was forced to shut throughout much of the past year, and social distancing placed hard limits on customer intake when they could open, it is unsurprising that many people have turned to online shopping as a more efficient method of making purchases. As such, eCommerce has experienced a substantial boom.
Indeed, the OECD report that eCommerce held a 31.3% share in total retail expenditure in the UK in the first two quarters of 2020. Compare this with the first quarter of 2018, when it was only 17.3%, and you see a striking shift in business and consumer behaviours.
It should, of course, be noted that this growth may yet prove unsustainable. In many cases, consumers had no choice but to make online purchases; that this could have provided a temporary inflation in the proportion of eCommerce sales to total retail cannot be discounted.
Lasting behavioural change?
The growth of eCommerce is not a new phenomenon. On the contrary, it is a continuation of a years-long trend away from physical retail, and towards the convenience of online retail. A survey by Retail Economics and NatWest found that 46% of consumers in the UK have made online purchases for products they would only previously have bought in shops before the pandemic.
This is a telling figure. Online retail is in many cases more convenient, particularly with recent logistical advances, than trips to physical outlets. With consumers told to stay indoors more than ever, the convenience and free availability of eCommerce naturally saw consumers become more open to making online purchases.
Businesses have had their hand forced equally. The operations of small and large businesses alike depend on consumer behaviour, with many companies prioritising survival over growth. As such, eCommerce has provided a crucial means of reaching customers and clients during the pandemic. It should be noted that some industries, notably hospitality, have been unable to translate their product to online platforms.
An interesting sector to consider as an example is hospitality; most prominently, restaurants. A recent report found that in the previous three years, there has been a 39% increase in food deliveries. While this looks a promising sign on the surface, the rewards have been felt unevenly - analysis by CGA revealed a 175% increase in restaurant closures in 2020 compared with 2019. CGA further reported that 60% of 18-24 year olds have increased their use of food delivery during the pandemic.
The pre-existing availability and brand awareness of delivery aggregation apps like Just Eat and Deliveroo gave takeaway restaurants an instant boost in lockdown as consumers turned to familiar infrastructure, while independent restaurants lagged behind working out the costings and logistical requirements of a delivery offering of their own.
This is a narrow snapshot of the varying shifts in consumer habits different industries have faced. In the challenging business conditions of 2020, it goes without saying that those able to embrace the convenience provided by eCommerce most fully have won out.
Is eCommerce here to stay?
I believe the signs are encouraging. The COVID-19 pandemic has certainly accelerated the process, but online trading had been trending upwards for years. The logistical infrastructure is firmly in place for businesses to consider eCommerce a core element of their strategy.
Advancements in delivery infrastructure in recent years have made online shopping more reliable for consumers, winning vital trust. Faster and more customisable delivery options, tracking, and simple returns processes for unwanted goods, all through a single online portal. As trust catches up to the convenience, online retail will go from strength to strength.
There are, however, notable cultural issues which may hold eCommerce back. After all, the high street will always hold a cultural value to people in the UK. To revisit the example of the food industry, the convenience of a takeaway delivery cannot replace the social experience of eating a meal in a restaurant. Many consumers will prefer the personal service of physical retail, which they trust implicitly. Others will want to personally assess the quality of a product before purchasing.
This means that continuing to enhance the online customer shopping experience is crucial to the sustained growth of eCommerce. Businesses hoping to achieve this growth would be well-advised to look at their logistical infrastructure, and look for areas of improvement that can be made to retain a competitive advantage.
The sustained growth of eCommerce in the face of the post-COVID-19 reopening will depend on a number of factors. Broader recognition of the convenience factor will be key, and a year of accelerated growth will have done much to win trust going forward. Catching up to the quality of service of physical retail will be crucial. Continued improvements in delivery convenience will play a large part in this. While it is unclear whether the traditional high street will come back to life in the coming months, there are many encouraging signs for eCommerce businesses.