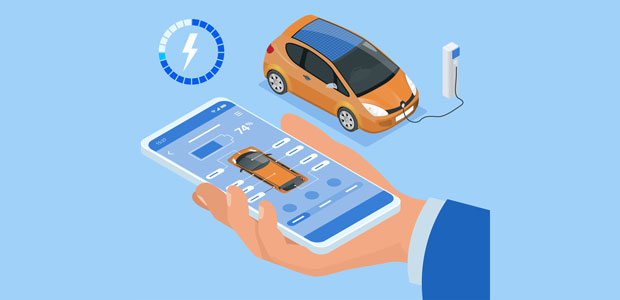 Let's encourage startups to embrace the switch to EVs
As a social impact entrepreneur and investor, I like to think I know a business opportunity when I see one. The 2030 ban on sales of new petrol and diesel cars provides us with a massive opportunity. Entrepreneurs and investors should be incredibly excited about this new technology and the potential to innovate. As far as I'm concerned, Electric Vehicles (EVs) are the new smartphones.
The only difference is that no one could have predicted how the rise of the smartphone would happen. The imperative of climate change and government action to phase-out old polluting technologies makes the future of transport much more predictable and certain.
I'm the Chairman of New AutoMotive, an independent transport research organisation with a mission to accelerate the switch to electric vehicles in the UK. We want UK startups to embrace the ban and seize the opportunity. Wouldn't it be brilliant to see British entrepreneurs, investors, innovators and educators leading the EV revolution?
Smart phones have changed dramatically since the first IBM model in 1994. They went from having terrible battery life with basic functionality to the all-singing all-dancing devices we use today. At first, like with most new tech, business leaders were critical and said that nobody would use them and that the features were unnecessary. Those businesses are now dying or dead. As EV technology evolves, more cutting-edge cars and accessories will enter the market. And, as more people switch to driving electric cars, we'll see them becoming more competitive on price. 
This is a rare entrepreneurial scenario where we know what will happen when the year 2030 arrives. The pandemic has affected many industries and embracing the opportunities within the EV sector provides the perfect opportunity to reboot the economy. Britain used to be one of the major car manufacturing countries before China took the lead. For the sake of our economy and businesses, we need to act now to stop this from happening again. We've already seen the Israeli business StoreDot create a battery that can be fully charged in five minutes and the top ten global EV manufacturers are China, South Korea, Japan and Germany. As a former car manufacturing hotspot, shouldn't the UK be aiming for inclusion in the top ten list next year?
At New AutoMotive we think there are three key challenges that the UK must overcome to make a success of the EV transition: training and skills, infrastructure, and helping consumers navigate the switch to electric.
Skills
Unplanned transitions in technologies and markets can be devastating for communities. Lost jobs, industrial decline, shuttered high streets: the UK has seen this before, and is still seeing it with the decline of the high street and rise of online retailers. Many of these long-term trends, which have been accelerated by the coronavirus pandemic are preventable. But we need the government to help UK workers and UK businesses to prepare by helping people get the skills they need for the future automotive economy.
Recent research from The Institute of the Motoring Industry warned that only 5% of mechanics in garages are currently qualified to work on EVs. This isn't good enough. Mechanics have a huge amount of knowledge that can be transferred to working with EVs. Falcon Electric is a great example of a business that's doing this and who is reaping the rewards. The Derby-based EV business converts petrol and diesel vehicles to electric. These range from classic cars like Bentleys and Aston Martins to Landrover Defenders. Falcon is receiving three to five conversion requests a day, compared to the same amount per week this time last year.
Converting old cars to run off an electric motor might seem outlandish at first, but it has huge potential. In France, a small business called Transition One uses kits to convert popular small cars to run off an electric drivetrain. Because they are mass produced, the conversions can take as little as four hours, and start at €5,000. As production of the components that make up the kits increases, prices are certain to fall rapidly, making this a more and more affordable option for the mass market. The French government has spotted the potential of this model, and has changed the law to make electric conversions quicker and easier and even offers a cash grant for anyone in France who wants to go green without giving up their cherished Citroen 2CV. 
There are currently over 21,000 motor vehicle repair workshops in the UK. Just imagine the possibilities if even a third of these businesses invested in reskilling their teams and embraced the shift to EVs. Yes, there's likely to be a short-term cost but as I'll keep saying – those who don't adapt will be left behind. We also need to ensure that school leavers and students are being educated about the career possibilities in the EV space too. I have a great relationship with Croydon College who are developing courses to give people the skills they need to thrive in the world of EVs. The college is building an EV workshop and its team are working on adapting their curriculum in line with the new technologies. I'd love to see colleges throughout the UK rolling out similar courses to ensure that our young people are being equipped with future-proof career skills.
Consumers
Kilowatts, different connector types and smart chargers… let's face it, the industry hasn't made it easy for drivers wanting to switch to an EV. In fact, the first barrier that consumers face when they think about switching to an EV is that they find it hard to imagine their life with an EV. We commissioned research last year looking at how EVs are discussed on social media, and the biggest area of concern was about the practicalities of life with an EV.
At New AutoMotive we know from our research that unlike early adopters, your average driver is less likely to step outside of their comfort zone when buying a new car. That's why we've created Electriccar.guide, a useful site to help people cut through the jargon. As well as easy-to-digest information, we've created a clever cost-savings calculator that people can use to see how much money they'd save by switching to an EV. Users just have to enter their registration number, and the calculator works out how many miles a year they drive and tells them how much money they could save if they were to drive the same number of miles in an EV.
With my entrepreneurial hat on, I'm constantly thinking about how to build out this tool. We want to add extra features so that drivers will be able to visit the site, get the key facts and order themselves a new EV that matches their lifestyle and automotive needs. We're in talks with the National Franchised Dealer Association to see how we can help their members get more people to make the switch to EVs. We'd love to see other EV organisations working with bigger corporations to help them do the same. 
Infrastructure
Before people switch to an EV, they have to be confident that they are not going to run out of charge. We've all been caught out by our phones running out of charge. Drivers need to be confident that they can easily charge their cars where and when they need to. By 2040, the UK will need an estimated 480,000 public EV chargers.
Most people will not struggle to find somewhere to plug in. Two thirds of households in the UK have a driveway or garage where they can install a charge point. These drivers will do almost all their charging at home, other than when on long trips. This is the cheapest and simplest way to charge - and with smart chargers able to time overnight charging so that you get the cheapest electricity, people will radically reduce how much they spend on transport.
For people in flats or terraces, it is not so straightforward. These drivers will rely on a public charging network that, at the moment, can be patchy, unreliable, and sometimes overpriced. Fortunately this year the government will introduce regulations to make pricing more transparent, and to make using public chargers easier and simpler. But we still need a step change in the rate at which chargers are installed. In 2021, the UK likely needs to double the number of public charge points currently available. That means local councils need to take an active role in making sure the infrastructure is ready when people want to make the switch to an EV.
As well as giving drivers somewhere to plug in, the UK's power companies need to make sure the networks can cope with the extra demand. The UK is building huge new off-shore wind farms, and our national grid is well-prepared for the overall increase in demand for electricity. However, at the local level, connections to individual neighbourhoods and streets may need improving in some cases. The problem facing electricity companies is knowing which bits of the network to upgrade.
As any entrepreneur and investor will know, the key to unlocking any market is understanding the nature of demand. With EVs it's no different. We need collaboration across the industry so that this important knowledge is shared and data made more available. There is not even any reliable indicator of where the UK's 200,000 EVs are. Yet knowing where the demand for charging is, and where drivers are most likely to want to switch to EVs is crucial to ensuring the infrastructure is in place.
For example, if tech startups working on the mapping of EV uptake do so effectively and share their findings then local car dealers can react to demand. Companies operating the regional electricity distribution networks can plan investment decisions and garages can map out how and when they'll reskill their workforce.
Colleges can work with businesses to launch apprenticeship and training schemes so that the future workforce is ready. Charge point companies can work with local councils to make sure the infrastructure is in the right place. And if we can understand demand for EVs, we can also understand the barriers to entry. If we can identify those barriers, businesses can work on innovating to take them down. We've seen some collaboration so far, and we're proud to work with EVA England and Octopus Electric Vehicles but I'd love to see this evolve to become something much bigger.
This has huge potential for business and the economy, but it's also a key part of tackling the climate emergency. Transport is the largest emitting sector of the UK economy and we need to change that. In 2018, cars and vans accounted for one fifth of the UKs carbon emissions. Businesses have a huge role to play in helping the UK meet ambitious targets such as cutting emissions by 68% by 2030 and EVs will play a vital role in helping us to meet this target. We've got to accelerate the transition away from damaging petrol and diesel vehicle emissions fast. There's been decent uptake for personal EVs over the last few years but we're still a way of where we need to be.
So, let's see the ban on sales of new petrol and diesel cars as a call to action. Entrepreneurs and investors have an opportunity to step into the future. Businesses are increasingly focused on social impact and this is the perfect opportunity to innovate, create jobs and make a difference to our planet. Those businesses who diversify and reskill will benefit and thrive in the long term. The huge amount of investment opportunity in this space cannot be ignored. Those who choose to ignore it will be left behind. Change is coming - let's embrace it.