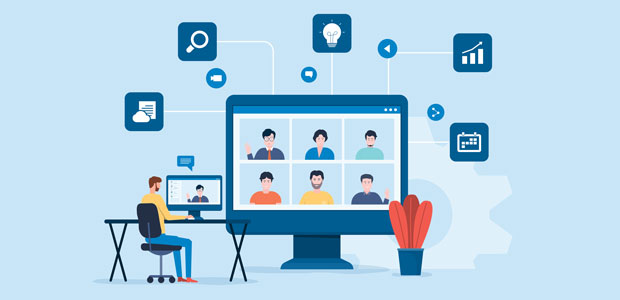 The impacts of new technology on organisational design
Technology today plays a major part in our daily routines, as well as our working lives. It has had a huge impact on the workplace and will only continue to do so at an incredible rate, due to the technological advancements of our time. What's more, the events of the last 12 months have massively reshaped work culture across the globe. In particular, the need for technologies that can be used to virtually replicate an office environment, will continue to grow in importance as we move into 2021.
The purpose of technology itself is to monitor and process information to assist in managing and controlling an organisation; to enable a positive, beneficial organisational design.
As the capabilities of these technologies evolve, there becomes capacity for greater change on a business's organisational design and a stronger awareness for the effectiveness of different virtual meeting methods. 
Emerging workplace habits
As the realisation of the benefits of remote working continue to emerge, so does the need to adapt workplace habits. The rise of remote working has enabled employers to understand the capabilities of technology and software that allows us to collaborate virtually. There is now an emerging need for tools that enable virtual meetings which simulate face-to-face interactions, rather than just showing faces on a screen which can be slow, rigid and often unproductive. These media are now becoming available and their effect is to create a very wide 'cognitive bandwidth', close to that achieved by face-to-face meetings with artifacts.
As we move forward into the future, businesses will begin to understand that virtual meetings should continue, even as employees return to the office. It gives individuals more freedom to implement a hybrid way of working, something which many now understand the benefits of after the effects of the COVID-19 pandemic.
Not only this, but being able to use virtual meeting software from the comfort of your home can also have a positive effect on the environment. 78% of the carbon emitted into the atmosphere is produced by transport, energy supply, business and residential, showing that virtual meetings can help with the drive to Net Zero.
'Zoom fatigue'
Virtual meeting software has been used by many companies over the last few months. But what we've come to realise is these media are inadequate to handle collaborations on complex tasks. The use of them can often result in what's known as 'Zoom fatigue', as these unnatural media aren't able to deliver communicative stimuli in a beneficial way. Cognitive effort increases and burnout from the overuse of virtual platforms becomes more common, which is something we should be aware of and look at changing as we move forward to our 'new normal'.
Organisations must consider the most efficient ways for their employees to collaborate, taking into account each individual's health by providing virtual meeting tools that reduce the effects of fatigue and burnout.
Emulating face-to-face meetings
One of the main concerns for those who have recently converted to remote working, is the quality of meetings which they believe can't be replicated virtually. This is why it's important to have access to tools which can closely emulate a natural roundtable meeting. Virtual meetings allow employees to work on a campaign or project, whilst communicating with colleagues in real time, even though they may be based on the other side of the world.
By having the opportunity to brainstorm ideas in the same way as they would if they were working in an office environment, organisations can begin to understand the lack of necessity in travelling to work in an office every day of the week. The latest virtual meeting technology is likely to be what will drive a more remote way of working, and begin to reshape organisational design across many businesses.