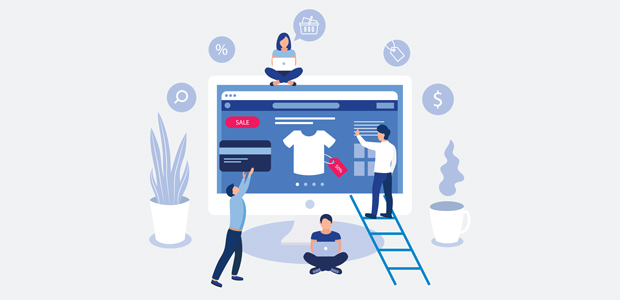 How well positioned is UK eCommerce to compete globally?
The global eCommerce markets experienced a remarkable boom period over the past 18 months, presenting agile firms with an unprecedented opportunity to secure growth from a retail sector which, even in normal trading conditions, had been on an unstoppable rise for several years.
The sharp uptick in online retail's market share, precipitated mainly by the COVID-19 pandemic, has given eCommerce businesses an unprecedented opportunity to win the trust and ongoing custom of a much broader consumer base. Online retail as a proportion of total retail sales rose from 19.5% in January 2020 to 35.2% in January 2021 – a near doubling.
Naturally, doubts were harboured about whether this growth could be sustainable, once the most damaging social restrictions of the pandemic had been lifted, and of course sales were expected to drop off to some degree.
By June 2021, with many restrictions lifted and large parts of the economy free to trade under less stringent limitations, the share of online retail to total retail dropped to only 26.7%, still substantively ahead of pre-pandemic levels. Evidently, online retailers have capitalised on the opportunity, and the sector's upward mobility is a trend that is likely to continue in the coming years. As such, there is justifiable confidence that this market share will sustain even into the post-pandemic marketplace.
This will be crucial for firms looking to grow quickly once confidence and certainty returns the trading landscape. After a year of conservation and streamlining, many will be looking to invest in scaling at pace in growth areas – and eCommerce has a tremendous potential ceiling which should attract serious consideration.
It goes without saying that businesses – particularly small and medium enterprises (SMEs) – should be supported in doing so. The UK has a longstanding balance of trade deficit, which has narrowed in recent years to only £3.5bn.
The UK is already recognised as the third largest driver of online retail sales, lagging only behind the US and China. However, the gap is significant – the UK's estimated $169bn income looks relatively meek when compared with China's $2.78tn annual return.
Clearly, there is significant space in the market for UK firms to grow into, and potentially out-compete these major players – particularly given an innate quirk that could give the UK a lasting competitive edge.
The importance of Brand UK
While the UK has an enduring trade deficit to be resolved, there are positive indicators which may point towards British business' capacity to compete.
Of particular interest is the robust surplus in the balance of trade in services, which stands at £28.1bn. UK services, particularly financial and management, have a strong global reputation which facilitates lucrative opportunities. While UK manufacturing of goods is constrained by higher costs than competing economies, this highlights the reputational quality which will afford UK firms the opportunity to crack international markets.
Simply put, the UK has an excellent reputation internationally for quality, expertise, and reliability. The revenue generation of financial services and management highlight how this could be exploited to create broader trading opportunities for goods. A recent study conducted by Barclays suggests consumers from areas as economically and socially diverse as the US and China, South Africa and the UAE all expressed willingness to pay premium prices for the assurance and prestige of products manufactured in the UK. In India alone, consumers reported being happy to pay as much as 11.8% extra for UK products.
While 'Brand UK' is a promising opportunity which should combine with the eCommerce boom to create a number of exploitable opportunities for British firms, it must be noted that this alone will not facilitate market dominance against the muscle of China and the US. The crucial details will lay in ensuring the right infrastructure is in place to propel firms forward.
Logistical planning will be crucial
As mentioned before, SMEs should be given considered support in accessing international markets. After all, while eCommerce is performing strongly in the UK domestic market, more than half of all sales (£368.5bn) are made by large businesses with more than 1000 employees. Economies of scale which have formed over time around these larger operations may make tackling the challenge of competing globally too intimidating for smaller businesses to consider pinning their growth ambitions on.
These issues include knowing how to manage customs clearances on an ongoing basis, navigating currency variations to keep costs within expectations, arranging courier solutions in unfamiliar markets, and implementing shipment tracking options to ensure consistent operational capacity and customer relations. While in the past this was a tall order, requiring significant expertise and investment to perfect, there are now a number of tools which can consolidate and demystify this process, affording SMEs far better access to potentially lucrative far-flung markets.
Of course, this is an opportunity will not bear fruit overnight. Such is the infrastructural capacity and manufacturing dominance of the two titans of eCommerce, catching up will naturally be a lengthy process. However, the popularity of Brand UK, alongside the world-class logistical tools at hand to help businesses navigate their forays into international markets, should ensure that UK businesses are extraordinarily well-positioned to find their competitive edge in the years to come.