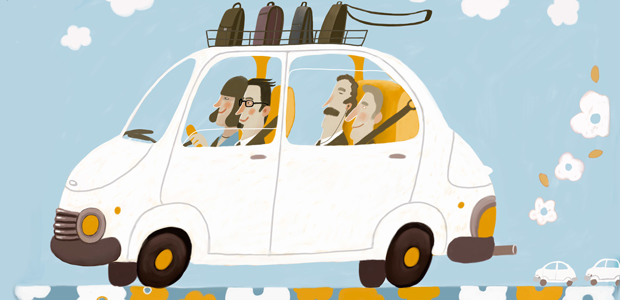 How do we make cities smarter through transportation?
As more cities become smarter, and technology grows, what do we need to do to keep with the needs of these smart cities, but also make them sustainable?
At the recent unbound festival in London a panel came together to discuss people, places and things when it comes to making cities smarter with transport innovation.
London was obviously spoken about as a hub for technology, and one of the biggest smart cities. When you think of London and you think of transport, you automatically assume public transport is the only economical and easiest way of travelling around such a big city. Although, public transport can help the environment, reduces traffic and can be a quicker and easier way of getting around, it seems like the perfect solution – but not everyone wants to use it, and it doesn't work for everyone.
So for these people, instead of them all going out to purchase their own car, why not look at car sharing services?  Drivy is the largest car-sharing service in Europe and Katy Medlock, Country Manager in the UK for Drivy, who was on the panel, explained the company's mission is to bring fresh air to big cities with convenient 24/7 access to shared cars nearby.
On the panel Medlock explained: "I want to make it clear, even though I work for a company that uses cars, I am anti-private car owning. I don't think the future involves us all having two or three cars per household that just sit on your drive for 80% of their lives."
Michael Hurwitz, Director Transport Innovation at TFL, was also on the panel and agreed: "We want people to travel sustainably, and therefore we need to massively cut down private travel around London."
"On an economic and social level it doesn't make sense, so why do we all carry on owning our own cars?" Medlock asked. She then explained: "Humans can be lazy, even though our car isn't being used in some cases 95% of the time, the five percent of the time we do need to go somewhere we will use the car unnecessarily, just because it's there, and that's a habit we need to break," Medlock explained. 
Medlock explained that the first step towards doing that is: "Until you give someone a real alternative to owning a car – such as car sharing, they won't make the change."
We all need to make a change, it shouldn't be down to a small number of individuals, Medlock explained: "The part we can all play is getting people to reconsider, and to start asking themselves; is using this car at this time the right and best decision, as most of the time it isn't and there are many other options available."
Eugenie Teasley, Head of Cities at Uber, was also on the panel and agreed with Medlock by commenting: "If cars are shared, then they can be sustainable."
The panel made it very clear that transport needs to be about focusing on helping people, and although starting in London makes sense, it is not just about the big cities. It is important we spread this message and try and encourage people with these facilities all over the country, in urban areas and in city centres. The people further out still travel and if we can make transport more sustainable all over the country, the impact will be massive.
Medlock concluded the panel talk by adding: "It is also interesting to think about automation and the future, as even though the infrastructure isn't quite there yet, we do need to talk about how the future is going to look in the transport industry and think about how people are going to feel about that. Some generations are not as comfortable around technology as others, but transport is something that affects someone of any age. It is about inclusion at the end of the day, and making transport and different methods accessible for everyone.
"The answer is getting people to take baby steps and ease them in when it comes to the future and change."