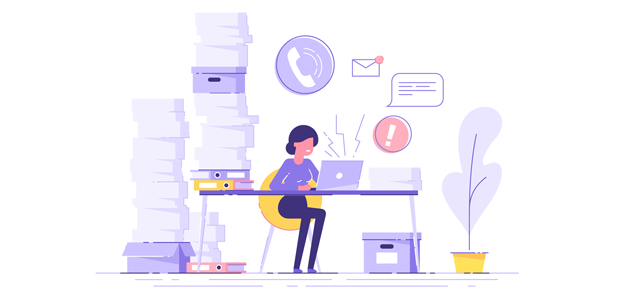 How to avoid workaholic tendencies when you love your job
As a 90s kid I wanted nothing more than a glittering career in the music industry. I soaked up the Spice Girls' confidence and felt like I could summon the power within myself to become famous. When TV shows like X-Factor and Popstars gained popularity in my teen years, a career in music seemed within arm's reach. I believed that if I worked hard and didn't give up, success would be there for the taking.
In a shocking turn of events, I failed in my quest to become a pop star, but I've been left clinging to the idea that working hard is proof of my worth as a person. I'm a full-time freelancer and author of the book Out of Office: Ditch the 9-5 and Be Your Own Boss and essentially, I've built a career on something that used to be a hobby. For this, I'm simultaneously grateful and frustrated, because I love working so much that I often don't do anything else.
The data tells us that 4% of business owners take the recommended quota of 25-28 days holiday, and over a third (37%) of people surveyed last year planned to take no time off at all. But workaholism is so much more than taking regular holidays.
What is workaholism?
Workaholism (also known as work addiction) is a mental health condition and just like alcoholism or drug addiction, it revolves around compulsive behaviour. Workaholism is the need to achieve career success or to escape emotional stress.
For many of us, running a business is a creative outlet and a healthy coping mechanism, something that gives us a sense of purpose and enriches our lives. But how can you tell when work has become an obsession?
What are the symptoms?
The symptoms of work addiction include putting in unnecessarily long hours, losing sleep in favour of prioritising work tasks, having an intense fear of failure at work, choosing work over relationships and using work to cope with guilt, depression, grief or financial trouble.
If you've spotted any of these symptoms then there are a few things you can do to minimise the impact. I regularly meet with a mental health at work mentor to chat about how I'm coping. Her name is Jo Hooper and she is the founder of Mad and Sad Club, which aims to help people 'work on their own terms and protect their mental health.'
It's worth mentioning that I also get fortnightly therapy - not for work addiction - so whilst working with a mentor isn't a substitute for medical advice I have found it helpful for examining my relationship with work.
Boundaries are key
Jo is a big advocate for creating boundaries within your business and she finds that often people don't even realise when they are being crossed. 'A good rule of thumb is if something feels a bit icky - then there's a good chance someone is sneaking over one of your boundaries. Another red flag is when people ask to pick your brain, or clients micromanage you by asking if your work is nearly completed.'
It's easy to see how us conscientious business owners who rely on word of mouth recommendations and repeat custom can fall into the trap of thinking that pandering to the needs of the client is a necessity. So it can take a little courage to stand up for yourself. Jo suggests kindly signposting clients to additional services, or gently reminding them of the scope of the project as detailed in your contract. Something as simple as an email autoresponder can work wonders. Use it to remind recipients of your working hours and expected response times.
During stressful times I've been known to set mine to explain that my mental health has taken a dip and therefore I'm taking some time off. This level of honesty won't suit everyone, but for me, it feels right.
Ask yourself some simple questions
If you think your relationship with your business is harmful and yet you also feel powerless to stop working, have an honest conversation with yourself. Firstly, consider how many hours you actually want to work. Forget the traditional 9-5, what the norm is in your industry or what past employers have expected of you and permit yourself to work shorter days or weeks if that feels like it would benefit you.
Secondly, think about how you want to spend your time. For me the answer was simple. I want to spend my time writing. But for years I took on social media projects that had no writing involved because they paid well and I got a high from seeing my bank balance every month. I thought I was achieving work success because I was making money, but I wasn't experiencing an internal feeling of success because it was robbing me of the creative satisfaction I get from writing. Once I pinpointed the disconnect it was easier to dial down my obsession with taking on every piece of work that came my way and adapt my business model to incorporate more writing projects.
Remember that you can't please everyone
I thrived in an academic setting and so the need to be praised for doing good work is something I have to keep an eye on. Getting clear on what you want from work is essential, and keeping that in the forefront of your mind when you make business decisions will keep you on the right track.
One of the simplest ways to do this is to draw up a clear mission statement for your business that encapsulates why you run your business and who it's for. It's not selfish to build a business that serves your needs and your clients' needs in equal measure. Valuing your own needs will make you happier in the long run which will have a ripple effect on the service you deliver. Let go of clients who make you feel like you need to work harder. Moreover, lead by example and stick to your boundaries. As Jo puts it, 'Work the way you want to attract.'
Reframe time off
I struggled to consider the idea of not working over the last year or so. With lockdown putting a stop to meeting with friends, family get-togethers, travelling abroad and seeing live music, I felt like my identity had been stripped away. With the economy in ruins, I was grateful to have work to focus on and it became an even bigger part of how I fitted into the world. But when I eventually did take some time off to rest it was such a tonic. And I think it can be helpful to see time off as a form of preventative medicine.
It shouldn't be a reward for busting a gut for twelve months straight. It shouldn't need to be administered in a panic to treat burnout, depression and anxiety. I like to think of it as going to the dentist for a check-up. Get it scheduled in the diary several times a year, stick to it religiously and you'll avoid major repercussions further down the line.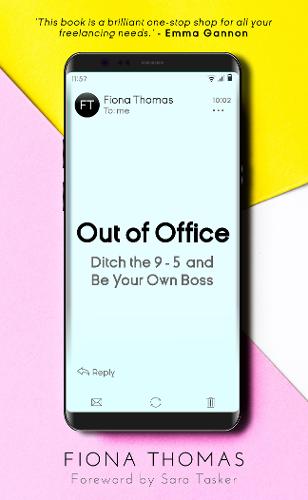 Out of Office: Ditch the 9-5 and Be Your Own Boss
Whether you are flirting with the idea of going freelance, just starting out or a few years down the line, this no-nonsense guide addresses all the questions you might have about working for yourself and making the most of life when you do.
Fiona covers topics such as how to raise an invoice, submit a tax return, claim expenses and network, as well as why working from home is proven to have a positive impact on productivity and mental health.
With a focus on understanding the 'whys?' just as much as the 'hows?', Fiona helps you dive into freelance life and pushes you to the next level, making sure you're taking time to reflect on your business and your state of mind.