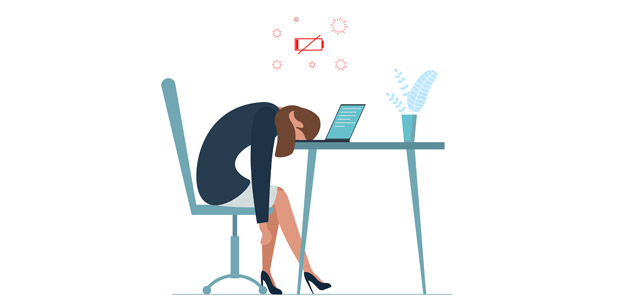 How to Avoid Burnout as a Startup Founder
Starting a business is a huge commitment. As a brand-new startup founder, it can be difficult to prioritise your health and wellness when you're trying to build your client base, create and submit invoices, manage team members, and ensure everything runs smoothly. It can feel like a lot of pressure on your shoulders.
"67% of startup leaders attribute personal health issues to their working lives" - Anna Flockett
So, it is important to be proactive and take the right steps to avoid burnout in yourself and your team. Below are some of the best ways to avoid burnout as a startup founder.
Build a Great Team with Clearly Defined Roles
When you start a business, you want a great team of people around you. It's important to hire people you can rely on and who will go above and beyond for your business. This means hiring people into clearly defined roles.  
Whilst your business is in the starting phases, it can be very tempting to bring team members on board and have them help you with everything from admin to sales and client pitches. This isn't just confusing for the individual, but it can be damaging for your business.  
All team members need defined and precise job roles. This helps people know what they have been hired to do, work to their strengths, and avoids role crossovers and disagreements. Building a great team means hiring great people and allowing them to play to their strengths in a clearly defined job role where they can be the best they can be, both for themselves and for the betterment of your business.
Prioritise Team Building Days
Founding a business can often mean long days as your team rally to bring new clients on board, submit work to deadlines, and get your business well and truly off the ground. While your team may work exceptionally hard, if long workdays are constant and there isn't enough margin for taking a break, it won't take long for burnout to become a problem.
Team building days help people recover from life's daily stresses, take time away from the office, and enjoy a break in the great outdoors. "Natural environments have been found to have restorative elements, which can ultimately give your mental health a boost," said White River Manor. "The natural light and fresh air are one of the best ways that you can naturally boost your mood. If you've been down, nature provides an ideal way to turn your day around." 
Team building days are also an excellent opportunity for employees to interact with their colleagues outside of the working environment. They help reduce stress, connect your team, and keep burnout at bay. If you want to ensure your team stays healthy, happy, and motivated, prioritising regular team building days will help.
Take Steps to Reduce Financial Risk
Starting a brand-new business can often feel like a financial risk, whether you have money behind you or not. What if it fails? What if you lose clients? What if you run out of money to pay your employees?
Worrying about money and learning how to manage business finances is one of the most common stressors founders face and it can cause burnout. So, it's important to take steps to reduce any financial risk. Below are some ways you can do that.
Have 6-12 Months of Savings
When you launch your business, it can be hard to know how long it will take for your company to start earning any money. So, to help take the stress and uncertainty out of the first few months, it's helpful to start with 6-12 months of savings in the bank. This gives you enough time to get things up and running properly.
Have Other Income Streams 
While earning a full-time wage from your business is likely the goal, getting there can take time. So, to avoid burnout from financial worries it can help to have other streams of income. Delivering pizzas in the evenings or working shifts on the weekends can be a great way to help build-up your finances in the beginning.
Automate Invoicing 
Businesses process billions of invoices every single year. However, creating and processing those invoices is one of those business admin tasks that takes a lot of time (and that's not accounting for any errors!) Automating your invoicing process is one of the best ways to speed up the process of payments, get paid faster, and reduce human-error. Automated invoicing is a huge time-saver and helps to keep burnout at bay.
Get 8 Hours of Sleep a Night
Sleep is one of the biggest performance enhancers. But when you've just launched a brand-new business, it is often one of the first things to be sacrificed. This can be detrimental to your mental and physical wellbeing and is one of the biggest causes of burnout in business founders.
So, if you want to avoid burnout and remain alert and fresh-faced for all those important client calls, it's important to get 8 hours of sleep a night. Even if you're a restless sleeper, just lying in bed and resting your body is beneficial. Ignoring your body's need for sleep is one of the surest ways to make mistakes in your business, be overcome by burnout and stress, and suffer mentally and physically. Prioritising sleep is important for everyone but especially for business founders.
Find a Business Mentor
A business mentor is someone who has years of entrepreneurial business experience and whose advice you would trust. You can either do your research and hire a business mentor or as most people do, you could contact people who you know and ask them to offer their support.
There are many benefits to finding a business mentor, but one of the most important is that you can learn from their previous mistakes and successes. Your business mentor doesn't need to have experience in your industry; their role is to share their experience of running a business, ask the hard questions, keep you accountable, and offer advice on how you can reach your business goals.  
Having a business mentor is a great way to avoid burnout as it means you have an element of support. You no longer feel like you're doing it alone. You have someone you can go to for advice.
Final Words
Starting a business is an exciting time. It's a time full of new possibilities, new adventures, and new challenges. But it can also be a time of extreme burnout. Being proactive is the key to avoiding burnout. We feel confident these tips will help set you up for success so that you can grow your business, take care of your employees, and most importantly, prioritise your wellness.