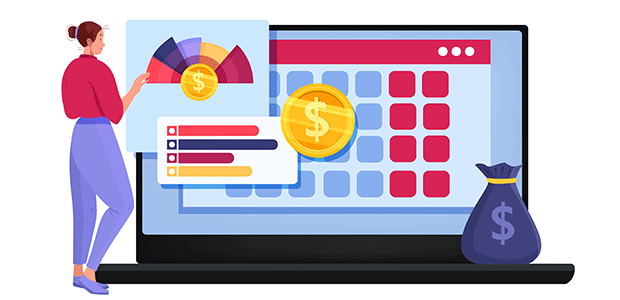 Top tips for managing your new business finances
Managing your finances is the most important task to understand as a new business owner, but if you've never needed to keep accounts before it can seem like a daunting task. However, by following a few simple steps, you can ensure your accounts are precise and your finances are aligned with your operational goals.
Create a process
Start by creating a plan for how you want to run your financial process and stick to it. Without a set of rules to follow, our tendency is to improvise but this is the last thing you want to do when dealing with money! If you don't know anything about managing business finances it may be worth considering seeking advice - an expert will be able to guide you through this vital initial stage. Your process doesn't have to be complicated, but it does need to be consistent and the time you take now will set the groundwork for the future success of your business.
Think about your payment terms
The payment terms you use will depend on the type of business you have. If you sell your products directly to customers, such as in a shop or restaurant, you'll usually take payment immediately. Similarly, if you freelance in a trade like plumbing or design, you may expect to be paid as soon as the work is done.
If your business sells products or services to other businesses you may want to negotiate payment terms of seven, 14, 30, 60 or even 90 days. Showing flexibility by offering long payment terms can help attract new business and build trust, but it will impact your cash flow so carefully consider how this will affect your operations before extending credit.
Whatever payment terms you decide on, make sure you have a document which clearly sets out the payment terms and method that both you and the client have signed and agreed on. This will help protect your cash flow and avoid misunderstandings down the line.
Choose a day for finance admin
A top tip to keep on top of your accounts is to pick a day in which to do your financial tasks. Then, if you know you've got a set time to review your finances and your invoices are going out on the same day each month, you can easily keep track of late or missed payments.
Choose whichever day suits you best to do your finances but, generally, invoicing is done at the beginning or the end of the month so it may help your clients to fit in with this typical schedule. No matter what day you choose, never leave your invoicing to the last minute and always double-check the details - sending the wrong information to a client can not only be embarrassing, but also lead to late payments and even lost business.
Find the right tools to help
Keeping accurate business records is a complex process but, if your accounts aren't up-to-date, you risk losing money, missing payments and damaging your business reputation. The good news is, record keeping doesn't need to be stressful. When you're just starting out, you may find a simple spreadsheet with your income, expenses and cash flow is enough, but when your business starts to grow it's highly likely you'll need a more sophisticated system.
This is where apps like My T can help streamline your process, allowing you to produce invoices, store receipts and view your reports.
What's more, by going digital you'll be ahead of the curve for when HMRC introduces the Making Tax Digital rules for micro and small businesses in 2023. With the right technology in place, the process of keeping on top of your accounts will become easier and much less demanding, leaving you free to focus on what really matters, getting out there and selling your products!
Managing your business finances should never be an afterthought. Rather, it should sit at the heart of your business strategy. After all, if you don't keep on top of your finances, they'll soon get out of hand.
While the world of finance can be an intimidating one, it's important to remember that you don't have to become an expert overnight. By following the steps above, you'll learn and gain confidence as you go, laying the groundwork for a lasting and successful business.