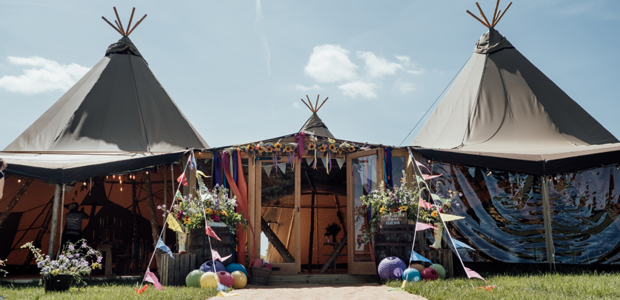 Events Company Launch Exciting New Tipi Service to Boost COVID Recovery
It's no secret that the pandemic has significantly challenged the events industry. Even with lockdown restrictions lifted, a hesitancy to return to large indoor events is predicted to continue for some time. In order to meet these changing customer needs and help to revive corporate events safely, Eventurous Ltd, a full-service events agency near Atherstone in the West Midlands, has launched an exciting new tipi hire service - creating an unusual and inspiring venue solution for business use.
Supported by the European Regional Development Fund, Eventurous' giant tipi hire service provides a more COVID-secure venue and comfortable route back into larger business events. The flexible tipi hire consists of 3 giant hat tipis and 1 chillout tipi, with the option to open up sides, offering an extremely well-ventilated venue. This makes it a great option to help ease anxieties and combat concerns of employees making the return back to events and conferences safely. Eventurous are able to offer a full event management solution, and have included features such as the latest AV equipment and directional speakers to keep sound levels contained within the tipi.
In addition to helping ease events hesitancy, it is hoped that the new tipi service will support the recovery of the events industry in the Midlands, by creating more opportunities for suppliers, caterers, entertainers and event planners who rely on the return of events. It also provides an extra venue solution to meet the increased demand for events spaces, resulting from over a years' worth of postponed events.
With Eventurous based onsite at the stunning Mythe Farm, businesses can take advantage of the farm's convenient central location and host their event with the ease of existing onsite facilities. Having a tipi set-up at Mythe Farm will also allow opportunities for alfresco dining, outdoor activities and a calming countryside environment to encourage businesses to make that return to live events, corporate festivals and family fun days. Alternatively, Eventurous offer a free venue finding service, taking into account your event requirements and finding the perfect venue to host your corporate tipi event.
Speaking about the new tipi hire service, Director of Eventurous, Joe Garland explained: "It's been vital for us as an events agency to adapt during the pandemic. We've already seen great success in our pivot towards virtual and hybrid events, and now with restrictions lifting, we are adapting again to help stimulate recovery for live events. We know many clients may be looking for different venue solutions that offer a well-ventilated space and room for social distancing, so we feel that the new giant tipi hire service is a great alternative compared to the usual indoor venue. It's also a fun and versatile option, which is all part of the appeal. We hope that businesses will be confident in booking events again and continue to support all the events industry to make a full recovery."
Eventurous hold a 'Good to Go' status and continue to work within the Government guidelines and restrictions. COVID safety rules are observed for all events they deliver, and the new tipi hire service will be held to the same high safety standards, ensuring face-to-face events take place safely and securely. If you'd like to find out more about Eventurous's offering and giant tipi hire for corporate events, visit here.