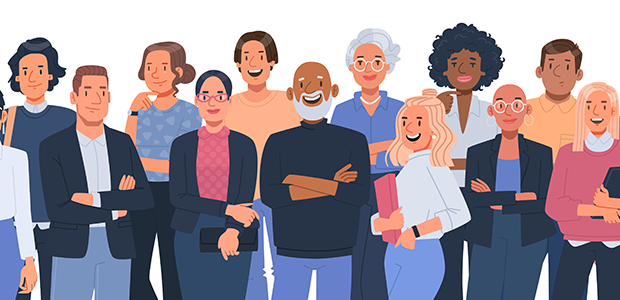 Businesses struggle to retain diverse tech talent
Ineffective diversity, equity, and inclusion (DEI) strategies are risking businesses' ability to retain diverse tech employees, with 64% of UK businesses reporting that they have lost employees from diverse backgrounds.
The findings, published in Wiley Edge's Diversity in Tech 2023 report, highlight a sizeable disconnect when it comes to tech businesses and their understanding of what underrepresented Gen Z employees really want from their working environment.
Despite 75% of businesses believing that their DEI strategy is working well, many Gen Z professionals still feel excluded in the workplace: 60% have felt uncomfortable in a tech role due to their gender, ethnicity, disability, neurodevelopmental condition or socio-economic background. The reasons for this discomfort vary, with 31% indicating a missing sense of belonging and 25% stating managers are biased.
The report also revealed that only 13% of businesses claimed to have no diversity issues, 40% accept that they lack gender diversity, 41% lack ethnic diversity, 31% lack neurodiversity, and 34% lack socio-economic diversity.
Despite awareness around their diversity issues, not all businesses are taking action. Over a fifth (21%) claimed to be aware of their lack of diversity but are making no attempts to address it, while 13% knew they lacked diversity but didn't know how to fix it.
More positively, a greater number of tech departments are taking actionable measures. 42% admitted that they lacked diversity but were actively seeking to achieve greater balance, while 11% claimed to have already resolved their lack of diversity, and 10% said they have always been diverse.
The research also exposed the drivers for DEI initiatives, finding that 31% of businesses are motivated by stakeholder pressure, and 33% identified addressing legal reporting requirements around the gender pay gap as a key driver.
Elsewhere, businesses appear to be recognising the commercial potential of a diverse workforce, with 47% of businesses implementing initiatives to expand the available talent pipeline, 42% to promote innovation and creativity, and 40% to increase productivity.
The reputational benefits of a diverse workforce were also recognised, with 39% of businesses viewing this driver as a core reason for boosting diversity initiatives, 33% pointing to improved employee engagement and satisfaction, and 30% to enabling better customer service.
To attract a greater number of underrepresented employees, 54% of businesses are updating their benefits packages, 51% are advertising roles in different places, and 28% are offering flexible working packages. 
However, the study revealed that external pressures pose a threat to inclusivity strategies, as 60% of surveyed businesses said the current economic environment is slowing down DEI initiatives. Worryingly, 52% plan to slow down tech recruitment, with 54% admitting that remote roles are at risk of redundancy.
Becs Roycroft, Vice President of Global Emerging Talent and Client Operations at Wiley Edge, said: "While it is encouraging to see that the majority of businesses are taking steps to minimise their diversity shortcomings, it's clear that greater education is needed to reduce misconceptions around what diverse employees expect from their working environment.
"A significant number of businesses think their current initiatives are successful, yet many employees report feeling uncomfortable while carrying out their roles. The fundamental purpose of DEI strategies is to ensure that every employee feels valued. Therefore, it is essential that companies adopt anti-bias hiring strategies, diversity and inclusion training for all members of staff, and source employees from underrepresented groups to increase workplace inclusivity.
"Upscaling DEI strategies should never be viewed as a box-ticking exercise. Effective policies have a direct link with employee retention, and failing to implement policies that align with employees' values risks losing the innovation, creativity, and efficiency that a diverse workforce encourages. Equally, it can be difficult to find tech talent of the same calibre once employees depart."