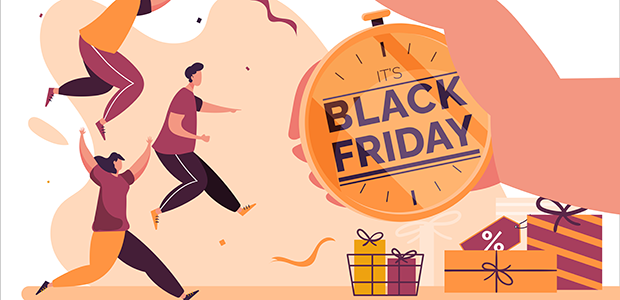 Black Friday's contribution to unconscious consumption
Black Friday is fast approaching, this year falling on 26th November, meaning most businesses are busy preparing for one of the most hectic weekends of the year in retail.
Black Friday is associated with bargains, flash sales and unheard-of deals, ready to be snatched in time for the festive period.
Startups Magazine caught up with Nohelia Rambal, Founder and CEO of Goodfind to discover how the brands its partnered with are preparing for the day. Goodfind connects consumers with ethical brads, acting as a directory for anything from clothing to cleaning products.
Responsible consumption is at the heart of the business and so the idea of Black Friday doesn't align well with its core values. Black Friday encourages mindless purchases and overconsumption because of the crazy deals that are on offer.
"Most sustainable brands don't get involved in this sale season, for good reasons!" said Nohelia.
She added: "Brands do adopt their PR strategy around it [Black Friday] accordingly to raise awareness."
Kresse Wesling, Co-Founder of slow accessories brand, Elvis & Kresse, does not agree with Black Friday and therefore the brand don't participate in it or other sale seasons.
Kresse explained how the company's pricing is based on labour, creativity, and innovation. By selling products at a lower price, the skilled labour and materials put into the product are not reflected: "Our prices reflect the costs of running a pioneering ethical and sustainable business, which is more interested in impact than profit," she said.
Further to this, Elvis & Kresse offer accessories that are timeless and not suited for different periods of the year. Kresse added: "Seasons or other forms of entrenched 'refreshing' naturally result in over-production and waste."
Kresse highlighted the importance for sustainable brands in remaining true to their sustainable aims and focus. Participating in events such as Black Friday would be unsustainable and therefore contribute to the problem of fast production, going against the premise of the brand, who transform raw materials, including fire hoses, into lifestyle accessories.
Brothers We Stand, one of Goodfind's partners who sell ethically sourced men's clothing, are reacting to Black Friday in a drastic way. By taking part in a 24-hour shut down the brand is standing against the overconsumption and overlooking of workers encouraged by Black Friday.
Brothers We Stand aren't the only sustainable brand reacting to Black Friday in this way. Rowdy Kind, a sustainable plastic-free children's toiletries brand, will celebrate Giving Tuesday instead. The day will mark the donations they've raised from every purchase of their product to give to their charity partners, Young Minds.   
Nohelia said that despite many companies opting not to take part, some brands that Goodfind is partnered with do take part in Black Friday, offering products at a discounted price. This is only if they are in the position to discount and have enough stock to do so.
"Sponsoring the growth of sales for a day with a discount might work out well for some and make a difference in their cash flow and total revenue for the year, whether it's a sustainable practice for their business in the long run or not is another story," added Nohelia.
For larger e-commerce and fast production brands, Black Friday can be a successful day. It allows for them to get rid of their overproduction and inflate sales without having to give anything in return.
"As consumer awareness about environmental issues grows, I hope this trend slows down and allows for more conscious consumption around the holiday season," expressed Nohelia.
There needs to be a global cultural shift where businesses, governments and individual consumers step up to drive the change towards slow, sustainable production. The focus needs to be shifted from fast fashion and having to have the latest trending item, and instead put on understanding the impact that this sort of consumption has on the planet.