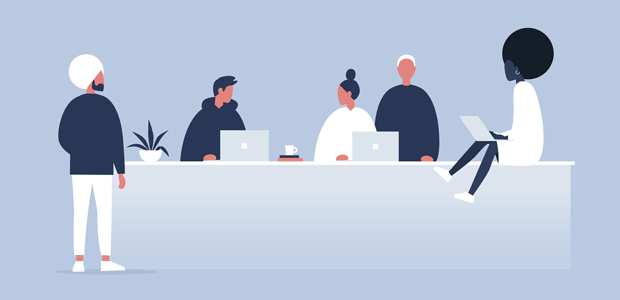 The 11 black-owned startups to watch out for in 2021
Just one percent of VC-funded founders in the US are Black and the rates of investment in European Black-owned businesses even lower. Just three percent of Londoners working in the tech sector are Black and only 8.5% of senior leaders in the UK tech sector from Black, Asian or minority ethnic backgrounds.
Black Tech Fest, which takes place during Black History Month in October, is a celebration of Black-owned businesses, a platform to promote them and to create pathways of opportunity for young talent to access jobs in tech. Co-founder Ashleigh Ainsley has pulled out a list of 11 Black-owned startups from across the globe who are on his radar for 2021; entrepreneurs who are disrupting industry norms and changing the narrative on tech inclusivity. The festival's call for paper is currently open and entrepreneurs interested in speaking can register their interest on the Black Tech Fest website.   
Founder: Sharmadean Reid
Dubbed by Vogue as the 'game-changing beauty-booking app', Beautystack uses social media to help beauty professionals become financially independent. Founded by Sharmadean Reid, founder of WAH Nails who's received an MBE for her services to the nail and beauty industry, the UK-based startup streamlines beauty appointments at the touch of a button.
Reid's premise for Beautystack is 'see it, like it, book it', an approach designed to close the gap between beauty service providers and the $450-billion-industry, as some don't have the tech solutions to earn the income they deserve. Securing $6.1m of venture capital in an industry where the average funding for Black women is $42,000, Reid has taken the beauty industry by storm. She spoke at Black Tech Fest 2020 on turning the tables on investors. 
Co-founders: Dave Salvant and Songe LaRon

New York City-based startup Squire focuses on barbershop tech with co-founders Dave Salvant and Songe LaRon claiming they have thrived during the Coronavirus pandemic; the startup's revenue catapulted from zero in March 2020 to $10-$20m within ten months. Salvant and LaRon have taken on a market underserved by traditional financial institutions in a bid to transform barbershop services and booking management systems. Thanks to a further round of funding, Squire has since been valued at $250m and faces a very bright future with plans to expand into several new markets including Australia, Canada and the U.K.
Co-founders: Rachael Corson and Joycelyn Mate
Breaking into the beauty industry isn't easy, but - according to Corson – the afro hair market is hugely underserved and pretty much ignored thanks to lack of inclusivity, and the co-founders were able to take advantage of this gap in the market by launching afro-hair care brand Afrocenchix, an all-natural, vegan, fair-trade hair company tailored to the needs of afro hair.
During the first UK lockdown of 2020, when we witnessed a dramatic shift to online shopping, sales of Afrocenchix soared like a 'hockey stick', with 90-95% of product sales online by year end. The UK-based startup is now selling hair care products to consumers in 23 countries and plans to correct the imbalance of hair products available to Black communities around the world.  
Founder: Tope Awotona
Boasting a valuation of $3bn, Atlanta-based startup Calendly is one of the world's first Black-owned tech unicorns! With a staggering ten million monthly users, Calendly made $70m in subscription revenue throughout 2020 and thrived off the shift to virtual meetings throughout the Coronavirus pandemic.
Transforming the way we work, Calendly offers a cloud-based service to help users set up and confirm meetings with others. Built around an essentially simple piece of functionality, Calendly's product-led growth model has put the startup in good stead to becoming one of the world's 'most used, most integrated and most loved scheduling platforms.
Founder: Sara Menker
Voted by Fast Company as one of the world's most innovative companies, Gro Intelligence is a revolutionary startup that's using AI to transform Africa's food, agriculture and climate economies. The Kenya-founded startup raised $85m in its Series B funding round, making it the largest funding round ever raised by an African tech startup.
The business uses localised insights on food, agriculture and climate risks to provide users with decision-making tools, solutions and analytics. Founder and CEO Sara Menker saw an opportunity in engaging the next generation of agricultural leaders and built the tech-for-good startup on the 'tremendous need for the marketing knowledge' it provides. 
Co-founders: Ruben Harris, Artur Meyster, Timur Meyster
In December 2020, Career Karma raised $10m to help empower students to find the best online coding courses in an increasingly crowded space. As remote learning drastically reshapes students' lives, we've seen enrolment in online classes soar 330% between Q2 of 2019 and Q2 of 2020.
Co-founder Ruben Harris spoke to Forbes to highlight the opportunity out there in connecting technology graduates. 'In 2024 there will be 1.4 million new developer positions' but only 400,000 Computer Science graduates to fill them. Career Karma is here to make those connections and fill a void in helping people to navigate the steps to achieving a career in technology. 
Founder: Kike Oniwinde
The Black Young Professionals Network is a platform that connects Black professionals around the world to job opportunities and other Black professionals. Working with the likes of Google, Facebook, Adobe and Airbnb, BYP Network aims to improve job applications, increase visibility of Black role models and aid employer communications to communities.
In 2020, the startup quickly surpassed the £500,000 equity crowd-funding target on Seedrs and us using the money raised to scale its leadership, sales and content teams in order to better serve the community. "With tens of millions of Black professionals online and over $200bn spending in the recruitment market, the potential for BYP Network to grow is undeniable," states Oniwinde. With a network of 50,000 members and a focus on working with existing Black networks and businesses, BYP Network is here to change the Black narrative. As well as smashing its own funding target in 2020, the BYP Network also raised £10,000 in just seven days for Black workers risking their lives to work due to financial insecurities throughout the Coronavirus pandemic.
CEO: Olugbenga Agboola
Flutterwave is one of the easiest ways to make and accept payments from customers anywhere in the world. Valued at over $150M, the African-based fintech startup boasts a customer list including Uber, Booking.com and Jumia, and did the payment integration for Cardi B's 2019 performances in Nigeria and Ghana. According to company data, the startup processed 107 million transactions worth over $5.4bn throughout 2019. It's now a Worldpay partner and has joined forces with Alibaba's Alipay to offer digital payments between Africa and China. Flutterwave is on a mission to financially connect Africa with the rest of the world at the touch of the button, and I'm excited to see what's to come next.
Co-founders: Christian Facey and Wilfrid Obeng
Based in London, AudioMob is an in-game advertising startup. Founded in early 2020 by ex-Facebook and Google employees, the startup has already raised $1.5m in a seed funding round back by a number of Atomico Angels. With a multi-billion-dollar market for audio ads, there's a huge opportunity for AudioMob to offer an audio solution for non-intrusive ads. This would enable game developers to monetise games without compromising on user experience. Currently taking part in this year's Google for Startups program, AudioMob is investing in further R&D and scouting new talent to join the team.
Founders: Oliver Kent-Braham & Alexander Kent-Braham
Marshmallow is rebuilding insurance from the ground up by offering insurance premiums to those who typically don't fit the profiles for competitive rates. It may seem daunting for a startup to take on some of the largest legacy insurance giants, however, using data to reimagine old-ways, Marshmallow is making premiums more affordable, accessible and inclusive. The startup raised $30m on a $310m valuation at the end of 2020. Positioned in an industry that's valued at around €4tn globally, there's huge opportunity in front of the business and we can't wait to see the startup grow.
Founders: Jens Munch, John-Paul Clarke and Jason Pinto
In 2016, the founders of UK-based startup Pace decided to invent a new technology to help hotel owners tackle empty and unsold rooms to maximise profits and help revenue management. Using machine-learning, Pace enables hotels to set room prices 1000s of times throughout the week, according to their demand. Yet another startup to break into the hospitality sector, Pace is revolutionising revenue management with a suite of tools to deliver science, real-time analytics and automation. It has secured £4.51m in equity funding and currently has a team of over 30 employees. Given the amount of empty hotel rooms currently available thanks to the pandemic, I'm really looking forward to seeing what comes next from the team.