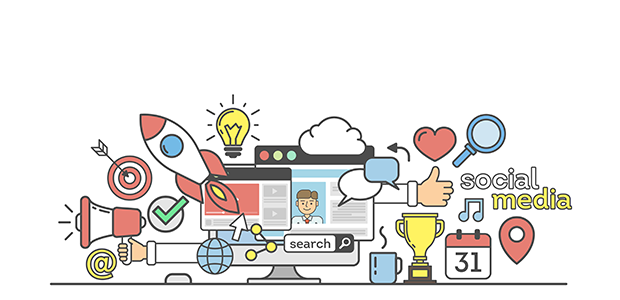 10 proven tactics to upgrade your SaaS marketing campaigns
As we are pivoting towards a digital-first world, SaaS is an acronym that pops up now and then. It stands for 'software as a service', and the boom in digital suggests significant growth in the SaaS industry.
Currently, SaaS is an industry worth $172bn, and the estimations show a steady increase in the coming years. Due to the rapid adoption of the latest tech stacks and a rise in remote working culture, SaaS solutions are coming out as a game-changer for the IT sector. 
Wherever there is a boom, a huge competition follows, and to stand out, you need a definitive SaaS marketing strategy that's effective. How is SaaS marketing different from any other traditional or digital marketing? if you ask, we have a list of differentiators for you:
SaaS is all about selling a service - software to be precise, which is not perceptible by touch - intangible products

The target audience is limited to digital B2C and B2B companies

SaaS marketing comes under a niche segment that would only cater to a tech-savvy audience

Here, marketing success heavily relies on the SaaS subscription model, and retention is more important than acquisition 

Unlike regular retail marketing strategy, SaaS marketing can never focus on one-time purchase goals

The SaaS marketing funnel depends on trials and service offerings where constant tech support is a must
For SaaS marketers, the sales funnel looks slightly different than regular retail sales funnels and more focus here stays on the customer life cycle value and satisfaction. Let's discover the top 10 proven SaaS marketing tactics that can help you scale your campaigns in 2022 and beyond.
As we understood key differences between traditional product marketing and SaaS marketing, tactics that drive results for SaaS products need a little tweak than the regular ones. Let's dig in to unfold the proven tactics with high ROI.
1.

Level-up Your SEO
Unlike a physical store, SaaS solutions, as we mentioned earlier, are all about going and staying digital. Online traffic, digital visitor engagement, account signups, and more are a few measures that SaaS companies highly rely on.
A huge chunk of sales comes from organic searches. To gain and sustain a better SERP ranking, SaaS companies need to bank on impactful SEO services. To level up your SaaS SEO game, give attention to:
Up your keywords game with tactical keyword research and prioritisation methods

Stay updated with the competitors' keyword targeting and leverage them wherever possible

Keep a keen eye on the on-page SEO metrics and improve your website's user experience 

Keep your website easily navigable for your visitors to move from one service page to another

Perform Off-page SEO with quality backlinks that can help you build site authority and gain better SERP ranking

Make the most out of Google Analytics to identify your traffic source, search queries, and performing pages to strengthen them and optimise the ones that lack behind

Use SEO tools such as SEMrush, Ahrefs, and Screaming Frog to identify bottlenecks and rectify technical SEO errors

Focus on Core Web Vitals to essentially improve your site's performance and draw more visitors
2. Keep an eye on your competitors 
For SaaS companies, customer satisfaction and retention are two of the most crucial factors to build brand loyalty. And, to win big, the highlight should be your service offerings. Stay well aware of what your competitors are doing and what they are doing differently.
Keeping an eye doesn't always mean blindly following the competition, but the purpose here is to offer your customer the best service in the market. Focus on your USPs (unique selling points) and play with whatever you do best, but don't take the competition for granted and lack any extra effort they are putting in to satisfy customers.
Competitor analysis may help your SaaS business with:
Staying relevant with the latest in tech

Upgrading features to offer better customer support

Staying updated with their SaaS marketing tactics

Adding more value to your content

Having a comprehensive offering in terms of solutions
To do so, use SEO tools such MOZ, Yoast, Ubersuggest, SEMrush, Ahrefs, etc. Via these tools, you'll get a clear picture of the type of keywords they are targeting, the kind of traffic they are generating, what they are doing to gain authoritative backlinks, and more. You can also keep an eye on their social platforms and paid campaigns to better position your brand.
To market your SaaS solutions, offering better than your competitors is a key to boosting sales, and thus, stay alert with your competitors' strategies and promotion tactics.
3. Re-evaluate your buyer persona
Buyer personas are vital for any marketing strategy, and when we talk about SaaS marketing, it is more crucial than ever. The emerging tech advancements and digital improvements have brought customers to the centre point. Customer-centricity is the key to all marketing campaign success, and it all starts with mapping the personas right. 
With changing times, customer preferences also change. Especially for SaaS players, adapting to the changing consumer behaviour means upgrading the tech, improving the support services, offering onboarding support and much more.
Here, updating the buyer personas is how you can stay in the game and win it. For example, the pandemic brought exponential growth in the adoption of Zoom meetings. Zoom is a SaaS platform that leveraged the shifting gears and marketed accordingly to become a key player. Same way, stay agile and aware of the new trends taking over the market and act accordingly.
To do so, a thorough understanding of your consumer preferences is necessary. Leverage the data analytics and heatmap tools to get better insights of your customers. Tools like Google Analytics, Hotjar, Hubspot, Adobe Analytics, etc. can help you understand your data better to make informed decisions and derive the buyer personas accordingly.
4. Get started with email marketing
To date, email hasn't missed its charm! Email marketing has the highest marketing share with an astonishing 4200% ROI.
As a SaaS business, where digital is the key channel, if you aren't utilising email marketing, you are straight up leaving money on the table. Take a look at this email from Salesforce for a better understanding.
As an online service platform, a SaaS business can leverage email marketing campaigns and automation in so many ways. A few of them are:
Creating email drips for different funnel stages

Hyper segmenting the data to send dignified messages

Leveraging personalisation to create a lasting customer relationship

Promoting subscription models to instigate action

Keeping the customer updated with insights, stories, and advancements

Utilising email automation

to send transactional emails
As a SaaS business, investing in email marketing is a must as most business communication takes place on digital platforms. Invest in advanced email marketing platforms such as Mailchimp, Klaviyo, MailerLite, Omnisend, Campaign Monitor, and more to create, segment, and automate your marketing emails.
5.

Focus on content marketing
It all circles back to relevant content! Be it an effective SEO strategy, email copies, backlinks, or any other mode of marketing; content always stays in the front seat. For SaaS content marketing, leveraging different forms is the key. As a service business, it is difficult to explain what you offer with just words.
Be creative with your marketing strategies by introducing new forms of content. For example, create videos to present your product features. Represent your advanced technologies, data management and other key functionalities via whiteboards, demo videos, live implementation videos, data sorting clips, etc. You can also create presentations in the form of explainers to offer easy-to-implement guides.
Video marketers get 66% more qualified leads per year, and nearly eight out of 10 people have purchased software from SaaS companies or an app after watching a brand's video. 
There are many free and paid video creating tools available that you can leverage to refurbish your content into different forms. Canva, Google Slides, Adobe XD and Photoshop, Loom, Inshot - are a few of the tools to design presentations and clips. Explore new channels where you can leverage content marketing to showcase your products.
6.

Invest in PPC campaigns
Pay Per Click (PPC), or Google Ads is yet another proven marketing tactic for your SaaS business. PPC complements your SEO and content marketing efforts by directly targeting the potential audience.
Google Ads (erstwhile Google Adwords) is the ultimate tool here to create your PPC ads, bid, measure, and evaluate your ads revenue. 
With effective ads strategy and keyword positioning, PPC can drive direct sales for your business. Invest in PPC to gain leads, spread awareness, and offer product trials that may be considered as sales qualified leads for your team.
7.

Provide easy sign ups
This one is a no brainer. Nobody likes to fill in long details before availing of a service or buying a product. It is one of the important SaaS marketing tactics to keep the signup process minimal and easy.
The first actionable item should not feel like something that is taking up a lot of time. Keep it quick and simple with absolutely necessary details. This way, a customer won't drift away in the middle.
Integrate mobile OTP login, auto fill options, and sign up via social platforms enabled to save time and efforts of your visitors.
8.

Offer a freemiu

m model
As discussed earlier, SaaS offerings are intangible. To understand what it can do for you or how it can transform your business, one must understand it thoroughly. A freemium model means to provide a free trial with all major features for the consumers to understand the operations.
Such limited-time free trials allow the customers to explore the what, why, how, and when of your SaaS product line and help them try the functionalities in real-time with real data. Offer smooth onboarding support to eliminate any hitches.
Once they take the trial, you have an idea about their experience and need to convert them into loyal customers later.
9.

Take advantage of referral marketing
As we said earlier, SaaS marketing is highly dependent on recurring purchases and subscription management. Make the most out of your lasting customer relationships to convert them into referrals.
Ask your existing customers to share their SaaS product experience and reviews in their circle and refer your services to other brands for some incentives. Keep an incentive such as referral bonus or discounts to promote the referral programmes that work and get maximum participation.
Referral marketing is effective due to the loyal customer base, and SaaS is a perfect industry to leverage it.
10. Collaborate with influencers
Influencer marketing works well with almost all industries as people trust words from people who they admire. Get in touch with industry leaders, subject matter experts, and trailblazing brands to promote your SaaS product functionalities.
Find influential people in your niche and collaborate with them to market your service to create a buzz around it. You can also take help from PR and media agencies for niche marketing. 
Moreover, there are numerous influencer marketing tools available that can help you start your journey with ease. Some of them are Upfluence, BuzzSumo, Socialbakers, Unbox Social, and Followerwonk.
Key takeaways
SaaS marketing campaigns need a different perspective when it comes to trying any prevailing marketing tactics. 
SaaS SEO needs a different kind of keyword targeting and needs an on-point website user experience.

Here, the competitor analysis means more than just following their marketing gimmicks. 

SaaS email marketing, content marketing, and PPC also work on levels where the niche business segment is targeted to build and nurture long-term relationships.

One-time purchases is never an agenda; instead, referrals and recurring business are the keys to SaaS marketing success.

And last but definitely not least - In the SaaS world, a free trial is the most lucrative marketing investment one can make.
It's a wrap from our side, and we hope that the mentioned SaaS marketing tactics help you craft better campaigns in 2022 and beyond.