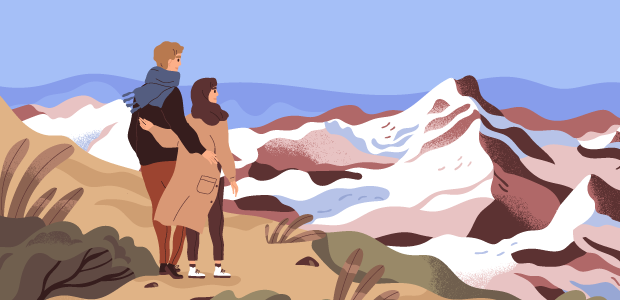 Shaping the future of tech responsibly
Catherine Ainsworth, member of the Dot Project spoke at Fireside Summit 2019 to share the organisation's work within the social sector influencing how approaches to technology can become more responsible. 
Catherine Ainsworth speaks at Fireside Summit 2019
Ainsworth set the scene for her talk by mourning the first glacier to be lost to climate change, Okjökull, a glacier in western Iceland on top of the volcanic mountain Ok located northeast of Reykjavík. She highlighted how it impacted her, and spoke of her commitment to wanting to protect the environment for future generations, she asked: "How will we explain these things that we've lost? This won't be the only glacier to go."
"Elsewhere on a more global scale, technology affords the opportunity for huge data collection," said Ainsworth. "But there are still places in the world, in lower income places in particular, where it is still not possible for countries to truly understand what their infant mortality rate is."
"One of the reasons they exist is because of the lack of timely and accurate data, but this technology exists - it just doesn't exist in these places."
"I think this is unacceptable if other countries are using this technology and data to understand how to make their populations healthier - why can't it exist in these countries that really need this information to can make more value judgements on how to improve their healthcare systems? For example, to provide better mortality rate - an issue which shouldn't really exist in today's world."
"Closer to home, in 1999 the UK Government committed to eradicate child poverty in the UK by 2020 - you won't be surprised to hear we won't achieve this. From 2013 to 2017, the use of food banks has doubled unfortunately, and the number of children and pensioners in poverty has increased between 2017 and 2018 - and one in 3 children are now living in poverty in the UK this year and 2.5 are living in food-insecure households. I don't think this should be the case particular in this country [the UK] where we have the means to be able to ensure that everyone gets a fair chance and the technology exists to help us find solutions. but we're not focusing on those sectors in enough in my opinion in my opinion, especially when you see that the fastest growing parts of the market aren't in these spaces whatsoever."
"On a more positive note what is really exciting is the news that 2/3 of the children born in 2012 onwards will live to see 100. That's a result of better healthcare and lifestyles, but actually unless we change the way our society works we won't be able to support the ageing population that we have - we are already seeing this - so we radically need to do things differently."
"So in this world where complex social challenges and inequality persists, we are really interested at Dot Project to understand where the role of technology fits. We believe that technology can be an enabler in improving lives, increasing equality and creating more cohesive communities. We believe we are part of the solution - we are working with the communities that are most in need and working organisations working with those communities."
"We know that it's going to take collaborative action. There is a worrying trend in the technology sector that the sector itself is perpetuating poverty divides and enabling division and inequality - we don't think this should be the case in today's world. We see a different world that requires ambition, passion and commitment to change."
How can we make more positive impact in the world?
Ainsworth shared an inspiring quote by Greta Thunberg:
"It is still not too late to act. It will take a far-reaching vision, it will take courage, it will take fierce, fierce determination to act now, to lay the foundations where we may not know all the details about how to shape the ceiling. In other words it will take cathedral thinking. I ask you to please wake up and make changes required possible."
Ainsworth that the team at Dot Project are people of action who see the big picture but also know that change happens in small steps - that the most important factor for making change isn't the technology, it's the people involved in that change.
With a background in international development working in conflict and fragile zones supporting people particularly with healthcare, Ainsworth shared that she had seen first-hand in the Central Africa Republic that processes which are life-changing can change as a result of really simple technology. So in the north of the country in order to prevent deadly measles and meningitis outbreaks, health centres collected data on paper and every week that data went on a plane to the capital where somebody analysed the data to see if there were any emerging trends and indicators of impending outbreaks.
"They were always working with a one or two week delay, and when there is an outbreak you don't have one or two weeks, you have hours to respond. So in this country, what we started to do was use mobile phone technology with apps that already existed that were really simple, based on text message and data input in databases which allowed us to reduce the time it took to identify outbreaks."
Dot Project saw the results first-hand, with the first outbreak that happened when the system was in place enabled a response within 24 hours: "Lives were definitely saved as a result. What we have seen time and time again is that usually it's the most simple tech solution that works the bets, not something flashy or necessarily expensive. It's the intervention that is focused on solving the root of the problem, not on the functionality of the tech itself."
"Technology has proliferated which is great for our sector because nine times out of ten, what you want to achieve has already been developed in some shape or form."
The Dot Project believes that the work that charities and the social sector does can thrive through the use of technology, but unfortunately this sector is lagging behind in terms of its digital confidence and capability to actually understand technology. That the social sector is grappling with decreasing funding, shortage of tech talent and confidence to work with technology partners. "[The social sector and charities] really do have a vital role in our society and the tech sector can have them to thrive, and support them by helping them choose more responsible tech and manage it in a long term way."
The language of technology and addiction
"The value of the tech that these organisations use is not measure by the number of users that use that technology," said Ainsworth. "The tech sector is one of the only sectors that seems to have borrowed the language from the way we talk about addiction and folded it in to the way we talk about tech. So we talk about 'users' in the same way that we talk about addiction in the way that people talk about 'using' alcohol and drugs. I don't think that's appropriate - why would be build technology to be addictive? So actually, in the social sector space, the value of technology is measured in a global way in the number of lives that are positively impacted."
"My challenge to you would be to think about the ways that we talk about technology to speak of its true value and not just the click-rate and the users that we can measure."
To Dot Project, creating a digitally strong social sector is a bout building relationships between the social and tech sector. Historically the tech sector has been driven by a 'bigger and better' attitude, this has led to a disregard to social responsibility in my opinion."
"It's also a very transactional sector, about money and users and how engaged people are. Whereas the social sector is built on establishing relationships, it has to be because it's about improving people's lives. Its' about placing empathy at the centre of the activities that take place, and I would argue that there is an overwhelming lack of empathy in the tech sector, but actually if you could put empathy at the centre of what you do in tech you could radically change the output of what you get from the tech that you use."
Dot Project is passionate about the cooperative sector and believe there is a lot of the tech and social sector can learn about the way cooperatives work - focusing on shared values that speak to equality, ethical value and social responsibility.
More information on Dot Project can be found here.