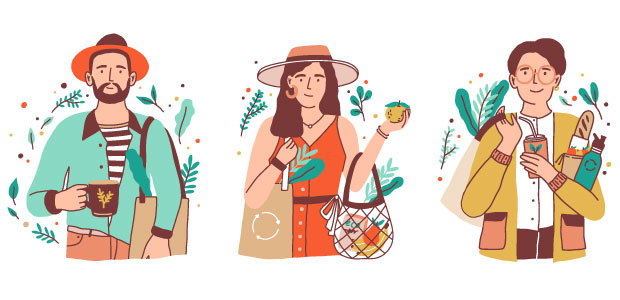 Invest in the future of the planet with Koodoo
"Sustainable businesses are riding the wave of social consciousness to raise finance from a crowd of 'woke' consumers'," says Koodoo, the new equity crowdfunding platform and app that connects sustainable businesses with people who want to invest in the future of the planet.
According to Koodoo, the sustainable investment market in Europe is worth more than $13 trillion, with the US investing $6 trillion in such assets. 
Koodoo was founded by entrepreneur and philanthropist Brandon Kerzner, who is Chairman, and led by CEO Michael Wilkinson - former Operations Director of Crowdcube. The platform aims to 'democratise investment, enabling individuals to become changemakers themselves by powering globally impactful companies. It will appeal to the  socially-conscious investor  who can invest as little as £20, using either the borderless benefits of Bitcoin or their home currency, in any of the companies raising funds.'
The companies which are seeking investment on the Koodoo app (available for free download on the App Store and Play Store) are those committed to social or environmental change, here are a few examples of some of the companies currently raising with Koodoo:
Cellular Agriculture

 
Bringing cultured meat to the masses
Cellular Agriculture has built a proof-of-concept technology dedicated to scaling grown meat production. The UK based company is making a case for everyone to have at least tasted, and eventually incorporated, grown meat into their daily lives. It aims to raise £500,000 to build and prove bench-scale technology and deliver the first pilot by the end of 2021. Founded by Illtud Llyr Dunsford and Dr Marianne Ellis who combine centuries-old heritage in sustainable agriculture and food production with expertise in bioprocessing. 
a-y-t

 
An end-to-end sustainable fashion brand
a-y-t is a  sustainable fashion brand founded by Georgie MacIntyre, the former Artistic Director at Matthew Williamson. It offers an entirely sustainable and welfare-conscious womenswear line, backed with a supply chain to match; one that is both considerate to the planet and a blueprint for the industry as a whole. Model, environmental activist and friend of Founder Georgie, Arizona Muse will front the brand's debut collection. 
SO JUST SHOP
The first London space where customers can buy ethically sources accessories and homeware
SO JUST SHOP is an award-winning accessories, homeware and gifting marketplace that works directly with women-led artisans from some of the most vulnerable communities in the world. Shopping with SO JUST SHOP gives consumers access to untapped artisan talents from all over the world. Founded in 2015, the company works directly with artisans on design and product development, supply chain transparency and mobile payments. ensuring all of the products are ethically, and where possible, sustainably made. The brand's mission is to raise 250,00 women and their families out of poverty by developing design and technological solutions that help them to overcome barriers to international trade. Founder Jennifer Georgeson wants to raise £130,000 to open its first multipurpose space in London and aid the growth of the business, which already has 50 sellers across 20 countries and three continents and counts TATE, Bloomingdales and Anthropologie as retail partners. 
Other Year
Other Year is a recyclable sneaker brand that operates a circular economy footwear brand. Anti-landfill and pro planet, Other Year aims to change the way people think about and consume footwear.  The only sneakers brand with the end of life designed at the beginning of life, Other Year footwear is made from the highest quality, lowest impact materials. The shoe is designed to be recyclable so when consumers have worn their pair for a chosen amount of time, they can be returned to the brand, disassembled and the separate parts recycled into new materials for new sneakers. It wants to raise £550,000 to purchase initial inventory, launch the brand and execute the company's first year of trading.