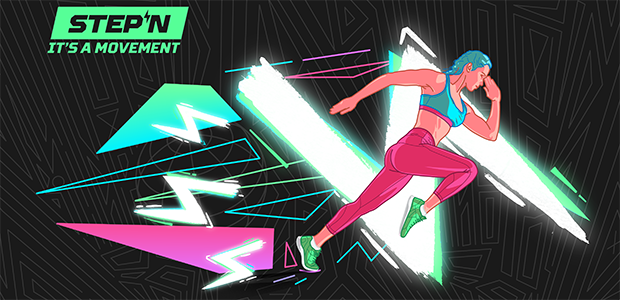 Find Satoshi Lab's Shiti Manghani on STEPN's rise and Web3 future
Shiti Manghani, COO of Find Satoshi Lab (FSL), talks to Startups Magazine's Sheryl Miles about FSL's STEPN platform, its growth since its inception during COVID-19, the relevance of a digital trainers in today's world of increasing unhealthy lifestyles, and shares insights on the future of the Web3 industry.
Founded in 2021, FSL connects players globally to Web3 through gaming and development. Its ecosystem includes STEPN, a move and earn application; MOOAR, an equitable NFT marketplace that prioritises creators; and DOOAR, a multi-chain decentralised exchange (DEX).
Shiti has 14 years of experience managing multi-million-pound projects across 11 countries, she has an Electronics Engineering background and holds an MBA in Marketing, and she founded a computer vision-based AI startup which was ranked among the UK's Top 50 wellbeing startups.
An introduction to Shiti, COO at FSL
"I'm Shiti Manghani, COO at Find Satoshi Lab, a global studio connecting players to Web3 … I previously founded a startup for correcting people's posture using AI and machine learning models. From then on, I began investigating more ways technologies could help fitness and discovered STEPN, which eventually led me to joining the amazing team at FSL."
STEPN platform explained
STEPN, a Web3 lifestyle app, utilises a 'move-and-earn' model. Users buy digital trainers as NFTs, which sync with their phones to track outdoor activities, earning them cryptocurrency rewards. This innovative approach fosters a habit of regular exercise.
"Digital sneakers in STEPN serve as a powerful catalyst for people to live healthier lifestyles by merging ownership, seamless real-life transitions, and token rewards. It's not just a fitness incentive but a tangible connection between physical well-being and digital ownership. This aligns with FSL's vision of bringing Web3 experiences to a broader audience. As the fitness industry embraces digital solutions, the NFT model adds a layer of ownership and motivation, setting the pace for the future of holistic well-being."
What is a 'move and earn' application?
"A move-and-earn application, like STEPN, encourages users to stay active by rewarding them with crypto for their physical activities, fostering healthier habits through incentives and community accountability. This model harnesses the principles of community engagement and tokenomics, creating an easy-to-use and engaging experience to a wide audience that sets a new standard in Web3."
Since its inception during COVID-19, STEPN has seen remarkable growth – reaching over 5 million users in just six months, and its integration with platforms like Apple Pay and Apple Music reflects FSL's commitment to sustainable product development and community engagement.
Web3 and Gaming
"FSL is a product-led studio that consistently releases innovative products addressing infrastructure issues and consumer needs.  The FSL ecosystem, comprising of STEPN, MOOAR (NFT marketplace), DOOAR (DEX), and Gas Hero (web3 social game), stands as a testament to our commitment to innovation. The FSL team consistently announces new features and improvements, all of which are driven by our incredibly dedicated community. With a focus on user-friendly experiences, FSL has achieved profitability, recording $122.5 million in profits in Q2 of 2022. This self-sustainability allows us to further invest in groundbreaking projects and contribute to the growth of the Web3 and gaming space."
Future of the Web3 Industry
"The future of Web3 is a convergence of innovation and inclusivity. I firmly believe that bridging the gap between Web2 and Web3 is pivotal. It's about crafting experiences that invite traditional gamers into this exciting new world. Seamless integration of blockchain technology, like NFTs, needs to be a natural enhancement rather than a barrier to entry. It's crucial to focus on what matters most to users – rich, engaging gameplay, and a community-driven ethos.
"Communities are the heartbeat of the Web3 revolution. It's not just about building games; it's about nurturing vibrant ecosystems where players shape the trajectory of projects. Collaborative efforts drive sustainability and growth. We're onboarding users by ensuring that the transition to Web3 is seamless and rewarding.
"The future isn't just about technology; it's about building communities and collaborative spaces that invite everyone to participate and thrive in this transformative journey."
What are the parallels between FSL, engineering, and marketing?
"My engineering background and my role as COO of Find Satoshi Lab converge in strategic thinking and problem-solving. My engineering foundation instilled analytical skills, while my COO role requires orchestrating complex operations and helping achieving scale. Both demand adaptability and a holistic understanding of systems.
"I always worked at the intersection of technology even in various global marketing roles – ranging from 3D printing of food to AI. Web3 is as innovative a space as there is right now with a lot of talented engineers and solutions seeking scale. FSL is leading the charge with its innovative applications on all fronts – I feel at home and happy being able to add value through and at FSL."
STEPN's funding journey
"FSL's funding journey has been instrumental in realising the success of projects like STEPN. Securing $5 million from Sequoia Capital in November 2021 and an investment from Binance empowered our initial endeavours. This financial backing, coupled with our commitment to innovation, facilitated the development and launch of STEPN. The platform's success attracted significant user engagement, contributing to profitability. As we continue to expand, strategic funding and partnerships remain crucial elements, ensuring sustained growth and the realisation of our vision to onboard the next 100 million users into Web3."
FSL's role in Web3 onboarding
"Our mission at FSL is deeply ingrained in onboarding the next 100 million individuals into the Web3 space. Our ecosystem is strategically designed to facilitate this goal.
"Each element within our ecosystem serves a unique purpose in introducing individuals to the world of Web3. STEPN, our move-and-earn application, offers a user-friendly entry point, enticing users to explore the possibilities of earning through physical activity. Meanwhile, MOOAR, our NFT marketplace, provides a platform for creators and users to interact within the world of non-fungible tokens, demystifying NFTs for newcomers. DOOAR, our decentralised exchange, encourages financial exploration within Web3, allowing for seamless cryptocurrency transactions. Gas Hero, our newest venture, is an embodiment of our commitment to inclusivity. It's designed to attract both seasoned Web3 players and those new to the space, creating a diverse and welcoming community. 
"Through these interconnected platforms and projects, we aim to make the transition to Web3 spaces accessible, engaging, and rewarding for millions of individuals."
Future plans for FSL
"Our vision at FSL is ambitious yet focused. We're steadfastly committed to expanding our ecosystem and continuing to innovate in the Web3 space. Our primary goal remains onboarding the next 100 million individuals into Web3. 
"One of our core plans involves further refining and expanding our existing platforms, continuing to enhance user experience and accessibility, as well as fostering vibrant and inclusive communities within our projects."