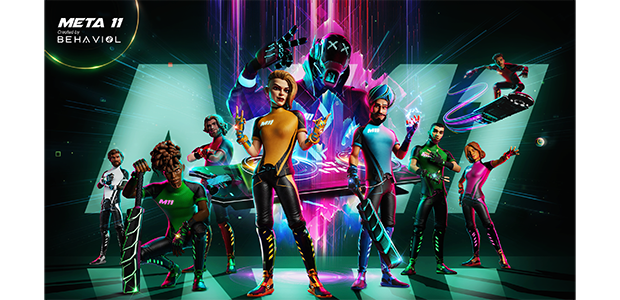 META11: entertainment redefined
Once upon a time a cricketing legend called Kumar Sangakkara co-founded a tech company and creative entertainment studio, called Behaviol. Along the way he met a visionary called Chris Ebeling, and together, they are recreating the genre of sports entertainment.
Here, Chris Ebeling, Chief Creative Officer at Behaviol, talks to Startups Magazine's Sheryl Miles about the dawning of a new era of inclusive sporting entertainment and his journey to get there.
"Behaviol is entertainment. It's storytelling. It's games. It's digital artistry. It's emotionally engaging experiences. And it's new technologies."
The journey of a storyteller
With a background in digital artistry and a passion for storytelling and sports, Chris has always been a creative at heart. It is this love of creativity that led him to join the prestigious film studio Animal Logic in Sydney, Australia. Under the mentorship of seasoned artists, Chris honed his skills and worked on multiple Hollywood feature films, game cinematics, TV commercials, and AAA games.
Throughout his career, Chris has walked the line of combining creativity with technology – starting in the world of 3D animation before moving on to experiment with virtual reality, mixed reality, spatial computing, Web3, and blockchain technology.
It is the potential that technology has to revolutionise the way we view the world of entertainment, by taking escapism to a whole new level, that led Chris to pioneer the UTS Animal Logic Academy at the University of Technology in Australia, which prepares artists and learners for the future of the entertainment industry.
This well-rounded grasp of technology, sports, and entertainment would eventually lead Chris to become the Chief Creative Officer at Behaviol, a company that seeks to merge the latest technology with the world of sport entertainment, starting with a game that is set to captivate millions: META11.
The challenges and charms of Behaviol's vision
Instantly captivated by Behaviol's vision of reimagining the gaming industry and their foresight to make cricket inclusive and relevant to everyone, Chris knew that their focus on clever artificially intelligent characters presented an exciting opportunity to create something revolutionary in the world of sports gaming.
Behaviol's mission is clear — to bring the excitement, history, and camaraderie of cricket to a universal audience. Similar to how Fortnite revolutionised the gaming industry, META11 is at the helm of a new era of sporting entertainment.
"Behaviol is opening [cricket] up to a wider audience … whilst remaining true and respectful to the tradition … Where you find that balance is really key but also, sports evolve, they have to, and that's the challenge.
"We want to be the Marvel and the Fortnite of sports. Fortnite when it comes to gamification, because people understand the greater economy behind it and how it puts the agency in the players hands, allowing them to create. And Marvel, in terms of how we are wrapping a story around the game. Storytelling is key. We learn a lot from stories, and we retain information much better when a story is told – especially an interesting one."
Training AI-Powered Avatars
Leveraging licensed data, META11 takes information from real-world cricketers, such as ball speed and player mannerisms, and the team utilises this information to train their avatars not only to emulate real players, but also to learn and adapt during gameplay. This is a concept which Behaviol's tech team has been developing for nearly two years.
By approaching gameplay in this way, it allows players to control and manage their avatars on a more emotional level, experiencing the excitement and the pressure of being a coach competing against other avatars in one-on-one cricket matches. This level of engagement allows for a more realistic gaming experience, as avatars respond to crowd reactions and emotional pressure – just like real athletes.
The fantasy: a sneak peek into META11
By embracing stylised visuals, Behaviol is creating a distinct and recognisable brand, setting META11 apart from traditional cricket games and blurring the line between reality and fantasy.
The pioneering creation aims to reimagine and redefine cricket, taking the sport to a global audience beyond its traditional Commonwealth roots. And, in September 2023, Behaviol will be launching the first iteration of META11—a fantasy game with a unique twist adding an extra layer of excitement; here, players can try to predict match outcomes and engage with real-world cricket in a new and direct way.
The game's Qbot, an artificially intelligent chatbot, will ask players questions related to cricket and real-world events, rewarding points based on correct answers.
Behaviol's approach is to be accessible and engaging, offering a freemium model that allows players to experience the game without financial barriers – building a strong community of cricket enthusiasts.
Building a community
Behaviol places great importance on building an engaged community of players. They seek to educate and communicate with users about the technologies they use, promoting transparency and ethical practices.
Through their newsletter and social media, Behaviol involve their audience in their journey, encouraging feedback and collaboration. As they expand to different sports and realms, the community's input will be vital in shaping the future of META11.
META11 also emphasises inclusivity with its stylised yet realistic avatars that are designed to be appealing to a broad audience, drawing in not only cricket fans but also gaming and AI enthusiasts, and anyone who wants to experience what it is like to train a player and then watch as they flourish or flounder under the pressure. Players can also team up with friends, creating rivalries and alliances that add depth to the experience.
Expanding into new realms
While cricket remains Behaviol's focus, their story world has limitless possibilities for expansion into different sports and realms.
"Once the feedback data proves we've got it right, then we can replicate the experience across multiple sports. Our story world is set up to engage as well as introduce new sports from different realms … The beautiful thing there is that once you have an avatar in one sport - those attributes carry over. So, in our world you'll be able to take your cricket avatar and put them on the football pitch, or in a fighting ring, or in a game of golf, and then, depending on what avatar you have, and how the attributes are stacked up – because your avatar will have an advantage and disadvantage in every sport – then you can train it in different sports and hopefully you'll have a multi-sport avatar."
META11 is more than just a cricket game; it is a fusion of cutting-edge technology, captivating storytelling, and inclusive entertainment. And, as Chris and the Behaviol team prepare to launch this revolutionary game, they invite players and enthusiasts alike to join them on their journey.
The future of sports gaming and entertainment is here, and META11 is leading the way.