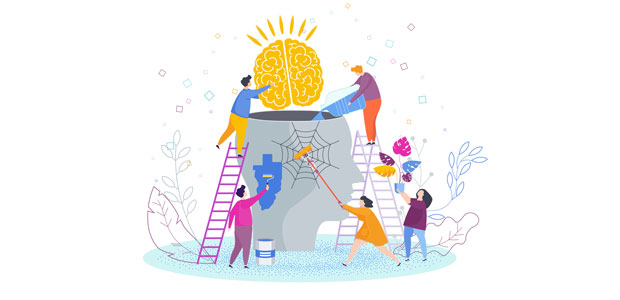 Business as unusual in a post-COVID-19 world
The impact of COVID-19 has brought many changes to the world of business and innovation. In this continually evolving process, the current paradigm is being challenged in almost all areas across the board, from hybrid work practices to a focus on up-skilling and bringing wellbeing centre stage.
The long and short change
Just as change is the only constant, uncertainty may be our only certainty. Even before the advent of the COVID-19 pandemic, precariousness lay on the horizon. Brexit, trade disputes, and decarbonisation were already having a profound impact on many industries and regions.
The pandemic served as a catalyst for the implementation of shut downs, hybrid work models, and reversals, like the one some regions are experiencing now as variants bring renewed surges in case counts. Underpinning all of the surface chaos lies the requirement to learn, adapt and change.
Hybrid working models have accelerated the need for new workforce skills, particularly social, emotional, and advanced cognitive abilities. In a recent McKinsey survey, 58% of respondents said that closing skills gaps has become a higher priority since the pandemic began, and 69% said their companies engage in more skill building than they did before the crisis.
The skills most prized by such organisations seem to be leadership, critical thinking, decision making and project management. This reflects the ways in which companies are experiencing profound changes to their organisational structures and culture, allowing for more autonomy, trust and purpose.
The statistics also highlight the move towards the more human elements of the workforce. While automation is on the rise, many proponents argue that this creates as many new jobs as it outdates, with those fields pertaining to the distinctly human attributes of creativity, social and emotional cognition and connection.
Employees are being primed for a future where they embrace their authentic selves, leverage their internal motivators and step up to the plate, acknowledging a horizon of continuous learning. Leaders are simultaneously both envisioning and experimenting with what the workplace of the future even looks like in a post-pandemic world.
McKinsey estimates that more than 100 million workers in eight large economies may need to switch occupations by 2030. They recommend that companies should therefore make a comprehensive inventory of skills across their organisations, create 'skills hubs' for ongoing learning, and build learning ecosystems through partnerships with communities and educators.
Developing the adaptability and agility required for a highly volatile period of change requires self-care, a focus on purpose, the ability to recognise the default mindset, deeper connections with colleagues, and an environment where it is safe to learn. This is particularly difficult when leaders are under pressure to deliver fast results.
The new faces of organisational health
Experience tells us that dual focus on performance and organisational health leads to the most successful transformations. However, it is a well-known fact that the majority of organisations and enterprises fail to meet their primary goals and targets.
Just as our processes are being called into question, so are the metrics by which we measure 'progress' and the destination(s) we expect to reach. It makes sense that after everything consumers have endured throughout the COVID-19 crisis, they are seeking ways to take better control of their wellbeing.
Employees have realised that health is the real wealth, while employers are shifting from a mentality of motivating through fear and empty external incentives, to driving through authentic passion and inspiration. This has involved cultivating diverse and holistic cultures, improved flexibility, trust and security, with the results speaking for themselves.
Mental healthcare is a key component of wellness, but the stigma that surrounds mental-health conditions often prevents sufferers from seeking treatment. Progressive companies are attempting to combat this by educating their workforces on the topic, training managers to recognise the signs of mental-illness and substance abuse, and adopting non-stigmatising language.
While these are welcome moves, we must also bear in mind that just as the world of business is exploring new paradigms, so is the world of health-care and mental health, with many parallels being found between the two.
This includes challenging current perceptions, boxes and labels with a move towards a less binary spectrum, calling into question current best practices, and accepting a 'no one size fits all' approach. This can be incredibly challenging for both individuals and companies alike, making it vital that the ecosystem is aligned in its approach.
Progressive organisations such as purpose-driven co-working space x+why have already started implementing personalised solutions, including giving all staff and members access to the Betterspace wellbeing platform.
Sectors Without Silos
Educators are working to safely reopen schools under a new normal, while leveraging outreach programs to re-engage students who have disconnected from learning, and help make up for learning loss with tutoring and after-school programs. Just as in business, the education system is also exploring ways to benefit from technology, hybrid models, remote learning, home-schooling, and learning hubs over the long term.
In the travel sector, one of the most overt sectors hit, next to hospitality, they have every reason to optimistically prepare for a rebound. AirBnb CEO Brian Chesky explained how they experienced an 80% drop in demand at the start of the pandemic, leading to them being forced to lay off 25% of its workforce. However, by the end of the year, they had managed to launch a successful IPO.
Strengthening a company in preparation for a rebound requires building capacity, investing in digital innovation, and looking for collaboration opportunities to help make flying easier for consumers. An app that would allow travellers to manage verified certifications for COVID-19 vaccines and test results, for example, would be handy.
Trying to determine the end of a story while the plot is still twisting is difficult. However, there is reason to look for silver linings with the roll-out of vaccines, and the growing number of companies finding new ways to mitigate novel geopolitical risks, while coping with inflation and volatility.
An interdisciplinary panel of global-health, national-security, and technology experts found that while the world is unlikely to ever reach global herd immunity, it can contain the virus with a combination of vaccines, improved testing, and smarter quarantining, based on known outbreaks, rather than large, blunt lockdowns.
There have undoubtedly been many crises, disruptions and drawbacks caused by the pandemic, but perhaps one of the most admirable characteristics of humanity has been its ability to demonstrate adaptability, cohesion, tolerance and innovation in the face of adversity, all while maintaining their distinctly mortal features of good faith, humour and hope.