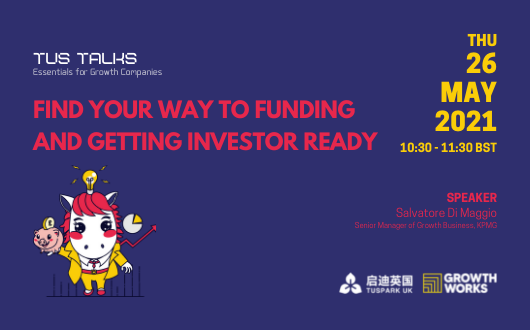 Find Your Way to Funding and Getting Investors Ready
Date

Thursday,26 May

Location

Time

10:30 AM

Price
TUS TALKS is a series of workshops that is designed to help companies' growth.
Have big plans for the future and are looking for funding for your business growth? Then you shouldn't miss the latest TUSTALKS on 26th May.
We are delighted to be partnering with KPMG and Growth Works to jointly organise a workshop on fund raising, inviting Salvatore Di Maggio, Senior Manager of Growth Business at KPMG to discuss how to Find Your Way to Funding and Getting Investors Ready
This workshop is divided in two parts:
"Part 1: Finding your way to funding" covers the different types of funding, focusing on the main difference between debt and equity finance.
"Part 2: Getting investors ready" will analyse what to consider when looking for funding, walking them about the fundraising process, briefly on "valuations" and why it is so important, and factors that influence valuation. Information of due diligence and the pitch deck will be involved afterwards.