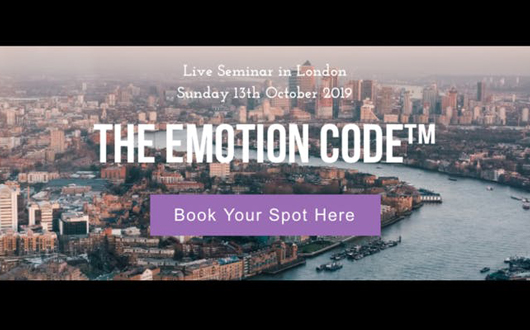 Emotion Code London - Live Seminar with Dr Bradley Nelson
Host:
Organiser Emotion Code London
Date

Sunday,13 Oct

Location

De Vere Grand Connaught Rooms, 61-65 Great Queen Street, London, WC2B 5DA

Time

08:00 AM

Price

Event Price

£173.07 – £215.12
Do you want to increase abundance, get rid of your blocks and discover what is holding you back?
Would you like to learn a powerful healing modality that will help you to heal yourself?
Then join Dr. Bradley Nelson who will be live in London for one day only!
The Emotion Code™ is a powerful and simple way to rid yourself of this unseen baggage. Dr. Nelson's method gives you the tools to identify and release the trapped emotions in your life, eliminating your 'emotional baggage', and opening your heart and body to the positive energies of the world. Filled with real-world examples from many years of clinical practice, The Emotion Code is a distinct and authoritative work that has become a classic on self-healing.
Discover how to tap into your body's ability to recover from the causes of physical and emotional distress.
Access information about your own health from your subconscious mind, using muscle testing techniques.
Learn how it's possible to release Trapped Emotions, Heart-Walls & Inherited Emotions with instruction & workshops.
Discover how fast & easy it can be to release trapped emotional energy that could be holding you back.
Practise Sessions
There will be several breaks between learning sessions so you can practice what you've learned.
We'll work on muscle testing together, so you can find and release potential Trapped Emotions in a supportive environment.
9 HOURS OF LEARNING
Seminar doors will open at 8am for registration and seating.The seminar will begin at 9:00am.Lunch will be held from 12:30-1:30 (Not included). The seminar will end at 5pm.