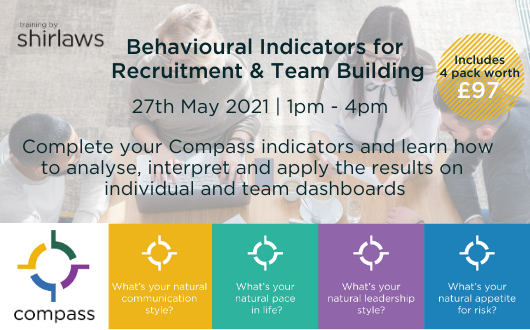 Behavioural Indicators for Recruitment & Team Building
Host:
Training by Shirlaws
Date

Thursday,27 May

Location

Time

01:00 PM

Price
Discover your unique business behaviours, experience an individual and team dashboard demonstration & learn how to interpret & apply results
Calling all Recruiters, HR Managers, Team Leaders, Senior Managers, in fact anyone who wants to hone their recruitment strategy and build effective teams.
Compass is a suite of easy to use, online people-performance tools that enable individuals and organisations to effectively navigate their business journey.
Using Compass will develop individual self-awareness, support leadership development programmes, enable change management and align the people in the business to the strategy.
Before the course you will gain online access to take a Compass indicator 4 pack (worth £97) which includes:
TFK | Think Feel Know
Reveal how personal communication styles relates to others, be able to proactively resolve differences and improve personal and professional relationships.
ELM | Entrepreneur Leader Manager
See how aptitudes support current roles, where people fit within teams and organisations, and how careers can develop.
Pace
Benchmark and improve overall sustainability and performance and identify the most productive way of working and living.
Risk
Make faster, more aligned strategic choices by overcoming tension and inaction, allowing your teams to outperform the competition.
Compass Reports
Following each completed indicator a comprehensive, bespoke report will be available in your personal dashboard, along with a wealth of resources to enable effective application of insights.
Prior to the session your headline results will be mapped onto a dashboard along with your fellow attendees' and then used to demonstrate how to interpret and analyse data for use with groups of colleagues, teams and even entire organisations to unlock team dynamics, ensure the right people are assigned to the right projects and speed up decision making.
What you will learn:
What mix of skills and aptitudes are required to create an effective, high performing team
An understanding of how individual behavioural preferences can cause interpersonal issues and delay or even halt decision making and how to avoid it
How to interpret individual and team results to achieve accelerated personal and business goals
How to apply TFK as an impartial communication tool to drive difficult conversations and businesses forward in a productive way
How Risk and Pace profiles influence team and business dynamics
This workshop will be delivered by Carter Welch, an experienced Business Coach and Compass practitioner. To find out more about Compass and how it can benefit you and your business, visit www.shirlawscompass.com.