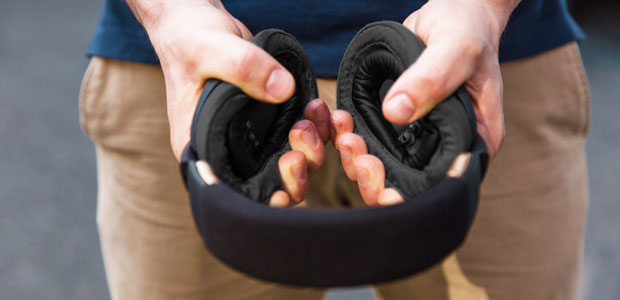 The World's First Sleep Sensing EEG Headphones
Kokoon are the world's first sleep sensing EEG (electroencephalogram) headphones - comfortable enough to sleep in, without compromising acoustic quality.
The idea for Kokoon headphones stemmed from a personal problem: founder Tim Antos had a stressful job which led to him having trouble sleeping. He tried conventional methods, and even sleeping tablets, but nothing worked, until he went to a cognitive behaviour programme at a sleep clinic where he discovered the power of using audio to sleep. Whilst this provided a solution it also raised another problem; it was uncomfortable to sleep wearing large headphones. Antos decided to combine the reserch from the sleep clinic with the technology of an accessible consumer device: Kokoon.
"Our mission is to use technology, specifically 'intelligent audio', to help humans live healthier and happier lives. Audio is a very powerful tool; it can help you sleep, relax, focus, prepare, meditate etc. and we combine audio with sensing to provide a feedback loop to respond and adapt, and learn what's effective," said Antos.
Antos worked in digital innovations at Lloyds Bank and worked on his ideas for Kokoon on the side. At the beginning it was just Antos creating prototypes, until he was joined by co-founder Richard Hall; they both have respective backgrounds in mechanical engineering and electronics engineering. Antos used personal finances for the seed investment in 2013, then in 2014 the pair joined the Hax hardware accelerator programme. The team had to live in China for three months and then spend three weeks in San Francisco. The programme in China allowed them direct access to the supply chain – what would take three months to test in the UK took them only one week in China.
"I generally recommend accelerators, I think the term has been really misused. An accelerator needs to invest at least 50-100k to really have a buy-in enough to help you," said Antos.
Antos and Hall had primarily outsourced work to contractors to keep their costs to a minimum, but the success of their Kickstarter campaign meant they had to build a team. The campaign launched on Kickstarter and raised just under $2m – a completely unexpected figure for Antos and Hall who had been aiming for $100k.
"The Kickstarter campaign design is very important. It is very difficult to get right, but you have to make it your focus, because people need to get your idea. It has to be a good idea in the first place and you have to tell the story of your product. The British swim team even ordered 30 sets for the Olympics. It has been incredible what came out of Kickstarter."
Initially they started with a 'green' team, but soon learned to embrace experience, despite the expense.
"One of our biggest lessons is the value of experience. It doesn't matter how different your product is, there will be someone who has done something similar before. Use their shortcuts," advised Antos. "What has been awesome is that the product has attracted experts towards us. Gareth Jones, who took Fitbit in Europe from zero to $230m, approached us to say he wanted to work with us. Also our partnership with Pioneer Onkyo was great for us on Kickstarter to show a massive corporation was lending us their support."
THE BIGGEST SURPRISE SO FAR?
"How hard it is. It is harder than you ever could imagine, and you just have to have such perseverance. So much will go wrong and you will think it is game over but somehow you will find a way through it. I have never doubted that we would succeed, but it has taken so much longer than we ever thought – we don't succeed until we have a sustainable business."
WHEN ARE YOU NO LONGER A STARTUP?
"I very much still see ourselves as a startup. I think you move from being a startup once your business could run without you if you left the next day."
THE USER EXPERIENCE (UX)
"It was built on the back of a bad experience, so one of the beauties of being your own customer is that you have your own North Star, initially at least. We are always trying to get more customer feedback. Often testing is the least glamorous but the most important part of developing a product."
To be able to use Kokoon as regular headphones was of paramount importance to the company, the technology has to be there for when it is needed, not isolated in a single-use gadget, the product has to hold tangible value for the consumer.
LOOKING AHEAD
"We are shipping 18,000 units early in 2018. We will ramp up slowly, as we don't want to risk any logistic mishaps or customer support breaking down. Travel is also a big application opportunity for Kokoon and a lot of airlines have approached us. The number one reason for someone to buy a business or first class seat is to get more sleep, which our product can help with. This is a great potential partnership which is currently in trial stages – following this we aim to create a second generation especially for airline use."
DID BREXIT IMPACT YOU?
"Not yet. I think it will have an impact downstream, especially with EU grant funding and hiring."
SUM IT ALL UP IN A SENTENCE
"I feel like a hill runner sometimes; lots of endurance required, many false summits but you get stronger and better every time."