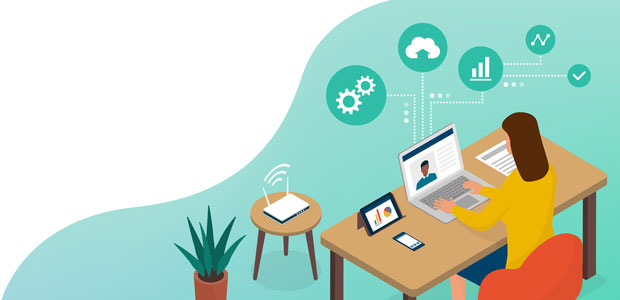 The workplace trends to follow in 2021
In 2020 we experienced a lot of change to our working lives, with many of us turning to Google for tips and advice on working from home. Influenced by what we've all been searching over the past few months, Lauren Gordon, Behavioural Insights Adviser at Bupa UK shares the top workplace trends to follow for 2021 and tips on how to make these trends work for your physical and mental health.
Remote working is here to stay
For many of us, the adjustment to working from home has been the most visible impact on our working lives since the beginning of the pandemic. In November it was reported that 27% of the UK workforce were continuing to work from home, and this is expected to increase as we are now in another national lockdown.
Whilst working from home it can be tempting to work from the sofa or even your bed. However, successful desk set up can help you take care of your physical health whilst working remotely.
You should work from a desk or table if possible, with your feet flat on the floor, relaxed shoulders and your elbows at 90 degrees. Correct desk set up helps support your posture but can an also prevent short term aches and pains such as a lower back pain and eye strain.
Creating a dedicated workspace whilst working remotely can also support your mental health as it helps our brains to better separate our work and personal lives.
Embrace Technology
With a dramatic shift to remote working last year, many businesses have become more heavily reliant on technology. From daily communication moving to platforms such as Microsoft Teams and Zoom, to products and services becoming widely available online, the pandemic has revealed technology can enhance the way we work.
Whilst technology has enabled us to stay in touch over the past year, many of us are spending more time at a computer than before. It's more important than ever to take regular breaks when you're working from home.
Taking frequent breaks from your desk helps you to maintain your performance throughout the day. It also prevents any aches and pains and can reduce your stress levels.
Preventing presenteeism and burnout
During 2020, online searches on Google for 'working from home mental health' increased significantly. The pandemic has been hard on us all and is taking its toll in different ways. Some of us are finding it hard to work effectively from home, whilst others are juggling home schooling with work commitments, and many are missing the buzz and social connections of the office.
Since the start of the pandemic 60% of the UK workforce reported their mental health had worsened. As we experience national restrictions, it is important managers are aware of their team's mental and physical health and can offer support.
There are lots of ways you can support your team to avoid burnout, from an Employee Assistance Programme (EAP) to checking in with your team regularly.
If you're struggling with symptoms of burnout keeping active can help. Exercise is one of the best things you can do for your physical health, however it also has great benefits on your mental health such as reducing levels of stress. You don't need to participate in strenuous exercise to feel the physical and mental benefits of working out. Instead, getting out in the fresh air for a walk is a great way to boost your mental wellbeing and reduce the effects of burnout.
Strike a greater work-life balance
We are spending more time at home than ever before, with our homes becoming multifunctional spaces from offices to classrooms, gyms and relaxation zones. This has blurred the boundary between work life and personal life, making it hard to switch off after work.
It's a challenging time for us all right now so it is more important than ever that we take time to wind down, reset and recharge.
Planning your working week is a good way to balance your workload and spending time with your loved ones. If you're finding your workload stressful, speak to your manager about ways of breaking your workload down into smaller achievable tasks.  
Whilst working remotely set up a workstation and pack it away when you've finished for the day. If you can, try to spend some time away from this area after work, perhaps moving to another area of the room or your house to relax and unwind.
Once you've finished work try to make post work plans, this could be getting active with an online workout or a call with a friend in the evening. This allows for you to set a time that you will finish work and mark the end of your day.
Employer wellbeing responsibility
Before the pandemic many health and safety policies in place across businesses focused on physical health, such as office set up and the provision of safe to use equipment.
With an increase in the number of mental health related work conditions, such as stress and burnout, since March 2020, we're seeing this matched by a greater focus on colleagues' mental health.
Whether your team are working remotely or still in the office it is important to support their wellbeing. If you are a manager there are lots of resources available to support you, there is a wealth of information on the Bupa Workplace Wellbeing Hub on supporting your team through COVID-19.
If you're struggling with your wellbeing try speaking to someone you trust. Sharing your feelings and experiences with another can help put a perspective on how you are feeling - you won't be alone in this.