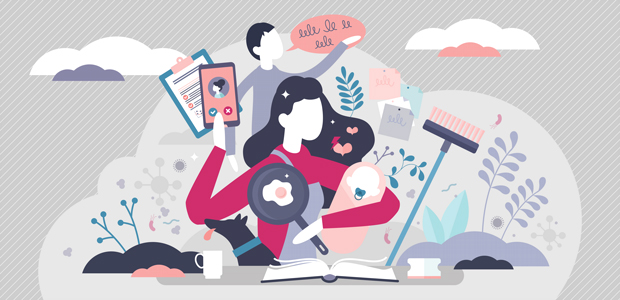 Working mums have demanded flexibilty for decades
As someone who once worked for big tech in corporate America, I can attest to the difficulties corporate environments impose on people as individuals, especially caregivers. I don't limit my identities to only being a mother or only being a professional — I am, like so many things in 2020, complicated and I contain multitudes (thanks for that one, Walt Whitman).
The reason I have any semblance of balance between the two, especially during a global pandemic, is because I started my own business that focuses specifically on work flexibility, by providing support, visibility, and growth to working freelancers and small business owners. I've lived through work environments that were unforgiving for women, and guess what? Each place could've chosen to do better by listening to its employees' needs.
COVID-19 has caused 4x the amount of women to leave the workforce as men. This has to do with a variety of factors but one easily identified reason is that women are leaving work to shoulder the burden of childcare while our children are relegated to online learning. The problem is obvious: most working environments aren't suitable for work-life balance. The clear solution is that workplaces need to foster a better work-life balance and we should all loudly proclaim that the future of work is flexibility (and demand it).
I started Allobee (formerly MOMentum Market) very intentionally, to connect opportunities between talented working moms, offering the support system they need for a more balanced life. Like so many, I wanted to "have it all" — to feel both the pride of raising my children and a fulfilling career. I never saw a fair reason why women who excel so highly in their field should have to completely leave their skills behind to raise their children. And while my husband sacrificed a lot for me to start a business, I know not everyone has that luxury. The culture of workaholism and pride in long hours, unrealistic project timelines and "paying dues" defines U.S. professional culture. This is perhaps the most serious issue plaguing caregivers in the workplace, and it doesn't need to be this way. We could work toward something better.
I had a vision for a network where both facets of life were taken into consideration with little to no sacrifice. There were a few thoughts and concerns going into the making of my own business that I had to bring from my experience in the job market. Freelance. First off, it's a hassle. I've done it, and almost any professional who has quit their corporate job has tried it. Being your own salesperson, dealing with the finances and contracts, plus actually executing the work takes up a lot of time. It's pretty stressful to be everything from your own marketer to your accountant to the product itself. If someone else could handle matchmaking, contracts, billing and finances, then small businesses on both sides could focus on what they do best while giving the people behind them time back that they want (and deserve).  At Allobee we notoriously say "stay in your zone of genius." Bringing together people with different skill sets helps everybody excel, letting them handle what they're actually passionate about.
We need more of these networks in the world. We (as mothers) often just need the professional naggy little details taken care of so we can have more time to work on our expertise and live our lives. In 2020, we've seen the world take a shift toward a more flexible professional atmosphere out of necessity — something that we've needed all along. Allowing us to work from home guilt-free is the start of a change we've been waiting for.  Although my own focus is on the unique needs of mothers, our offerings and exceptional work and client satisfaction has exposed a much deeper well of individuals in need of flexibility in the workplace.
In a year where upwards of one million women have left (and an estimated two million women will leave by EOY) the workforce due to difficulties stemming from the global pandemic, Allobee has become an essential solution for supporting women and bringing about change, now and moving into the future. The folks in our client and expert network represent a variety of circumstances that are indicative of our complex global work culture and changing priorities in 2020: Mothers who need to balance working and raising children, single mothers who carry the burden of providing, women who do not need to work but take pride in their work identity, individuals who have been laid off from jobs due to COVID-19, those whose spouses who have been laid off and need to bring in extra money to make ends meet, entrepreneurs who have had to pivot due to COVID-19, people working in between phases of life or periods of extreme life changes and women who are are not mothers — caregivers of elderly or disabled family and community members. In all of these situations, support is needed.
Changing work culture will require continual modification in years to come to give more people the opportunity to make an income. The normalisation and support of a gig-based job market will allow for this type of flexibility. While we all conceptually understand that personal worth is not determined by the work you do, we should all have the ability to access meaningful work, as well as the tools and network to excel in doing it. A better work-life balance is possible, and as a mother myself, I shouldn't be expected to stop working just because I want to raise a family. It's about time we change the narrative on what work looks like and how we navigate it as real people in this rapidly-changing, confusing world.