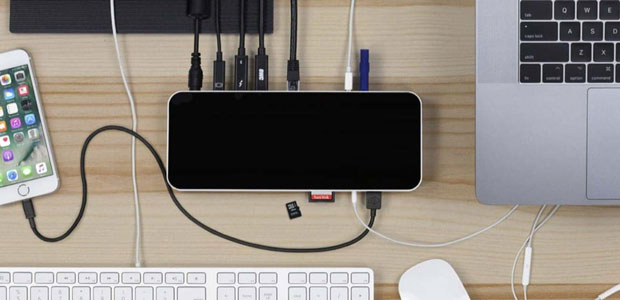 Working From Home Essentials: The Best Docking Stations
If you have purchased a new computer within the last few years, you likely lack something - ports. You know, places to plug in your stuff. With streamlining and consolidation, many modern computers (including the entire MacBook family) have shifted to utilising only USB-C and Thunderbolt 3. Because of this, a dock or hub is essential when you Work From Home.
A dock helps expand the usable connections available to you by adding back what you may have lost. It can also be used to extend the number of ports available even if you do have more than just USB-C or Thunderbolt 3. Add Ethernet for security and speed, an SD card reader to import photos and other media, HDMI or DisplayPort for video output or to connect an external display, and audio jacks. Below are but a few of the available options depending on the dock you choose.
Thunderbolt 3 Pro Dock
The newest in the line, and designed for pro-creative workflows, the Thunderbolt 3 Pro Dock is an on-location and post-production 'mission control' featuring 10Gb Ethernet, front-side CFast and SD card readers, two Thunderbolt 3 ports, three USB 3.1 ports, and full support for eSATA devices and drives.
On location, the dock is a huge asset, helping manage multiple card uploads efficiently. When back in the office or studio, the Thunderbolt 3 Pro Dock has the power and ports needed to handle any workflow.
The dock is compact, allowing the easy organisation of peripherals and keeping workspace free of clutter. It's 10Gb Ethernet connection allows top speed connectivity, and with 60W of pass-through charging, the new MacBook Pro 16-inch will be ready for mobile use. You can find more info here.
USB-C Travel Dock
In today's workforce, the office is wherever the work is - that day. OWC's USB-C Travel Dock keeps vital connections on-hand wherever needed: on-set, on location, at the studio, in a conference room, or lounging at a coffee shop. 
The Travel Dock transfers up to 100W of pass-through charging from a USB-C power adapter, ensuring users are powered up and ready to deliver a client presentation or download the day's last shots. 
With five essential ports and just one cable, users are prepared to display, charge, connect, and import while on the move. The USB-C Travel Dock features an HDMI port for easy display connections up to 4K resolution and can be used via bus power when users don't have access to a power outlet.
Or use the MacBook Pro's USB-C adapter to deliver up to 100W of pass-through power and use the open port on your computer to connect another device. And with its tiny size, it's the perfect holiday stocking stuffer for every tech user. You can find more info here.
Thunderbolt 3 Dock
With its 14 ports of connectivity thoughtfully placed, the OWC Thunderbolt 3 Dock delivers convenience while keeping desktops clutter-free. The dock's front is designed for the easy connection of portable devices, headphones, and media cards, while the rear features a multitude of ports for your devices, so cables stay out of sight.
With its single connection to the MacBook Pro, the OWC Thunderbolt 3 Dock makes coming and going from a desk a much quicker and easier endeavor. The carefully chosen ports and functionality bring a new world of possibilities to the desktop, but OWC also worked to ensure the Thunderbolt 3 Dock is built to last.
A seamless design wrapped in a single piece of aluminum brings a rugged exterior to endure the day-to-day while maintaining a stylish design that complements any workspace. You can find more info here.
USB-C Dock
The OWC USB-C Dock's ten ports of connectivity versatility allow users to link five USB devices, charge two power-demanding USB devices, connect to wired Gigabit Ethernet, download images and videos from the front-mounted SD card slot, listen to or capture audio via the 3.5mm audio jack, and connect to a second display, TV, or projector via Mini DisplayPort or HDMI.
All that connectivity makes it easy to tap into digital needs and utilise the new MacBook Pro 16-inch to perform double-duty as a desktop workstation at home, in the office, or in the studio. Forget about messing around with dongles and adapters to connect everything.
The OWC USB-C Dock makes it easy to connect an entire workflow. And leave that power adapter in the travel bag, as the USB-C Dock charges laptops as well. You can find more info here.
Thunderbolt 3 Mini Dock
The OWC Thunderbolt 3 mini Dock harnesses the full potential of your laptop's Thunderbolt 3 port—fast data transfers, dual 4K display support, and small device charging power—creating a hub of powerful connections. Built by the world's largest producer of Thunderbolt devices, OWC follows the highest standards in engineering and manufacturing, so you can use the Thunderbolt 3 mini Dock with full confidence in its compatibility and precision performance. You can find more info here.