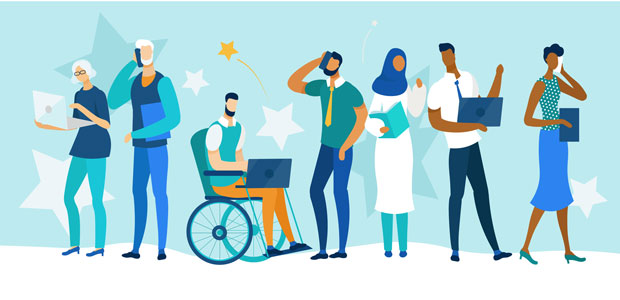 Why supporting diverse founders is more important than ever
As the pandemic continues to impact businesses - both small and large - across the globe, I meet with four diverse founders based in the UK, who are taking part in WeWork's Diverse Founders Programme in partnership with UK social enterprise, Foundervine.
The founders - Yemi from Herby Box; Sam and Manny from Jungle Fruits and Bejoseholo from Instant Pick Up - share unique first hand insights into their business experience, and explain why supporting diverse founders and startups right now is more important than ever. 
Can each of you tell us a little bit about yourself and what it is that you do?
Yemi (Herby Box): Sure! I'll Start. My name is Yemi Awopetu and I'm the Co-founder of Herby Box! I'm currently full time in Herby Box but before this, I worked at American Express where my career spanned across finance analysis and building new partnerships with banks across Europe. It's been a bit of a career move, to say the least!
Sam (Jungle Fruits): So, we are Manny and Sam (aka the Jungle Chiefs), the brothers behind Jungle Fruits, a dried fruit snack brand on a mission to inspire healthier communities by making superfruits more affordable, accessible and convenient for everyone. Together, we pick the most exotic fruits, dry them and leave them be. Just the way nature intended!
Bejoseholo (Instant PickUp): My name is Bejoseholo, I studied Mechanical Engineering from City University and I am extremely passionate about sustainability! I'm currently launching my startup called Instant Pickup; the first sustainable logistics platform for companies to find exclusively eco-friendly vans which only use electricity and hydrogen fuel cells! It's pretty exciting. 
Tell us a bit more about your businesses and why you decided to launch a startup
Bejoseholo (Instant Pick Up): I started Instant PickUp back in September 2020 after watching a documentary about a 9-year-old London school girl who was one of the first people in the UK to have a post-mortem examination determine that her death was caused directly as a result of air pollution. I was incredibly touched by her death, feeling like it could have been preventable.
After learning that transport is one of the major contributors to air pollution, I knew this was where I wanted to focus my passion and energy. Instant Pick Up is my way to contribute towards accelerating the accessibility of sustainable logistics transport in the UK. Despite launching during the pandemic, I am incredibly proud of the progress my team and I have made so far.
Manny (Jungle Fruits): Born and raised in the concrete jungles of South-London, we have always loved fruits. So growing up as kids our mum would buy loads of fruit and veg and try to make sure we had our 5 a day. However, we often found that fruit would go off too easily, or most exotic fruit would be too inconvenient to enjoy on the go (trying to eat dragon fruit on the Central Line train got a bit awkward... ).
We set about finding a way to get our exotic fruit fix, capturing all its goodness, in a handy pack we can take anywhere. Then it dawned on us to dry them and - voila! - Jungle Fruits was created. 
Yemi (Herby Box) : We launched Herby Box in March 2020 - on the cusp of the pandemic - in response to the challenges people were facing when trying to boost their health and wellbeing naturally; something I experienced after spending £100 on a variety of herbs and wound up feeling very nauseous and dizzy!
Paul, my friend and certified herbalist and nutritionist, helped me learn more about the process and the health benefits, but not everyone has a Paul to help them...So we created Herby Box so that every individual has their own 'personal herbalist' and easy access to natural health boosters!
We know the pandemic has heightened the inequality of opportunity that exists across the professional world and small businesses led by diverse founders are amongst those who have been hardest hit. What are the key challenges you are currently facing and how are you overcoming them? And why is it so important to support startups and in particular diverse founders at this time?
Sam (Jungle Fruits) : Diverse founders have always faced huge hurdles and those hurdles are even greater now. In normal circumstances, it takes serious guts to found a startup but the odds are even greater for BAME entrepreneurs looking to launch a successful business.
With this in mind, any opportunity is so crucial and so appreciated - whether its networking events (virtual for now), brand exposure or funding. Initiatives like the WeWork x Foundervine Diverse Founders programme are so life-changing, and so essential in helping to break down the social and economic barriers we diverse founders face. For both of us, we also feel an overwhelming support from our customers. 
Bejoseholo (Instant Pick Up) : I am a refugee from Nigeria. As a diverse founder, I think one of the main challenges has been networking and meeting fellow entrepreneurs to learn, grow and collaborate. It can be a very lonely time when launching your own business, and so having that support and interaction with like-minded people is crucial. Organisations like TERN and Foundervine have been a huge help in breaking down social barriers that BAME founders face, and help level the playing field. 
Yemi (Herby Box): A lot of light is shone on larger well-established companies, but there are a wider range of small businesses and startups that are working hard to better the world and their communities. New founders need the same level of support and exposure.
Tell us about some of the positive experiences you have had since launching your business
Yemi (Herby Box): A couple of highlights that stand out for me include launching our first 'Herby Week' which was a week of online events around health, herbs , fitness, and food over the summer - it was great fun, and an engaging way to demonstrate the health benefits of herbs, and how Herby Box works! I guess the second moment would be the day we launched in Selfridges; a bit of a 'pinch me' moment!
What's been the most rewarding moment of your journey as a founder?
Manny (Jungle Fruits): We really love our customers, and their feedback has been incredibly rewarding. Whether it's them tagging us on Instagram to show us their 'tropicalised' breakfast or them leaving a review to tell us how much they love our products. Those are moments of pure joy.
Bejoseholo (Instant Pick Up): For me, the most rewarding part is transforming ideas and visions in my head into products and services that I am passionate about and proud of.
What's one piece of advice you have for young diverse entrepreneurs just starting out?
Bejoseholo (Instant Pick Up): I think one of the key things I have learned in this process is checking in with my goals, and adjusting my course of action to make sure I remain on track to what I want to achieve. I would also say, don't stop believing in yourself! Sorry I know that's two...
Yemi (Herby Box): Appreciate the journey, the ups, the downs, the wins and the losses. All of it is part of the journey and part of your story. Make you sure you take pictures and videos, little notes here and there to document it. Not for social media but just for yourself. You'll be amazed at the growth you achieve and the difference time makes to your business and personal confidence.
This will be a fun one, what is one word to describe your business goal for 2021 and why? 
Sam (Jungle Fruits):  Sprout! It's a bit of a weird word to describe your business goal but although we have accomplished so much in such a short time, we still think that we are a seed that is ready to sprout up and show the world that eating healthy can be tasty, tropical… and easy!
---
WeWork launched its Diverse Founders Programme in partnership with social enterprise, Foundervine in January 2021, providing virtual programming and mentoring support as well as workspace to diverse founders across the UK and Ireland. Click here to find out more about the programme.