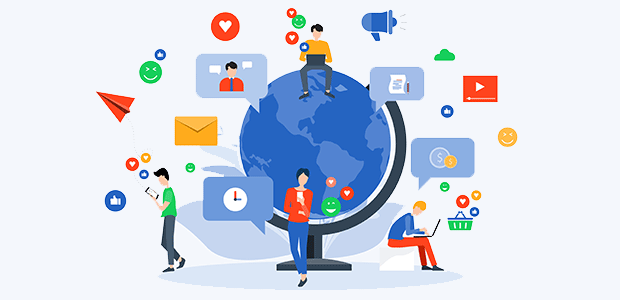 Why startups need to be internationally-focused from the outset
We're currently in the midst of what many are calling a 'startup boom'. More than 4.4 million new businesses have been created in the US since last March, according to the Census Bureau - the highest amount ever seen since records began in 2004. 
Many people that had been made redundant or unemployed during the global pandemic saw it as the perfect opportunity to start the business they'd always dreamed of, but never had the time or motivation to invest before.
For those startups, international growth probably isn't something that will be seriously considered until years down the line, with many focusing on local success first and foremost.
But this will only limit success. In the digital age where people and potential customers are just a couple of clicks away at all times, building instant success means being able to operate across borders.
Many modern-day entrepreneurs now have access to resources that their much larger, much more established businesses could only dream of when they first started out - giving them the ability to localise their products, platforms and approach to appeal to international markets.
Startups today are globalising the sales of their products much quicker than ever before, opening up huge growth opportunities that didn't exist just a decade ago.
However, there's no denying international expansion means spending more time and focusing on a lot more elements. So what are the options available for startups?
Here are our top four considerations when setting up your international business.
1. Adapt or die
Who could have foreseen that back in 1994 when Jeff Bezos started an online bookstore in his garage in Seattle, his idea would go on to become the largest internet retailer in the world?
Amazon has taken the world by storm. The difference between then and now? Technology.
The world has evolved dramatically in the past ten years, we have access to consume all matters of information at our fingertips, thanks to websites!
Living in the digital world, having a website is crucial for any business. Nowadays, people are busy and also smart.
They have no time to visit the shop. They search the internet to know about the product or service before purchasing.
As the internet becomes an increasingly important method to reach customers, growing startups are expanding their websites and audience reach in a variety of ways.
A strong web presence allows you to build your brand and gain the credibility that you need to attract more customers. Along with making your business readily accessible, web presence also gives your customers an easy way to find out more about what you have to offer.
2. Grow global
It's only natural to think first about your closest customers first. Some of the most popular businesses started off small, catering to local consumers before becoming the ecommerce giants they are now.
But once the home market starts to become saturated, it's probably time to start thinking about expanding internationally.
International consumer markets are growing at a rapid pace, with businesses of all sizes and in all locations reaping the rewards of the current ecommerce 'boom'.
Because, there are still a lot of barriers for growing internationally, the typical ones of cost, delivery times and language barriers are being removed, allowing online businesses to thrive across borders!
Just 14% of UK businesses currently sell internationally. So, if you're one of the 86% of businesses that aren't selling internationally yet, it's time to start thinking about it as there's a lot of opportunity to be had.
3. Communication
Language is in important barrier, and probably the most obvious place to start for businesses entering new geographies.
According to a survey commissioned by Weglot, 61% of UK consumers said shopping on a foreign language website was a significant put-off, while 49% said they wouldn't buy a product online if the website wasn't in English.
The key to expanding is producing a business which is able to personalise and localise their products to cater to specific geographies, but there are certain aspects to think about first in order to boost success.
As a startup looking to scale internationally, you can't afford for messages to get lost in translation.
But it's not just a matter of swapping languages. Scaling globally takes an understanding of other cultures and new audiences, and ultimately how to cater to their needs.
When entering new markets, think about the language, design and cultural elements of the website to provide a relevant experience for your new customers.
4. Unimaginable growth
Scaling a startup internationally doesn't have to be hard work.
The difference between failure and success usually comes down to diligent planning, a global frame of mind and keeping everything customer-centric.
This doesn't mean launching a business in multiple countries at once, but rather a focus on identifying what it is about the business that appeals to global audiences first and building on success one step at a time.
International expansion takes a lot of patience, but with the right plan and strategy behind you, each and every new market can make your business a global success.