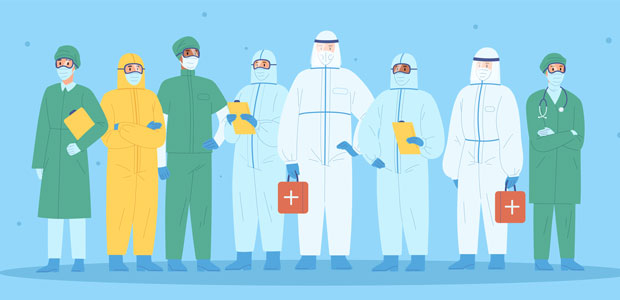 Why hospitals need to embrace IT projects post-COVID-19
UK newspaper, 'The Guardian' reported last month that hospital trusts across England urgently need more equipment to prepare for an upcoming wave of operations and procedures deferred by COVID-19. The article highlighted that hospitals need 'staff and space to deal with a huge backlog of scans for cancer and other conditions, as more than 600,000 people await CT, MRI and other scans amid the coronavirus crisis.'
From MRI scanners to X-Ray machines, no-one would argue that having the right hardware in place is vital for a hospital to be able to function as it should, especially in light of the extra challenges created by COVID-19.
Encouragingly, we've seen how quickly new physical infrastructure can be built. London's Nightingale hospital was constructed in just nine days. In China, a similar hospital was built in ten.
The impact of software
Hardware saves lives in a very obvious way. Without scanners or staff qualified to operate them, patients simply won't be able to access the same levels of care - sometimes with tragic results. The UK won't be alone in hurrying to properly equip itself (not just for a new wave of COVID-19, but for future crises as well). Hospitals are naturally keen to invest in new equipment and hire more staff to be ready for upcoming challenges.
However, when it comes to software, there's a tendency to neglect projects in times of crisis. No-one would reason that the purchase of new CT scanners needs to be delayed in the face of a global pandemic, whereas putting off investment into new IT capabilities is more easily done, despite the demonstrable benefits it can bring.
There are a few reasons for this. With non-medical technology, it can be tougher to see the benefits outright. Location based tech for frontline teams for example, isn't something that is particularly visible to everyone instantly. But it can help porters, cleaners and clinical support teams manage their workflow much more effectively, thereby improving the speed and quality of the patient journey as well.
Another example in the UK is Vodafone's setting up of IoT technology to provide reliable and secure connectivity for hospitals, reducing the time before clinicians can assess patients. A further reason is that the technology providers are sometimes not able to work as flexibly as a hospital might need them to do during unexpected events, which can hold the relationship back.
Wide ranging benefits
Nonetheless, the wider benefits of connected technology in the hospital environment have been thrown into ever-sharper relief during recent months. Sarah Wilkinson at NHS Digital recently noted how the demand for data-driven insights has been 'extraordinary'. She spoke to ZD Net about how NHS Digital and NHSX have been working on a number of data initiatives throughout the pandemic aimed at capturing and making sense of COVID-19 data from across the health system. The NHS has partnered with industry giants such as AWS and Microsoft to ensure they can use technology to their best advantage.
True, until very recently the understandable priority for hospitals has been dealing with the immediate challenges of COVID-19. However, I'm now seeing more software projects take off and providers working as hard as they can to do their bit and partner with hospitals to get things back to normal. By stepping up, working hard, and collaborating effectively, this is smoothing the path for the adoption of transformative software for a great many hospitals.
Tech has the power to save lives, not just cash
To address any lingering doubts over the investment required while finances are under pressure, the evidence that software can save lives as much as it saves money is staring us in the face. According to a recent study by the Institute for Public Policy Research (IPPR), greater use of digital tools within the NHS could save up to 20,000 additional lives each year, at an estimated £10bn saving to the health service.
Software which is readily available on the market can be used to make cleaning and portering teams more efficient, to help doctors conduct virtual ward rounds, and to manage how staff (and visitors) safely navigate the indoor environment of the hospital.
In many respects, the arrival of COVID-19 has accelerated the pace of digitisation within hospitals. Now is the time to embrace innovative health IT software, in preparation for the challenges still to come, with hospitals and technology suppliers working hand in hand.