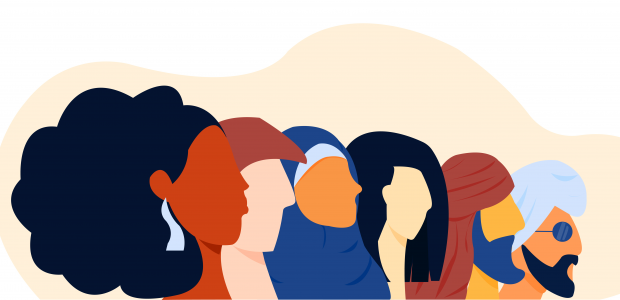 Why diversity and inclusion should be embedded into business
Diversity and inclusion may not seem to be a priority for a rising startup when cash flow and driving sales are normally front of mind. However, building a foundation of diversity and inclusion (D&I) within the operation sooner rather than later is more important than you might think.
Diversity and inclusion (D&I) is not a brand new phenomenon. Yet, the D&I conversation in the business and entertainment sectors has never been more omnipresent. In many ways, like a Hollywood film, it seems to have been rebooted. Stimulated globally in the last few years by history-defining incidents and  momentous movements such as BLM D&I is a red-hot discussion point businesses are expected to embrace with open arms.
Variety of thought
A hive mind might sound desirable on paper but in principle it would soon become a different story if all team members thought the same way as the founder. A shared overarching vision is one thing, but different skills and methods of thinking should be part of getting there. I need people who will ask questions and be proactive in their work, which can create new conversations. This is something many entrepreneurs will be able to relate to, because founders need people who will keep them accountable, agile and conscious – if they don't, the customer won't be afraid to.
A team all from the same heritage, socio-economic group and cities will more than likely have the same or very similar principles. A diverse group of colleagues will make for a robust, adaptable team that can be responsible for strong ideation and execution while also reacting to, and overcoming, challenges in versatile ways when they occur. As customer bases reflect the diverse world around us, the team should reflect them and the marketplace too.
These groups also generate better business returns, so the numbers – the data and financials – speak for themselves. McKinsey data has documented businesses with higher gender diversity levels on senior teams were 25% more likely to have above average profitability than those with lower gender diversity. This rose to 36% for companies with ethnic diversity.
Diversity isn't the only issue, it's the inclusion
Women, people of colour, disabilities, religious beliefs, social class; these account for the D in D&I. However, inclusion in the business world is where there are often glass ceilings in need of shattering. For example, women-led startups receive just a 2.3% share of VC funding. Speaking as an Indian female founder operating in the tech realm, I've seen the necessity of inclusivity within business first-hand.
I was understandably cautious when raising a pre-seed round for Vaayu and felt it was imperative that I sought investors who could understand me, both as an entrepreneur but as a person too. This awareness helped me to focus on what I wanted, prompting me to discover the female-led VC, Capital T which acted as the lead investor, based on a belief we had a mutual understanding. With a like-minded partner in place from the start, D&I can remain central as a startup grows – a shared goal we have alongside Capital T.
On the other end of the spectrum, the Social Mobility Commission previously revealed professional employees from working class backgrounds receive an average of £6,800 (17%) less each year than colleagues from wealthier backgrounds. More recently demonstrating a similar trend, it was revealed over 80% of staff at PwC UK come from higher socio-economic groups. The firm's chairman said this data would "help shine a light on areas for focus and widen the gate further [for potential PwC recruits]".
The big question is: how and why do these gaps happen at all? The answer, in my mind, is that D&I wasn't embedded into the business in the beginning. If equality is a foundation upon which the company is built, then enforcing diversity targets down the line as an already established, large and slower-moving business will be avoidable.
Lip service isn't enough
Whilst historically consumers and staff were reliant on sharing stories via word-of-mouth, a compelling social media post can spread quickly, for better or worse. The internet means people are no longer required to take information presented to them at face value – they can speak their mind and do their own research. Thoughts can be made very public – the #OscarsSoWhite hashtag is perhaps one clear representation of this fact.
39% of consumers globally believe that not enough brands do a good job of representing people similar to them or their community, according to Kantar Global Monitor. This is a major problem and should be a cause for concern because 65% of consumers said they believe it's important they spend with businesses that actively promote D&I, either within their company or society. Really this is a case of practicing what you preach. If you claim Black Lives Matter for example, consumers and staff want to see tangible evidence of this today.
Internally, 74% of leaders believe they frequently make D&I information available, but just 54% of staff agree, so there's clearly a disconnect that needs to be managed.
This is the advantage that startups have to outshine larger counterparts. While sales and customer growth are priorities at launch, you can't achieve either without people.
In building a company that is both diverse and inclusive by design, this isn't only ethical, it will also add value to the business, financially and culturally, for the long haul.