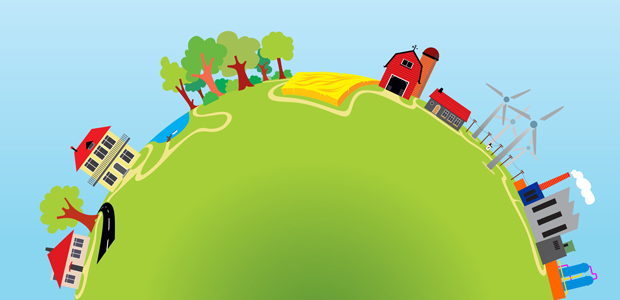 Why the circular economy will be the next big trend in business
The amount of waste we produce has come under intense scrutiny in recent years, with global annual waste generation expected to jump to 3.4 billion tonnes over the next 30 years, up from 2.01 billion tonnes in 2016, according to report published by World Bank. Businesses and consumers alike are now faced with the challenge of reducing how much landfill our actions generate. With conflicting interests making for slow progress, the circular economy model could change our fortunes. Here we explore why the circular economy is here to stay and why it is set to play a vital role in a low-carbon future.
Consumer demand for circular economy apps is increasing
The circular economy - where items are passed on or shared rather than thrown out - is gaining momentum for two key reasons. Firstly, the model makes it easy for consumers to be environmentally sustainable. Avoiding waste where possible doesn't always fit with our on-demand lifestyles, meaning that historically we could put off doing the right thing and take the easier path. The growing number of circular economy offerings help make things simple by tapping into the same technology and digital strategies that drive our on-demand lifestyles, but harnesses them for sustainable ends. This is helping to drive up engagement. 
Secondly, it helps people save money. More so now than ever, apps and platforms which can help reduce the cost of everyday items, whilst also ticking the eco-friendly box, are being embraced at pace. 
The environmental and social benefits appeal to investors 
Gone are the days when profit was the only metric a company was judged by. Investors are now looking for brands with a clear and meaningful purpose. In a sea of fast-growth startups, companies that not only perform well but do social-good are standing out. This is because consumers want to purchase from and support brands that can fulfil an environmental or social purpose, so for investors, this factor makes the business more attractive and the offer more successful. The circular economy model is increasingly appealing because of its value-creation potential. The model enables businesses to meet climate change objectives whilst reducing sourcing costs, meaning more affordable products for consumers and faster product availability.
The adoption of circular economy schemes by larger brands is testament to this. Although the uptake is still in its infancy, larger companies such as IKEA are already trialling circular models. The company recently announced a buy-back service, enabling customers to buy already assembled and used items for a fraction of the original cost. This move opens up an entirely new demographic of customers who are interested in sustainable, ethical purchases. 
The circular economy model can facilitate community spirit
The circular economy model can also help communities re-connect. After months of being stuck at home, we are more plugged into our own neighbourhoods than ever before. Circular economy apps and concepts connect communities, help build bridges, and make giving or receiving an item much more than a transactional exchange. 
This neighbourhood-centric approach has practical low carbon impact too. At YoungPlanet, we always encourage users to give or receive items to those who are in close proximity. This eliminates the need for vehicles to deliver goods, as well as there being no need for packaging. 
The circular economy brings more than one sector benefit. The model can help businesses to reduce waste, help customers to save money, and re-connect communities; providing tangible and intangible benefits to companies and society alike.