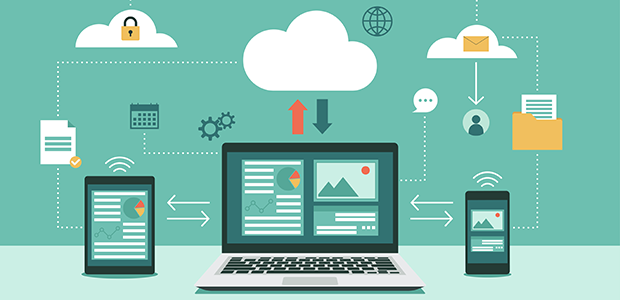 Why businesses should switch to a cloud telephone system
Government lockdowns during the COVID pandemic forced businesses to quickly adapt their working practices, as employees required work-from-home set ups almost overnight, and many companies quickly became reliant on cloud-based technologies to make the shift as smooth as possible.
Today, cloud-based technologies are more accessible and affordable than ever, and an increasing number of businesses are reaping the rewards of migrating their systems to the cloud. In fact, Gartner predicts that, by 2024, over 45% of IT spending on system infrastructure, software and business process outsourcing will shift to the cloud.
This technology is changing the landscape of business connectivity and productivity, from file storage to project management.
With this in mind, here are five reasons why businesses should consider switching to a cloud-based telephone system.
Portability
Cloud-based systems allow employees to access a business' phone lines from anywhere at any time. Their portability offers a workforce greater flexibility, an important advantage following the acceleration of a business' remote and hybrid working capabilities.
The technology allows any approved device to work, as long as it supports a particular telephony app [e.g. Microsoft Teams] and is connected to the internet. Cloud-based technologies allow phone-system functionality anywhere, which is useful for enterprises with teams in various locations.
Hosted PBX and VoIP providers offer mobile apps for employees to access their system through smartphones and tablets, and remote workers can collaborate in real time, closing the distance between them and office-based team members.
Scalability
Cloud-based telephony systems are highly scalable, allowing businesses the capability to add new users, numbers, and entire sites through a single convenient web portal as their enterprise grows.
Laying down new phone lines, installing new headsets, and setting up new routing rules are a thing of the past as, with cloud-based systems, businesses can add a new user to their telephony system with the click of a button.
Cloud-based technologies reduced businesses' reliance on outsourcing to handle increased workloads during the pandemic, with companies welcoming remote working and the ability to recruit and set up new users virtually with ease.
The demand for flexible working is only set to continue, with a PwC survey revealing that over half of employees want to work remotely at least a three days a week or more, while 29% would prefer to do it full time. To keep up with the changing workforce and employee expectations, businesses will need to embrace cloud-based telephony for their communications and collaboration. 
Cost reduction
Hardware is arguably the most obvious source of potential cost reduction for businesses and opting for a cloud-based solution means their telephony system no longer requires on-site hardware. It also requires zero capital expenditure, and there is no risk of delivery or installation delays.
Additionally, cloud-based systems save on maintenance and upgrade expenses due to the lack of physical hardware. An external provider will handle the set-up and maintenance of a business' cloud infrastructure, monitoring for maintenance updates, as well as ensuring employees are educated in using the required systems.
Smaller enterprises want to keep costs as low as possible, and traditional telephony requires upfront investment and maintenance costs, not to mention a potential lock-in period.
On the other hand, many cloud-based operators offer pay-as-you-go solutions depending on the business' need, making the system scalable and more cost effective than traditional phone lines. 
Improved control and efficiency
Traditional on-site solutions were not particularly easy to manage, with businesses often reliant on raising tickets and support queries with an IT team for even the simplest of queries. In comparison, cloud-based systems offer a user-friendly interface, consistent across all devices and manageable from any supported device that connects to the internet.
They provide businesses with more independence and control over their telephony systems, and system administrators have the option to make changes to key features, such as extension level call forwarding.
As previously mentioned, the system is fully supported by the external provider at no extra cost, offering users the choice should they prefer someone else to initiate any changes or additions.
Being able to make these changes instantly, or 'on the fly', without long lead times, and to change call routine or reset passwords quickly and easily, means cloud-based systems are much more efficient. They put the business in the driver's seat, allowing it to cherry-pick the features it requires, with access to easily turn them on or off.
Business continuity
A cloud-based system means businesses can maintain a consistent presence and access the tools needed to keep things running smoothly. Downtime of any service can be costly for any size organisation, but a hosted telephony platform gives businesses continuity of service as standard.
In addition, the flexibility for employees to make calls from anywhere at any time not only protects a business from potential connectivity failures, but also in the event that employees are unable to make it to the office. These systems allow team members to make and receive business calls at home, while still presenting the office phone number.
Key features, such as reporting and recording, remain in place, and should employees be members of any ring groups or call forwarding, they will continue to receive inbound calls and deliver the same service no matter their location.
A cloud-based phone system allows businesses to remain connected, and if their employees move, the office phone number moves with them. They are also highly unlikely to be affected by outside factors that could impact traditional phone lines [e.g. extreme weather].
Conclusion
Businesses dependant on copper cables and traditional phone lines plugged into the wall should expect to find it more difficult to respond effectively to any rapidly changing situation, particularly one that requires employees to work from home at a moment's notice or collaborate with colleagues and clients around the world.
Cloud-based telephony is cost-effective and simple, allowing businesses of all sizes to deliver better and faster output than those reliant on traditional systems. It offers the chance for increased productivity and quality of service because employees will spend less time managing their phones, and more time doing value-added activates.