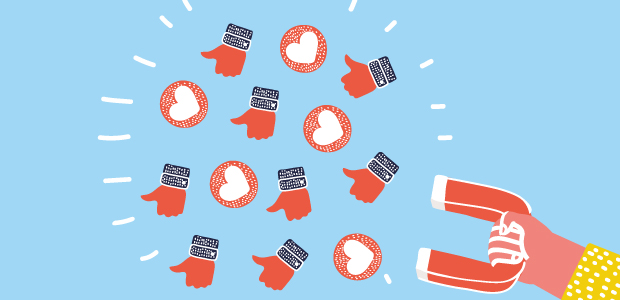 Who are you Talking to? How to Engage your Target Audience in the Right Way
Sounds like a simple question, doesn't it? And yet a fundamental lack of understanding in who your customer is, where to find them and what they think or feel is often one of the most common mistakes businesses can't afford to make, but do.
With thousands of startup brands all shouting for attention, knowing who you're talking to can be the key to ensuring that you stand out from the crowd.
It's arguably the easiest it's ever been to set-up a business, with a recent report stating that over half (51%) of British young people (aged 14-25) have thought about starting (or already have started) a business. But what makes your product or service different from the competition? Here are four steps to take to ensure you resonate and engage in an effective way with your target audience:
Get the Foundations Right
"I don't know the rules of grammar. If you're trying to persuade people to do something, or buy something, it seems to me you should use their language." 
David Ogilvy
A brand's positioning is hugely important when trying to target a particular type of customer. Getting the foundations right is crucial if you're going to achieve success including ensuring you employ the right tone of voice. Monzo's modern approach to banking is an example of a start-up brand that's disrupted the system but maintained credibility. They've carved out their tone of voice brilliantly, utilising anti-jargon language that was commonly seen from financial institutions of the past and instead executed a friendly and informative tone. As a result, they have truly built a community-based brand often asking their customers for feedback whilst they scale and grow which allows their audience to feel a valued part of their business journey. 
Create Audience Personas
"People buy a product for what it does. But they buy a brand for what it says about them." 
Dave Trott
Knowing your customer is key to any success you have so a good place to start is to create audience personas that represent a real world view of how your target audience thinks, feels and behaves. Looking at their pain points, values and ambitions are just some of the ways you can go beyond a basic demographic. There are traps you should be aware of as well though. For example gender stereotyping is quite rightly a hot topic right now with the ASA introducing new rules this year in order to stop "limiting how people see themselves and how others see them and the life decisions they take". Research undertaken last year for Campaign  revealed that advertising is increasingly out of step with society at large when it comes to gender stereotyping. In our experience, peoples' purchasing decisions are made based on their values, behaviours and how they see themselves. So it pays dividends to think creatively and actively challenge any existing ingrained biases you or your team may have when putting these personas together.
Focus on Customer Experience 
"So often people are working hard at the wrong thing." Caterina Fake, Co-founder, Flickr
With your foundations set and your audience personas defined, your next step is to employ a great marketing strategy and activation plan. As a start-up, growing and scaling requires focus and ambition, and without a marketing strategy that's aligned to your business goals then you're in real danger of not being accountable. As part of this process you'll need to choose your marketing channels wisely. For example, Instagram may be the most popular platform at the moment but if your target demographic are all more likely to respond to e-mail then spending resource or money on Instagram could be a complete waste. After researching their customer DropBox decided to spend little money on paid for advertising and instead focus on an easy sign-up process and customer referrals realising the power of peer-to-peer recommendations. By thinking deeply about how their customers used their product they were able to create success and are now valued as a billion-dollar company.
Don't Follow the Crowd 
"Pepsi was trying to project a global a message of unity, peace and understanding. Clearly, we missed the mark, and we apologise. We did not intend to make light of any serious issue." Pepsi Spokesperson
We're all guilty of wanting to be a part of the next big thing but can this sometimes have a negative effect for a brand when jumping on a trend bandwagon? The environment, social justice, women's rights are just a few of the issues that matter to today's society arguably more than ever. However, if your brand hasn't built these values into the business from the ground up, then the inauthenticity can do you more damage than good with your customers if you get caught out. 
The infamous Pepsi Kendall Jenner advert campaign is one example of a brand getting it wrong and as a result coming across at best tone-deaf and worst, offensive. In my belief Pepsi isn't a brand that needs to talk about 'global messages of unity, peace and understanding' and simply focusing on the product benefits and how it makes their customers feel could have offered a more effective solution. 
By paying attention to these four steps you will have the right foundations in which to not only confidently and authentically talk to your customer but also to ensure you engage and grow your community too.