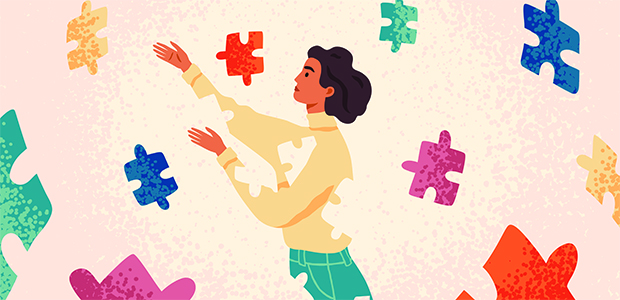 What will the next decade hold for female founders?
Prior to the UK-wide lock-down, Startups Magazine attended a London-based panel discussion, hosted by business advice and consultancy company Invigorate, to address some of the barriers, misconceptions and challenges facing female founders and what the future has in store over the next ten years.
The Rose Review has shown that less than one percent of UK venture funding goes to all-female founders. The biggest issue related to that, as seen by Juliet Bailin, Associate Partner at early stage venture capital firm Mosaic Ventures and active member of Diversity VC, is that investment in diversity (not just gender), is often based around lazy stereotypes.

"If I close my eyes and think of 20 founders that I might want to invest in, I can guarantee that they will probably be white, and most of them will be men," she commented. "So, if I don't try to immerse myself in networks where there are diverse human beings that are starting companies, I won't find those founders. And I'm one of the people that actually make an effort – there are plenty out there that don't. Diversity VC published a report that revealed that 70% of VCs are men (and that percentage gets even higher when you start talking about the people who actually have it in their power to write cheques)."
The problem is further compounded by the fact that VCs are usually overwhelmed by leads and are therefore not compelled to go out of their way to discover new and more diverse founders. Bailin added the problem is not that there are no POC (people of colour) or women founders out there – quite the opposite - the issue is having VCs with a more integrated level of diversity so that the issue that is brought to the fore and discussed.
On the plus side Paris Petgrave, CEO of We Love Work, a culture analytics platform for hiring, team building and culture change, said that while the majority of investors out there are white males, this represents an opportunity and, in some cases, a competitive advantage. "As women we're often presenting new markets to these investors within a blind spot that exists for traditional VCs," she said. "So, we're coming to the table with traction and with advantages that the traditional pipelines being looked at by VCs simply don't have.
"As a woman you're also going to be sharper, smarter, more agile, and you're going to think about things in a completely different way to people whose journey has been far smoother, and where funding has been far more accessible."
Funding
On the subject of investment, Petgrave was also quick to point out that although the trajectory of startup life tends to focus around funding, it's not the be all and end all. She warned: "There's research to suggest that if you raise too early, without establishing a proper market fit, then you're in a very scrupulous position. The thinking is that once you've got a concept, the next logical step is acquiring investment.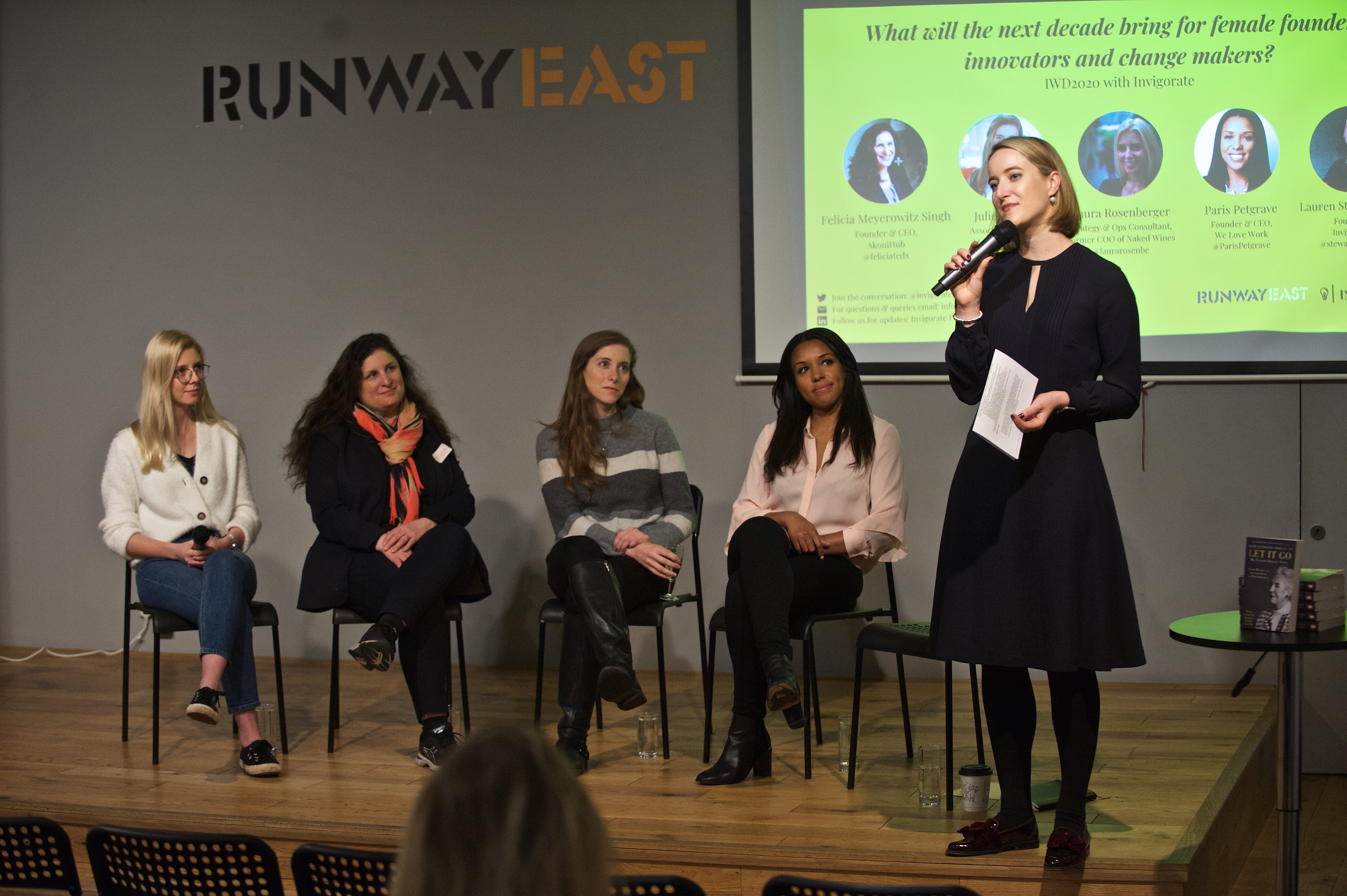 "That's not always the case. There's a process of getting to market which includes testing your product and building traction. That's the sensible approach and it solidifies what you're saying as a concept, and even though it's a little harder, takes more sweat and creativity, if you're thinking about longevity and sustainability in the startup world then it's a real benefit."
As a further caution around the funding misconception, Petgrave added that of the founders that were sharing a co-working space with her five years ago, and who raised significant early stage investment, many are now back working a nine-to-five, adding: "The people that are still standing are the ones that didn't immediately jump into bed with a VC. Sure, we need more women to be funded, but the interesting question is when is the right time to be funded? And it's something that needs to be further explored."
The wider society
Picking up the baton, Felicia Meyerowitz Singh, CEO & Founder of cash management platform, Akoni, highlighted the results of a recent report which revealed that the amount of VC funding for women had increased 2.7% in the US. This failed to impress Meyerowitz Singh however, who stated that this was a mere drop in the ocean.
"The issue that we have to acknowledge," she commented, "is that it doesn't matter whether being a woman is a competitive advantage or if we ensure that we work with good people - from my perspective, human beings will never make the right decision based on societal issues."
The correct route to a solution, she continued, is rigorous research into understanding what is behind societal biases. "Currently it is impossible that things will improve when it comes to a diversity related agenda. There will be no change without intervention.
"I have a six-year-old daughter, and I cannot just except that the status quo will be the same for her in one to two decades time. Every month my National Insurance bill for my staff increases, and yet for me as a founder with a child, I get exactly zero incentive and support from the Government for my childcare. That's an unbelievable position, when you consider how myself and my co-founder's entrepreneurship contributes to the economy."
Bailin echoed this by highlighting that from a VC perspective, most investors care little about whether they are investing in diversity, and rarely influences investment decisions. She added: "If the room you are walking into is going to have assumptions about you as a female founder, you can't just hope that those assumptions won't be there, you actively must fight against them. You have to be prepared, and every woman needs to walk into an investor pitch ready to convince the people in front of them why their business is going to succeed."
She added that this may involve simply having to 'play ball' to a certain extent, due to the current situation and unconscious bias that exists, and Laura Rosenberger, Strategy and Ops Startup Consultant, and ex-COO of Naked Wines, added that the big cultural shift needed to change the current status quo is going to take time. However, she suggested that there are smaller changes that can be implemented in the short term. "It can be quite frustrating having to play within a system that wasn't designed with us in mind, so the more women we can get into positions of power the better," she commented.
"I'm currently working with a whole host of startups and scaleups, mostly with male founders. The perception around the mindset of a founder is that the insane confidence you need in what you're doing comes more naturally to men, whereas with women there's more self-doubt. So rather than just throwing more funding at the problem, I do think there needs to be more support to enable women to grow their businesses."
Is the picture of a good business a male business?
There are vast differences between how men and women respectively run businesses, so an interesting question was whether or not our perception of what makes a good business, and a good leader, has been skewed by the fact that we're used to male-led businesses and having a company's culture shaped by the men at the top.
Speaking from her experience of implementing cultural change within businesses, Petgrave highlighted how intuitive female founders tend to be able to see people in a different light, in terms of potential and enabling that potential to grow. "That's a very powerful tool from a people management perspective - women have a natural gift when it comes to nurturing talent," she commented.
She led on from this to highlight the changing landscape of leadership in business – away from the hierarchical archaic structure of one person leading at the top, to one with far more autonomy and a collective attitude. And it is here where female founders have helped enormously towards the democratisation of leadership.
"Leadership is changing, and companies are evolving their leadership structure. We're no longer purely looking at a hierarchical method of running businesses. Companies are taking a much more landscape view, which enables people to use their gifts to cooperatively run an organisation. That's a big shift in management styles and one that women are much more comfortable with than men have traditionally been."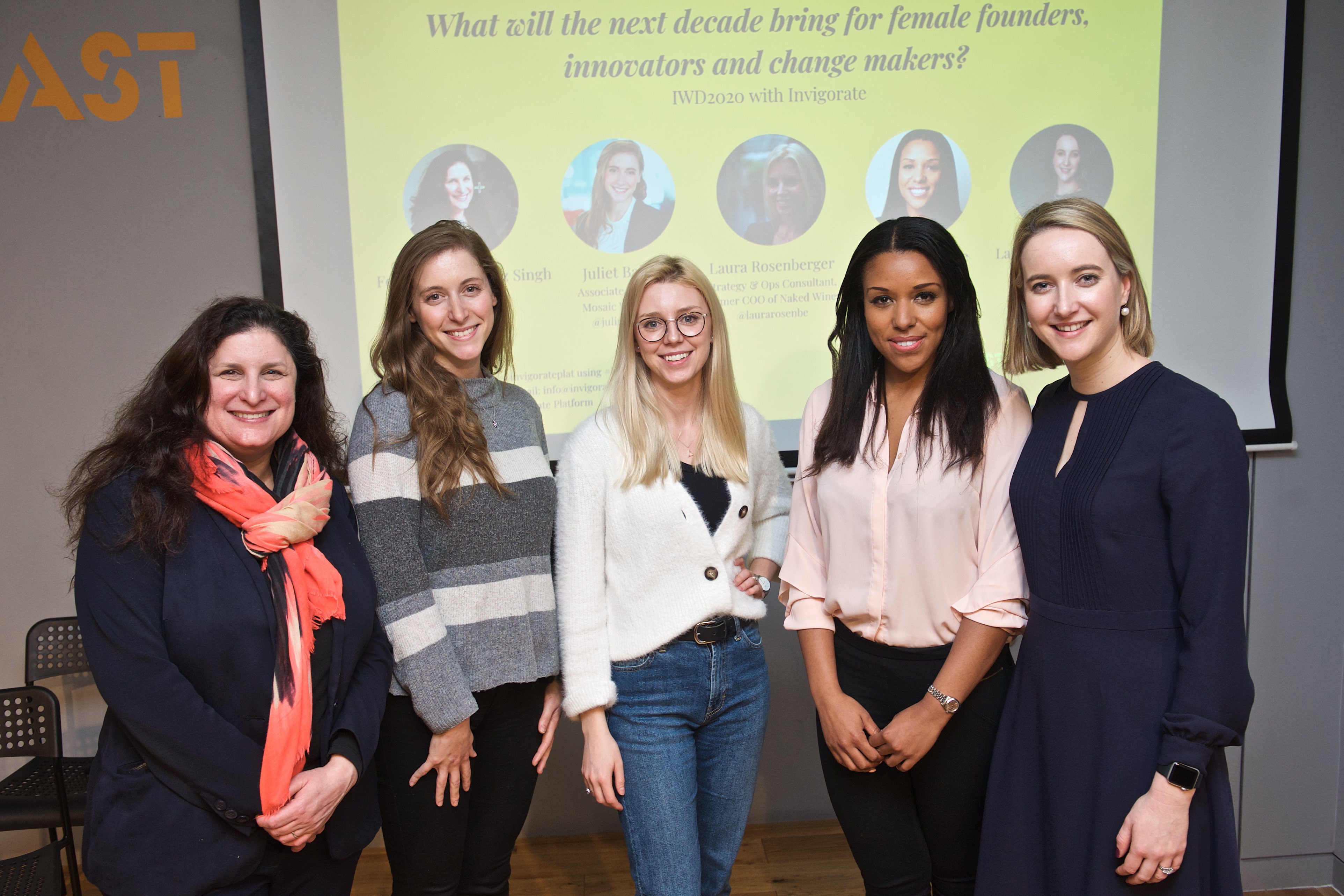 The support network for women in business
There were universal nods of approval from around the room when Rosenberger emphasised the importance of flexibility within the workplace, and how key it is to unlocking great female talent. "I speak to so many women whose companies have said that they could work from home on Fridays, for example, in order to help with childcare. But, that's not flexibility. If we could move to far more radically flexible, remote working practices, then we would unearth a lot more talent."
This sentiment was echoed by Petgrave who has seen first-hand the main contention point for women returning to work after having a baby - namely how inflexible many work cultures are in terms of helping to retain women coming back from maternity leave.
"It's something that specifically needs to be worked on and as such, we've been collecting anonymous data from employees to ensure companies can retain more women," she added. We're collecting data from diverse candidates and from the company as a whole. And we're helping HR departments analyse that data to enable change through company culture, and there needs to be a massive shift in this regard.
"We see the highest level of attrition when mothers come back to work. So, when we're aiming for a 50/50 split between men and women in terms of leadership and management, we're struggling, as a lot of women leave their corporate roles when they've had a baby due to current corporate culture. Coming back to work is such a battle as there's not enough support systems in place."
Indeed, Bailin commented that although no one is ever likely to say it out loud, whether a female founder has had a family certainly enters the consciousness of potential investors, and is one of the many reasons why a business needs to make sure that it does not solely stand on the shoulders of the CEO.
"The reality is that as a female founder, you will probably have to take less maternity leave than you want," she continued. "In the US I have seen as little as three weeks – but please don't do that. However, you probably won't be able to take a year – perhaps six months is the maximum if you're a growing company. The one piece of advice I will give is, if you are having a child, when you tell your investors, make it good news – you'll have to have a contingency plan, of course, but don't make it all about that, as that can give everything a negative slant.
"It's also important to encourage your male friends, colleagues, and frenemies to take their paternity leave. Firstly, they probably want to but feel stigmatised by the idea. And secondly, it makes it easier for women to do it. And I guarantee that if more men take paternity leave, then the effort post return to get people back into the mix will be greater if it's men as well as women who are returning to work."
One change for the future
Signing off, the panel were asked to gaze into their crystal balls and suggest one change they would like to see implemented over the next decade to smooth the road for female founders and a more diverse business landscape.
Rosenberger commented: "I think that flexibility is really important, and not just for women. If you have the kind of culture where only your female employees work flexibly, then that's a detriment. I think if flexibility could work for all employees, then it becomes the norm, things become more equal at home, and that is key towards better representation for everybody.
Bailin concluded: "I'd love to see more diverse investors, because then I think we'll find the diverse founders that already exist."
Meyerowitz Singh added: "It might not seem a practical idea, but I'd like to see a decrease in societal bias by a significant margin."
"I'd like to see democratisation in venture capital," continued Petgrave. "I'd like to see new innovative ways of funding. There's a lot of female founders out there - a lot of innovative, intelligent people that have ideas.
"Where we hit a brick wall is through the whole model of how we fundraise and how we gain the capital to grow, scale and become the unicorn that we potentially can be. That's where the bone of contention is. So, if traditional VC models aren't working for us, then let's just build our own funding table somewhere else and let's create models of enabling capital to come to these businesses that are democratised."