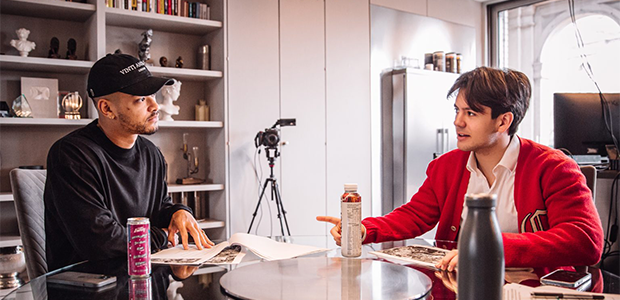 Vodafone and Steven Bartlett's Continued Collaboration
Vodafone Business has confirmed the renewal of its alliance with Steven Bartlett, extending the partnership for an additional year.
This collaboration will continue to see Bartlett serve as a Vodafone Business Ambassador, with the objective to aid numerous small businesses in harnessing their growth potential through enhanced use of digital technology.
Since the onset of their partnership in 2021, Bartlett has dedicated himself to showcasing how small enterprises can increase profitability and operational efficiency via advanced digital solutions, including online marketing, electronic payment systems, and accounting software. His involvement has included delivering keynote speeches to entrepreneurs at Vodafone's marketing events and providing customised mentoring sessions, such as the one he hosted from his home for a Vodafone Business contest winner.
Highlighting the impact of such initiatives, Steven Bartlett, a familiar face from Dragons' Den, offered a mentoring session to Jenk Oz, the 16-year-old founder and CEO of Thred Media, who secured this opportunity through Vodafone's Shout Out for Small Businesses competition.
The Shout Out for Small Businesses competition celebrates entrepreneurs using digital skills and technology to drive their small businesses forward in innovative ways within today's challenging business environment.
Commenting on this, Steven Bartlett said: "It's incredible and truly inspiring to see what such a young company has been able to achieve in such a challenging environment. Technology and digital skills are undoubtedly one of the most important tools for small businesses to gain an edge in competitive markets, and it's great to see Jenk and his team showcase what's possible. Vodafone's competition really shines a light on the amazing businesses out there."
With small and medium-sized enterprises (SMEs) navigating the aftereffects of the COVID-19 pandemic amid rising inflation and economic stagnation, Vodafone Business identified an emerging 'guidance gap'. Many SMEs were found to be unaware of the breadth of support available to them.
In response, Vodafone launched the V-Hub, a small and medium business support platform, which functions as a comprehensive digital skills resource. It spans various topics, from initiating an online business to customer acquisition and cybersecurity.
Furthermore, Vodafone has introduced business.connected, a programme that offers free online training courses for SMEs, aiming to facilitate the digital transformation of 800,000 businesses by the year 2025.
Reflecting on the collaboration, Vodafone Business Ambassador Bartlett commented, "Running a small business comes with its challenges, but with the free digital support from Vodafone V-Hub, entrepreneurs are empowered to adapt and excel. I am thrilled to continue my partnership with Vodafone, who are providing remarkable support to SMEs with strategies for marketing, social media, and essential tools and advice to streamline the journey towards business excellence."
Vodafone's V-Hub, celebrating its third anniversary and having reached a million users, is a testament to the company's commitment to small business support. Nick Gliddon, Vodafone's UK Business Director, celebrates the advisory service's success, highlighting the free expert guidance, resources, tools, and training available to SMEs. This service encourages businesses to consult with V-Hub Business Advisers and explore the next steps in their digital transformation journey.