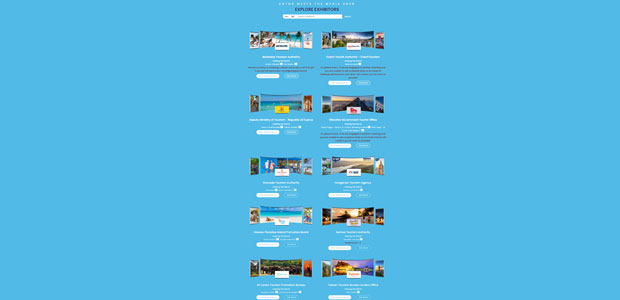 Virtual platform for SMEs launched as events industry re-start curbed
Representation Plus has launched its new virtual events platform 'ezy' with the highly successful 'ANTOR Meets the Media' event; a small virtual networking event for over 100 media, 17 exhibitor stands and individual meeting rooms for 1-to-1 meetings and press conferences, the BYO Café for casual chats, the auditorium for welcome speeches and the essential helpdesk.
As the world entered a crisis, it has been a time for rethinking and innovation, creating solutions to adapt to the new norm. The events industry has been hit hard by the Coronavirus pandemic with social distancing measures put firmly in place for the foreseeable future and the government's halt to the industry re-opening in October.
EZY Virtual Events, created with the user in mind, offers an intuitive, flexible and personal service built especially for SMEs and organisations, with a clear message: "If you can think it, we can deliver it".

With over 50 years of events management experience between ezy's founders, through listening to clients' needs and acknowledging what the event organisers want, the virtual events platform delivers on environmentally friendly events that reach the widest audiences, create meaningful connections and measurable results.

We all worry that connections cannot be formed in the same manner as a 'Live' event, but ezy has proven this wrong. Tailor-made platform customisation features such as 3D stand or pod design, allow exhibitors/hosts/sponsors to bring their own branding and style to their event.
Networking elements such as individual rooms and a virtual café or bar work well for product launches, interactive presentations, one on one meetings  and receptions, while the auditorium allows sponsors and organisers to broadcast their messages, seminars and debates.
Furthermore, to boost connectivity, ezy's multifaceted platform lets attendees interact with multiple hosts, speakers or exhibitors at once and hosts can encourage guests engagement through embedded quizzes and speed dating formats.
ezy's expert team has designed the platform with countless possibilities for clients and their individualised requirements. Whether this is a face-to-face video meeting, a pre-recorded video or live presentation for delegates, there is an ezy solution! From such interactions, insightful analytics are delivered post-event in an in-depth report which can present what audiences found interesting, where they visited, and what they viewed and downloaded.

Finally, ezy ensures that all their events run smoothly with a technical support team on-hand from set-up to end to answer questions as they arise. The team are there to educate and help users understand every element of the platform, making the daunting online world of virtual events an ezy affair.

One of ezy's founders, Alison Cryer, talks about ezy's creation: "When COVID-19 hit, we knew virtual events were the only option for our and other industries. We looked at using some of the existing platforms, but they were all built for global organisations which comes with a matching price.
"So, we created the first platform built with SME's and Associations in mind. Our solution comes with varied support packages; from one extreme of doing everything for the client to the other extreme of allowing the client to use the platform independently with some basic assistance from us. Whatever the package, we ensure an EZY ride."

Tracey Poggio, Chairman of EZY's first customer, ANTOR, commented after their six hour event: "The ezy system allows us to continue face to face marketing and networking in a safe and convenient way. An essential tool to keep business flowing."