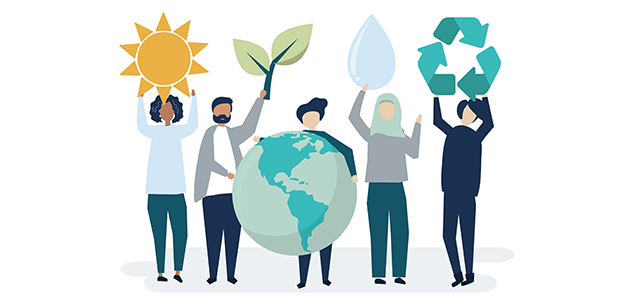 UK Tech Going for Gold in the Race to Net Zero
With less than three months to go till COP26, the UK, in particular, has a unique opportunity to establish itself as a global hub for sustainability, a world leader in green technology and investment, and a place where all tech businesses join forces to tackle one of the greatest issues of our time.
But, to get there, we are reliant on new and emerging technologies. 'Climate technologies' are already playing an outsized role in tackling the climate crisis and reducing greenhouse gas emissions, either directly or indirectly. And, unsurprisingly, they're in hot demand.  
Not least as a result of the pandemic accelerating technological change worldwide, the UK saw a 21% uplift in investment in climate tech and agriculture companies in 2020, reaching a record $883m. Earlier this year, one of the UK's most exciting up-and-coming climate intelligence platforms, Cervest, secured a $30m Series A Round, and sustainable software company Circulor raised a $14m Series A Round.
With great strides towards net zero already being made and an ambitious target looming, what's next for climate technology? What I find most exciting is that it's believed 50% of the carbon emission reductions needed to reach our 2050 goal will come from technologies that are not even invented yet, or at least have not yet reached mass-market scale.
There is enormous potential yet to be realised within climate tech. But, of course, with great power comes great responsibility. These up-and-coming tech firms need to scale further and faster than any other technology has before to meet demand, and there is an army of supporters that must be mobilised to ensure their success. Not only must investors work with climate tech companies who are in need of more and more long-term investment, but also policymakers and peer networks must come into play to support leaders in climate tech.
Our first ever Net Zero growth programme gives high-growth climate tech scaleups the access they need to investors, insights, education, networks, and practical support. Whether it's supporting scaleups like Sero or Etopia which help decarbonise the housing sector, we are building a coalition of partners to showcase, grow and scale companies committed to net zero and enabling the UK to lead our transition to a green economy as quickly as possible.  
While climate tech companies are creating vital solutions to accelerate the global drive to net zero, the UK's exciting companies across fintech, insurtech, lawtech and the entire sector can – and must – play their part too by monitoring, addressing, and then reducing their own carbon emissions. Yet, in a sector filled with companies at various stages of growth, many needing to scale much more rapidly than those in other industries, driving quick and lasting change is a challenge.  
Not only is there a complex world of jargon and targets, but there is a substantial knowledge gap amongst leaders understanding how to meet those targets.  Businesses across the UK have been grappling with the challenge of cutting their carbon emissions on their own. 
When we recently measured our carbon emissions, our growth between 2019 and 2020 meant that our emissions went from the equivalent of 340 cars on the road to 480 – this first assessment has been crucial in helping us to understand the scale of the issue.  
My advice to any scaling firms encountering challenges – whether that's related to net zero or just the broader aches and pains of rapidly scaling a business in today's environment – is not to tackle it alone. The stories of companies founded out of a garage are far from the modern reality. We rely on peer groups, on networks that not only understand the challenges of scaling but have the tools to address them. Some of the most inspiring technologies of our time were achieved through collaboration.
When it comes to decarbonisation, initiatives like Tech Zero are following this principle, helping UK tech companies of all sizes reach net zero by demystifying climate jargon and making it simpler for companies to set a net zero plan. 100 signatories of the Tech Zero Pledge is a promising start, but it's just the beginning. We need every tech company to make the same commitment. If we can do this, we will be in the best position to tackle the most pressing challenge of our time. 
UK Tech – including climate tech - has grown significantly over the last two years and is in prime position not only to strengthen the UK economy but to transform society's impact on the environment and supercharge the rate at which we reach net zero. But change has to be a priority for every UK tech business and with the tools available, it can be a priority for every tech business. No matter what size, or sector, or location, no business is excluded from the race to net zero and – by coming together - we must ensure that no one gets left behind.