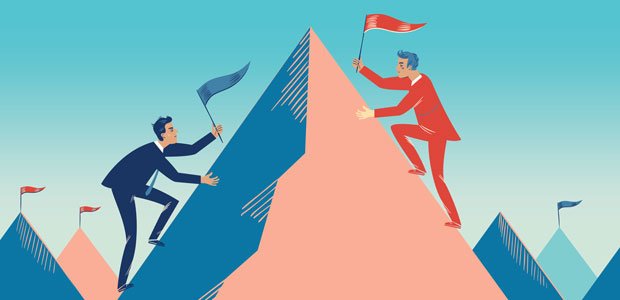 Is UK business leadership heading towards a cliff edge?
The last few months have been the most challenging period for many UK business leaders. The coronavirus pandemic and the subsequent economic downturn have thrown the workplace out of kilter, requiring CEOs and senior leaders to be more present in every facet of the business.
That is why a new survey from Imperial College Business School, Harvard Business School and Columbia University suggesting that 1 in 5 CEOs are ill suited to their company is major red herring for the business landscape.
The impact of the current crisis has been felt right across the country as we face a historic 20.4% slump in GDP and a rising unemployment rate. This situation has forced companies to rethink how they do business and innovate. Research from McKinsey revealed that two-thirds of executives recognise that this is going to be the most challenging moment ever in their executive career. But are they up to the task?
Great leadership is about balance and it is important for UK bosses to learn to adapt to the current challenges if they are to put their team back on the track to success. Many businesses will likely fail during this crisis and a significant proportion may do so due to a lack of good leadership at the top.
So, what can CEOs expect and prepare for in the coming months to meet this moment? Here are three areas that CEOs must consider.
1) People
Before the crisis, the UK enjoyed record employment levels which provided many people the flexibility to choose where and how they want to work and earn a living. That is now no longer the case. UK workers are under enormous pressure and stress as they continue to worry about their employment status and health during the pandemic. This will undoubtedly impact their performance in the workplace.
With this in mind, it is the role of the leader to ensure that staff wellbeing and safety take priority in this situation. This moment calls for empathy and understanding. A decade from now, the best organisations will be those that have done the right things now to make their company a great place to work. As a leader, take your cue from staff feedback and do more to ensure that you are communicating changes and new initiatives clearly and regularly so as to bring your team on side and engaged even when they are working remotely. 
Although an economic crisis is often considered an employer's market, remember that the best people will only work and remain in businesses with exceptional organisational culture. Invest in your people today. 
2) Respond
During any crisis, leaders must relinquish the belief that a top-down approach will propagate stability. Unlike emergencies where a command and control style can be valuable, in a crisis, leaders must empower others to find new innovative solutions that meet the company's priorities.
Think about creating a multi-disciplinary network of teams that can bring multiple perspectives to the complex challenges the business faces. By fostering collaboration and transparency across the business, the burden of innovation is shared in a way that ensures everyone is engaged and pulling in the same direction.
3) Gain New Perspectives
Many leaders look at their world through lenses that limit their perspective and, in some cases, impact their decisions. In a crisis, this narrow view may become an issue and hinder the level of adaptability and innovation required to navigate the situation and thrive.
In the last few months, several examples of innovative ideas have emerged, as business leaders adopt a start-up mindset and accelerate digital adoption during the pandemic. For instance, insurers and financial services firms have digitalised their compliance and due diligence process to keep up with demand while staff work remotely. When CEOs gain external insights, it undoubtedly makes them better leaders. There is an opportunity to learn from other businesses across the globe as to what they are doing to safeguard their company during the pandemic. As an organisation, Vistage advises its members to seek out inspiration from their network and other unlikely connections.
Take the time to gain a new perspective of your business and the wider industry to allow you to grow and transform for the better. There are plenty of ways to gain new perspectives: find a business mentor, join a peer group, attend industry events (virtual or in-person), read relevant business books, communicate with stakeholders and study firms in other industries.
Unfortunately, as mentioned, not every business will succeed through this period. However, CEOs from struggling businesses also have plenty to offer their peers as well as learn. This period calls for greater cooperation and mutual support. Think about how you too can support those around you and share your knowledge in a way that can benefit you and your fellow peers.
At senior level in particular most leaders have the luxury of a degree of choice - the current situation undoubtedly offers the chance to learn, grow and come out with an improved skillset having weathered the storm.