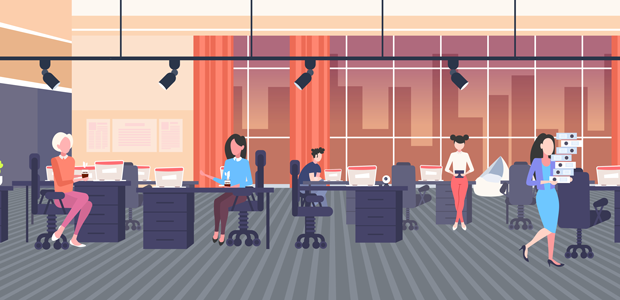 Top 5 cities for women in tech
As our lives have gone more digital, an increasing number of women are transitioning into areas across tech. So, as tech investment surges across the UK, experts from FDM Group have collected data on the most prosperous cities women can work in.
They reveal that Cambridge, Manchester, Edinburgh, Bristol, and Leeds offer immense opportunities for employment and growth, pointing to the number of jobs, tech investment, gender pay gap, and average pay in each city. 
Sheila Flavell, COO, comments: "Women play an incredibly instrumental role in the tech industry, and while there is still a lot of progress to be made, we are pleased to see so many cities across the UK offering more opportunities in the space.
As this progression has been made, we have also seen an increase in women hired for leadership and senior roles within the business. Last year, we took significant strides in improving everything we do for greater gender equality in the workplace. And from our 2021 gender pay gap report, we are pleased to report a median gender pay gap of -9.6%"
Here are FDM Groups' top UK cities for women seeking a role in the tech industry. 
Cambridge 
Despite only having a population of around 130,000 people, Cambridge has emerged as a prominent tech city and a place to watch for up and coming talent. Raising a huge £145 million in investment, Cambridge has rightfully earned a place at the top of our list. 
This city also has some of the highest salaries in the country, averaging at around £62,500, or £37,000 higher than the national average. Of all the cities on our list, Cambridge also has the smallest gender pay gap, coming in at 9.6%. Proportional to the smaller population, there are currently just over 1,500 jobs on offer. 
As a smaller city in the UK, Cambridge isn't sprawling, making it incredibly easy to get around. With most shops, restaurants, and offices within walking distance, there's no stress from the daily commute, meaning there's plenty of time to take a picturesque walk down the River Cam or grab lunch at the open-air market. 
Manchester 
As one of the fastest-growing cities in Europe, Manchester has a wealth of opportunities on offer, many of which are in the technical field. Bringing in an impressive £300 million in investment in 2021, Manchester is gearing up for huge growth. 
With over 4000 jobs available in the tech space, and an average salary of £57,500, there is a lot of potential for women seeking high-earning jobs in this city. With a gender pay gap of 12%, this city has lessened the gap more than other larger cities in the country. 
As a thriving city, there's plenty to do in Manchester to relax, unwind and disconnect from the workday. Whether you're looking for fine dining, an upmarket wine bar, or exciting nightlife, there is something for everyone. In fact, Manchester remains one of the best cities for live music, with bands and musicians from all over the world playing here.  
Edinburgh 
The Scottish capital has seen a lot of growth over the last few years, raising a whopping £117 million in the tech sector. With salaries averaging £58,405, there is great earning potential for professionals in Edinburgh. 
Salaries are also extremely competitive here, with the average tech job paying £58,405 a year. The average pay gap is around 14% here, which is slightly lower compared to other large Scottish cities such as Aberdeen where the gap is 17.2%. 
As a progressive city, Edinburgh is a fantastic place to live and work. A number of businesses in Edinburgh are also participating in the UK's four-day work scheme trial, looking at whether employees can operate at 100% productivity with no reduction in pay. If this scheme is successful, people across Edinburgh and the UK could look forward to an extra day off.
Bristol 
As a growing tech hub in the UK, Bristol had to be featured on our list. With Bristol tech firms raising an astronomical £111 million in VC funding in 2021, there are immense options for growth and employment in this city. 
Tech salaries in Bristol are also some of the highest in the country, averaging at around £52,500. Of all the cities surveyed, Bristol also has one of the lowest gender pay gaps, at around 9.6%. There are currently over 2,400 jobs being advertised here. 
Located in the South East, Bristol is situated in one of the best areas for work-life balance in the UK, according to a survey conducted by MoneySupermarket. As a manageable, friendly, and activity-filled city, it's no surprise so many people enjoy working and living here. 
Leeds
Last, but certainly not least, is Leeds. As a thriving and growing tech city in the UK, Leeds has a lot of tech jobs on offer, with over 2,500 current vacancies. Last year the city was also able to bring in over £29 million in tech investment, marking it as a major digital and tech hub. 
Home to fast-growing companies such as Big Change, Smart Search, Techbuyer, there are a lot of exciting companies to become a part of here. And with salaries averaging £57,500, there is also potential for high earnings. 
Offering good transport links, a vibrant city centre, and fantastic countryside surrounding it, Leeds is the ideal place to live for a good work-life balance. With options for great dining, shopping, and entertainment, residents have plenty of places to enjoy themselves after work. And for those needing an escape, the countryside is a meer 20 minutes, accessible by car or train.