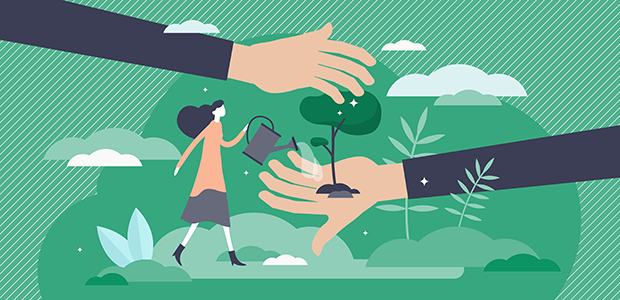 Top 10 sustainable tech startups of 2021
COP26 encouraged people to rethink their impact on the environment and strive towards more conscious consumption. This, coupled with the launch of our November/December issue of the magazine focusing on sustainability and tech for good means it's the perfect time to round up the top 10 sustainable tech startups of 2021.
1. EcoPing
EcoPing provides businesses with the necessary tools to reduce its website carbon emissions, whilst boosting performance. This is to meet its mission to reduce the carbon footprint of the internet.
The internet alone consumes 416.2Twh per year, more than the entire UK. To further this, the average webpage produces 1.76 grams of C02 per page view, equating to 211kg of CO2 per year if the website has a minimum of 10,000 page views. It calculates the emissions of a website by calculating where a business's resources come from and the countries it is hosted in, giving an estimate of its carbon footprint.
EcoPing highlight the importance of utilising compressed images, efficient file formats and lightweight fonts to ensure your website has a lower carbon footprint.
2. Treeconomy
Treeconomy's aim is to fight climate change and biodiversity loss by valuing and enhancing natural capital. It works to connect rural landowners to the global offset market directly, diminishing the carbon supply chain and proving a new source of income from trees. By connecting businesses directly to buyers looking to offset their carbon emissions, Treeconomy utilises satellite and LIDAR-derived data to measure the ecosystem of a woodland area.
3. Worthmore
After the lack of options available for extending the life of a smartphone became apparent, Worthmore decided to create an easy way to combine the value of the one billion plus used phones and make a positive impact on communities. The startup recycles, refurbishes, or resells used smartphones, donating money to various charities.
According to Worthmore, global e-waste will reach 74 million tonnes by 2030, almost doubling in 16 years. The website lets you calculate the impact that recycling your phone could have on the environment. Shockingly, an iPhone 8 Plus could plant 48 trees in Danish forests or remove 15kg of plastic from the sea. With over 150 billion phones replaced across Europe every year, using Worthmore to recycle your device is a step in the right direction to sustainability.
4. Paboco
Paboco decided to become part of the solution for a sustainable future by aiming to pioneer the transformation to scalable paper bottles. The startup has created what they claim to be the first 100% bio-based and recyclable paper bottle, available to selected users in 330 and 500ml, aiming to become part of the solution to plastic littering the oceans. This fits in with their goal to live in a world without waste.
Paboco has turned from a research company, into a production company within seven months. It is producing seven days a week, growing the team, and signing contracts with clients, with the likes of Coca-Cola trialling a paper bottle prototype in Hungary in summer 2022 for their plant-based drink, AdeZ.
5. IADYS
IADYS designs and develops AI and robotic innovations, committed to the marine environment protection. IADYS created its first solution to marine contamination with the Sea-neT project with a set of hardware and software solutions, including marine vehicles and onboard intelligence systems. It's a modular solution, made of small robots with the capability of collecting floating waste and oil on the water surface. It has successfully cleaned several accidental oil pollutions.
The robot is being used in Cannes, Monaco, Dunkirk, Tokyo and Norway, to name a few.
6. Alpha 311
The vision is to power the world using inexpensive, clean energy. The Alpha 311 turbine is a vertical axis turbine, creating power to the places it is needed most. This gives the possibility for every road, bridge, tower or building to become a wind farm.
The Alpha 311 turbine is claimed to be smaller, lighter, and easier to install than traditional turbines. The shaftless design means it can be installed in many places but is most efficient when placed somewhere it can harvest airflow from passing vehicles, such as a road or railway.
7. Sojo
Sojo believes in creating a fashion industry where clothes are manufactured, and the people who make them are valued. At every phase of an item of clothing's life cycle, the processes need to be re-imagined with both the people and planet at the centre. Sojo is doing its part to combat the problem by making it easier to increase the lifespan of clothing. It offers a repair service to help people keep their clothes from going to landfill and give them "a new lease of life." It encourages people to shop sustainably second-hand, and the alteration service reduces sizing restrictions posed by this.
Sojo also acts as an online community for discussion and connection over things that are important to its users, including educational content and comment focused on sustainable fashion.
8. Scindo
Scindo, launched in 2020, is utilising the power of enzymes to recycle what is deemed unrecyclable. This included plastics that cannot be recycled with current methodologies, but Scindo is turning these plastics into high-value molecules, able to be used in several industries. A huge 91% of plastic isn't currently recycled. Scindo is therefore working to create a more circular economy for plastics by developing an alternative to landfills.
9. TeknTrash
TeknTrash acquires data from trash, allowing consumer product companies to know their consumers better, encourage recycling, and create a source of income for vulnerable people. It wants to bridge the gap between businesses thinking there is a direct connection between sales and consumption.
The technology allows for companies to recognise when a product has been disposed of and its geolocation, meaning they can match their sales to their effective consumption. TeknTrash is aiming to change the recycling model to be based on the sales of useful consumer data. This allows for consumers to be effectively and sustainably incentivised to dispose of a company's products properly.
10. ULEMCo
ULEMCo is working to enable commercial vehicles to convert the fuel they run on to include hydrogen. It works with operators with fleets of HGVs and LGVs to deploy hydrogen-powered vehicles, using zero emission hydrogen fuel as the strategy to reduce carbon emissions related to transport. ULEMCo converts vehicles to enable them to run on commercially available hydrogen, allowing fleet managers to reduce their carbon emissions.
At COP26, ULEMCo demonstrated a hydrogen powered ambulance prototype, incorporating a hydrogen fuel cell in the powertrain and capable of up to a 300-mile range.
Final thoughts
COP26 highlighted the need for climate action and the importance of a shift of consumer and business focus on sustainability more than ever. The above startups are just a snapshot of the incredible efforts put in around the world towards a more sustainable future. It's useful for startups to look towards the actions of sustainable businesses and follow in their footsteps, paving the way for a greener, cleaner planet.